By Mark D. Vickers
"I have so regretted not better appreciating what was offered to me in Hong Kong so many years before."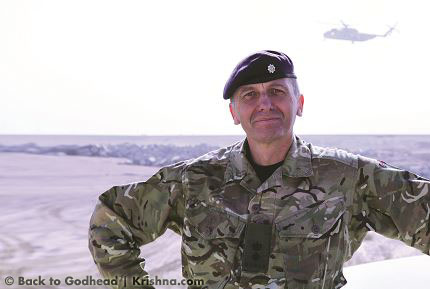 My first contact with ISKCON was in about 1976, when I was fifteen. I had written to Bhaktivedanta Manor in the UK, where I grew up, and they kindly sent me some information. I quickly became fascinated. I could see all these young men and women in the photographs dancing and chanting in ecstasy and was intrigued by what was giving them such happiness. I also remember the exotic smell of what the devotees sent me—it was as if the pamphlets had been in a box of beautiful incense for months.
Although my family was not at all religious, God and worship fascinated me from about the age of seven, when I became a choirboy. By the time I was eleven or twelve, I was sometimes reading lessons in church, and I completed a number of Bible-study correspondence courses. While my school chums were out kicking a football or going to the local disco, more often than not I would be home studying my Bible or painting. But something drove me to learn more about what I saw at the time as exotic Eastern religions. Why were young people moving towards them? What was it all about? What were these "mantras"? I started to dream of travels to India, to the Far East . . . my spiritual journey was ever broadening.
My father, perhaps despairing of my dreams of the East and of becoming an artist, urged me to try for officer selection for the British Army, enticing me with stories of travel, adventure, and a decent salary to boot. To my surprise I passed the entrance exams, and before I knew it I was attending a Sixth Form boarding school for potential officers, located in a wonderful old English stately home. My mind kept returning to those initial strong impressions I had when I first read about the Hare Krishna movement. I clearly remember daydreaming many times that one day I would hear devotees chanting and dancing down the long tree-lined driveway to the college, calling me to join them. Part of me really wished it would happen; part of me was frightened that it might—oh, the imagination of youth!
It was only when I started my training at The Royal Military Academy Sandhurst that I had some limited opportunity to make my first visits to Bhaktivedanta Manor. That must have been in late 1979. After successfully completing the arduous commissioning course at the age of nineteen, imagine my excitement when told that my first assignment was to Hong Kong in 1980.
Small Temple, Big Impression
Not long after arriving in that fascinating place, I bought a small brass Krishna statue from the army camp's goldsmith. It was inexpensive and simple, but I so wish I still had it. Then to my great joy, one day in 1981 I saw a small sign on an apartment block: "Hare Krishna." I made my way there and rang the bell. I was awed to find this small temple in a ninth-floor apartment (not the elegant temple in central Kowloon that exists now), and I felt much pleasure but also nervousness. It was so small there was no hiding any mistakes or ignorance of protocol.
I started visiting regularly. I would get up early in the morning and in my tropical combat uniform would catch a taxi to the temple whenever I could. I cannot claim that I was attending every day, far from it, but often enough to feel part of the small set-up there. I only remember very few devotees regularly visiting the temple at that time, and it is therefore wonderful to see how much it has now grown.
Later that year I was enthusiastically informed that Tamal Krishna Goswami (TKG) wanted me to write an article about "What Hare Krishna Means to Me" for submission to this very magazine. Tamal Krishna Goswami was the resident guru in Hong Kong at that time. He had sat on ISKCON's governing body commission since its inception in 1970, and as one of Srila Prabhupada's most trusted followers had been his personal secretary for the seven months prior to Prabhupada's passing in 1977. I wanted to do what he asked, but I also knew that because of my career I had to be careful with what I would say. Nevertheless, I agreed to write something, and from my heart. I did so, and photographs were taken in a park in Kowloon, under the personal direction of TKG. The article was never published, and all these years I have thought about it often. Despite all that subsequently passed, I have always felt I still owe TKG this—an article in BTG with the title "What Hare Krishna Means to Me."
Sometime after I'd written the article, an excited devotee told me that Tamal Krishna Goswami wanted to see me in his private room. He was such an important figure in the growth of ISKCON—and now he wanted to see me! The devotee gave me strict instructions on exactly what I should do, and he certainly succeeded in making my heart beat faster by the time I entered.
I remember so clearly seeing TKG sitting there looking at me. After a brief discussion he asked me to give up my career and move into the temple. In my ignorance all I could imagine was being stuck in that small apartment for decades to come.
"I love coming here so much," I said, "but I think I might quickly become bored after a year or two."
I think it was the only time he smiled during this rather formal exchange.
He just looked at me and with a big grin said, "Well, if that's all you're bothered about, you don't need to worry—I will certainly keep you busy!"
I said I couldn't do it. I didn't fully appreciate it all. My sincerity was genuine, but I was excited about my new career and knew how proud my parents were of me. How my life would have changed if I had just said yes!
Unfortunately, sometime later I had disagreements over a few issues (not with TKG himself), and that was the end of my association with the devotees. I had been chanting my sixteen rounds and following the regulative principles, and it had been suggested that I should be initiated. I am still waiting for that chance to come once more, as I so regret not having taken initiation at that time. With the added years of maturity, life experience, and hindsight, I can see that whatever misunderstandings there might have been were no more than the result of over-zealous and well-intentioned devotees in a new temple, striving ahead. In following years I have seen similarly well-minded people in all walks of life pushing and cajoling without the experience to realize the adverse and unintended affects such behavior mighthave on equally strong characters. We all grow and develop over the years, and hopefully we learn.
In 1982 I relocated to Germany, then back to UK a couple of years after that.
A Misunderstanding in Soho
My next attempt at rekindling connections was brief. Some years later I went to the temple in Soho, London, and was invited to join the end of the daily teaching before breakfast. Again I was sincere, but inadvertently must have touched a nerve with a question I posed in all innocence. It didn't go down well. Recently I have been told that there had been some difficult events around that time and perhaps I had just said the wrong thing at the wrong time. What a great shame, but it perhaps shows how careful we must always be with what we say, how we say it, and—if I may respectfully say—also how we react. I wanted to be a devotee, but instead left disappointed.
The years went by, and I became a Buddhist. Despite all of this, my love for Lord Krishna, Srila Prabhupada, and Tamal Krishna Goswami never waivered. But I felt disappointed and lost.
TKG in BTG
Then, suddenly and mysteriously, in 2002 I decided I must visit Bhaktivedanta Manor that very weekend. I hadn't been there since 1980, and (forgetting the "Soho incident") the last real connection had been in Hong Kong in 1982. It was a strange experience to see the young devotees, and I couldn't help thinking how different my life would have been if I had made a different decision twenty years earlier.
I really enjoyed the visit and walked back to my car feeling elated, but then just before driving away I suddenly got the urge to see if Back to Godhead was still being printed. I walked back to the reception area and was told that they only had one back issue. They pointed me to the shop and said I should get the latest copy from there. For some inexplicable reason I was insistent that I didn't want the latest issue but wanted to buy the one back issue they had, despite their protestations. It was only on the way home that I opened it and saw that it was a special memorial edition for Tamal Krishna Goswami. Even now this sad memory sends shivers down my spine and tears to my eyes. After twenty years, it was as if somehow I was directed to visit again, and then guided to buy that particular issue of BTG. It was as if I had to be told that TKG had died. I had always thought that someday I would meet him again.
Maybe I am reading too much into all of this, but for me this is an incredible experience, and ever since then I have so regretted not better appreciating what was offered to me in Hong Kong so many years before.
I bought another copy of the beautiful Bhagavad-gita As It Is and some other small books, and I felt closer than ever to Krishna. My love and sheer wonderment multiplied infinitely. I continued as a Buddhist, but often found myself quietly chanting the Hare Krishna maha-mantra.
A New Career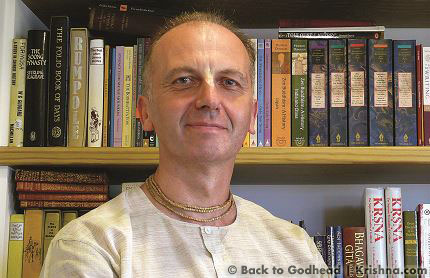 Skip forward to 2007. I moved to Nepal for three fascinating years. I made one visit to the ISKCON temple in Kathmandu, but closer to home we had our own camp pandit. I made it known to him that even though I was well known to be a Buddhist (indeed, the most senior rank Buddhist in the British army!), I was also devoted to Lord Krishna. I requested him to make sure that our Krishna deity in the camp mandir was well cared for and that Krishna Janmashtami was celebrated nicely. I was the boss by then and had some say over things. I insisted that Krishna Janmashtami be taken as one of our public holidays. We had only a limited number of holidays, and I could decide (within reason) which these should be. My insistence on deleting one of the UK public holidays to celebrate Janmashtami wasn't universally popular among my British staff.
As my time in Nepal was nearing its end, I decided that thirty-three years in the army was enough and that the time was right for me to leave. I had something of a reputation for being a bit of an oddball—vegetarian for twenty-two years or so, virtually a teetotaler for most of that time, and a Buddhist. I felt I must devote the rest of my life to what in my heart I had always wanted to do: focus on spiritual development—and paint, hopefully using the latter to earn money I could give to good causes. After a final six months on an operational tour in Afghanistan, I retired and immigrated to Taiwan.
I had been a devout Buddhist since 1992 but felt frustrated that I wasn't making more progress. I knew there was more. It seemed I had reached a glass ceiling and couldn't break through. I desperately felt I needed to find a guru with whom I could have a personal relationship. I needed someone to point the direction. Yet despite my endeavors, I could not find what I knew in my heart was out there. I thought of Krishna more and more. I subscribed to BTG, started reading Bhagavad-gita once more, and read as much as I could online.
Suddenly, things started dropping into place. I met a couple of wonderful devotee friends online who have been so encouraging, so inspiring, so patient. I found gurus who made time to answer my emails. I saw a direction once more, and this time there were no doubts. Suddenly I was chanting at least sixteen rounds every day, but unlike my attempts in Hong Kong, which sometimes felt like I had to do it, now I was, and am, enjoying doing it. I am reading the Bhagavad-gita every day, together with other wonderful books of Srila Prabhupada. I have started painting devotional pictures of Krishna. I have made contact with the ISKCON temple in Taipei and recently made the couple-of-hours' journey from our home to listen to an inspiring talk by Hari Sauri Dasa about his experiences with Srila Prabhupada.
As we chanted, my ignorance and lack of knowledge was all too apparent as I failed to catch the lines to respond in the kirtana, but still I felt at home and sat with a big smile and a heart warmed by Radha-Krishna and the maha-mantra. I chanted full of joy with the other dear devotees, feeling so light and happy and wonderful. Everyone is being so welcoming, and it feels like I am rejoining a family from which I have been absent. This autumn I am determined to achieve another dream—to visit Mayapur and Vrindavan.
In closing I wish to say that despite the ups and downs, and mistakes made along the way, my love for Krishna is eternal and this organization of ISKCON, through which Srila Prabhupada so graciously brought the knowledge of Krishna consciousness to so many, must be treasured as the most wonderful jewel that it truly is.