A donation of land offered in the 1970s culminates in an impressive new temple outside New Delhi.
By Radhika-kripa Devi Dasi
The inspiration for this temple outside Delhi occurred in Australia more than forty years ago.
Srila Prabhupada landed in Melbourne in the winter of 1975 to install Gaura-Nitai deities. Many Indians and westerners were attracted to his lectures and talks in Melbourne. Among them was a young Indian couple, Shri Gopal and Usha Bhardwaj, who had recently migrated to Australia. Srila Prabhupada's fatherly affection and care was a great support for his audience, and his charismatic personality appealed to Shri Gopal and Usha. They rushed to the temple for his classes, drove him to home programs, and revealed their hearts to him. Their love blossomed and grew stronger day by day.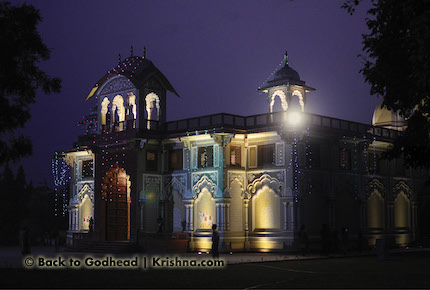 The Vedic scriptures rightly describe this spiritual phenomenon. Simply by the association of pure devotees one can understand the transcendental name, fame, quality, and activities of the Supreme Personality of Godhead. Sri Chaitanya Mahaprabhu said, "The verdict of all revealed scriptures is that by even a moment's association with a pure devotee [sadhu-sanga], one can attain all success." (Chaitanya-charitamrita, Madhya 22.54) Srila Prabhupada comments on this verse in his purport to Srimad-Bhagavatam (4.24.59): "Simply by associating with a pure devotee, one becomes wonderfully advanced in Krishna consciousness. Sadhu-sanga, or association with a devotee, means always engaging in Krishna consciousness by chanting the Hare Krishna mantra and by acting for Krishna."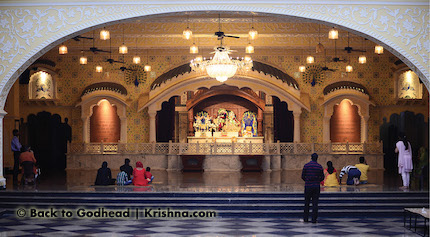 Because Srila Prabhupada's stay in Melbourne was brief, the couple was able to engaged in the direct service of a pure devotee of the Lord for only a short while, but Srila Prabhupada's saintliness instilled in their hearts the desire to donate a piece of land they had in Bahadurgarh, their hometown in the state of Haryana in India. They approached Srila Prabhupada and gave the two and a half acres to ISKCON. They wanted a beautiful temple to be constructed there to benefit the people of their town.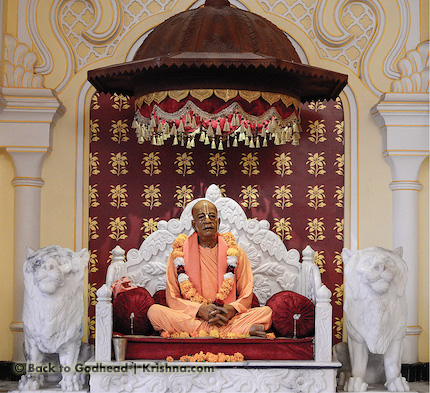 Sometime later, Srila Prabhupada invited the couple to come to their homeland to complete the necessary paperwork. After an unavoidable delay of one year, Mrs. Bhardwaj arrived in Delhi in 1977 and anxiously rushed to the Sri Sri Radha-Parthasarathi Temple at Lajpat Nagar to enquire into Srila Prabhupada's whereabouts.
A shock awaited her. Srila Prabhupada had departed this world. Shattered and distressed, she returned to Melbourne with a broken heart.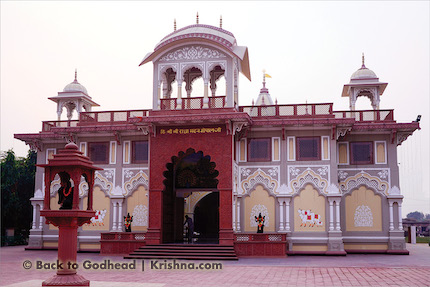 After many years, she once again traveled to Delhi, where she met Gopala Krishna Goswami Maharaja. She narrated the story of the meeting with Srila Prabhupada and requested to execute the remaining paperwork. Thus after nearly three decades, the pending paperwork, including the legal registration of the land in the name of ISKCON, was finally done.
This marked the completion of one phase of the construction of the Bahadurgarh temple. The year was 2003. In the years gone by she had lost her beloved husband, her partner in the donation. She was keen that a Radha–Madana-Gopala Temple be completed in her lifetime, but with several ISKCON temples in progress in the greater Delhi area, it was not possible to launch another project at that time.
A Palatial Temple Rises
Finally, the work on the land was scheduled to begin in 2012. But although the project changed its executors a couple of times, no concrete construction was going on. Eventually a strong team evolved that soon took the project to its peak.
Gopala Krishna Goswami entrusted the work into the capable hands of his disciple Vedavyasa Dasa, who ensured him of magnificent results. Vedavyasa brought on Rasapriya Dasa, a devotee with love for the Supreme Lord and an exceptional sense of art and architecture. He drafted new plans for a palatial temple inspired by Vrindavan temple architecture but with a uniquely styled inner sanctum.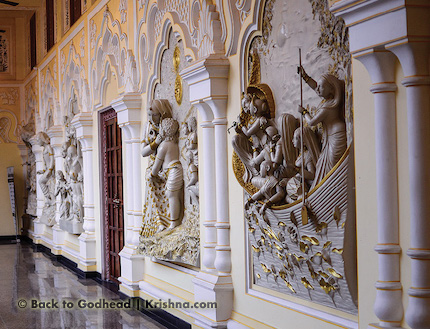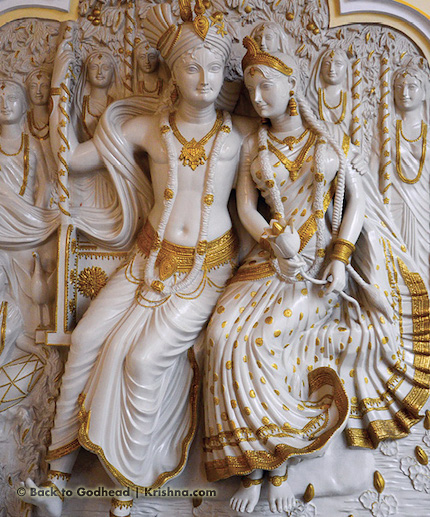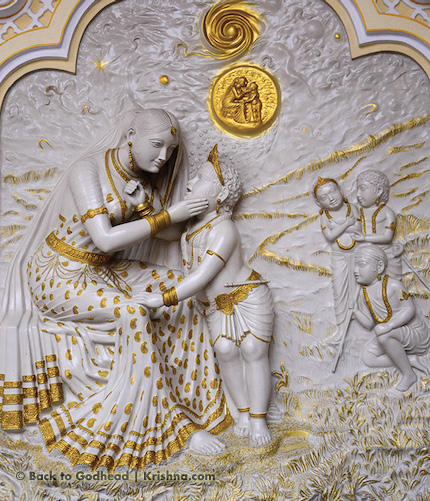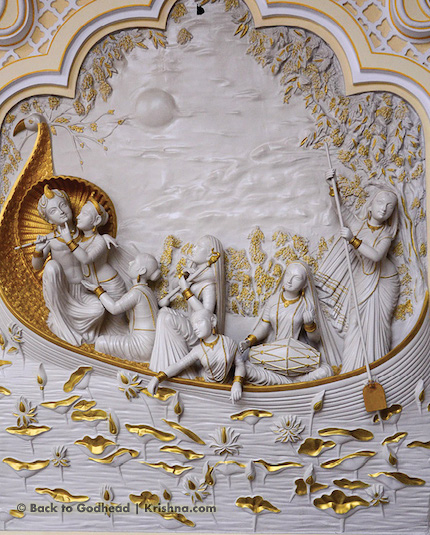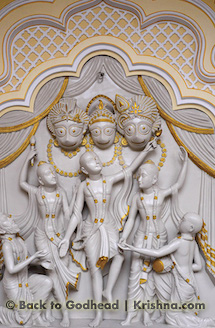 Vedavyasa, an industrialist fully dedicated to the Lord, promised full financial support and encouraged Rasapriya to go ahead with his vision. Neither of them wanted any compromise on quality. They worked successfully as a team, overseeing the work of nearly two hundred people.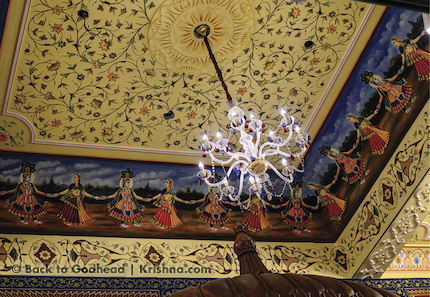 Soon the building started taking shape, and a huge, high, solid structure was visible on the ten thousand square yards of land. The artwork of Rajasthan was brought to life in Bahadurgarh, a business hub of Haryana. As the work progressed, the temple's form as a grand palace gradually emerged. The completed palatial temple now stands majestically amidst sprawling gardens. The complex includes an eight-room guesthouse, seven rooms for brahmacharis, and seven rooms in the administrative block.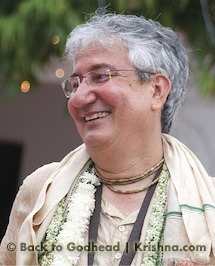 The Sri Sri Radha-Madana-Gopala Temple officially opened on August 18, 2018, with a three-day festival attended by eight thousand devotees and guests. Filled with delight, Mrs. Bhardwaja attended the inauguration ceremony with her son and daughter. Krishna had answered her prayers and accepted the name Sri Sri Radha–Madana-Gopala that she had wished the deities to have.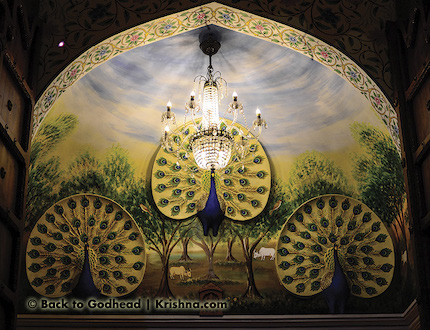 "This beautiful palace for Radha-Krishna is beyond my imagination," Mrs. Bhardwaja said with a beaming smile. "I now have faith that the love and devotion my husband and I offered have been accepted."