The first child born in ISKCON received much love and attention from the movement's founder.
By Satyaraja Dasa
"Prabhupada says, 'Oooh, this very morning I dreamed about this child [infant Saraswati], this exact child.'"
Any thorough retelling of ISKCON's early history will invariably include mention of a little girl, Saraswati by name, the daughter of two of the movement's earliest members, Syamasundara Dasa and Malati Devi Dasi. Both are today well known for helping Srila Prabhupada unfurl his mission worldwide.
Prabhupada was proud of little Saraswati, and would often point to her significance as part of his movement, as she showed how anyone – literally anyone – can take part in it. "Even a little child can engage in this process, chanting 'Hare Krishna,' Prabhupada said in reference to Saraswati, "It is simple and sublime. Just see." In fact, Saraswati was the first child conceived in Prabhupada's Krishna consciousness movement, her very birth a significant part of "the Krishna conception," to use an obvious double entendre.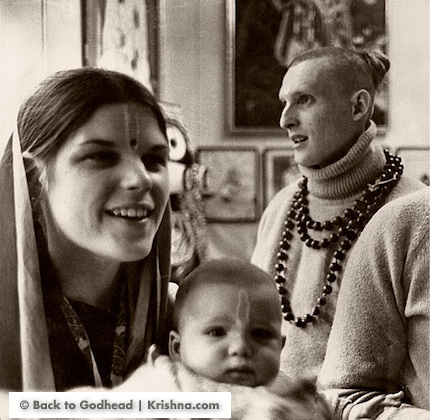 The fundamental conception of Krishna consciousness is that one can be a devotee of Krishna – the same one Supreme Godhead referred to by any number of names, in any of the world's many languages – regardless of one's caste, creed, or religious affiliation. It has nothing to do with gender, race, or age. It is simply a matter of opening one's heart and letting Him in. As Saraswati did.
The background of this story is well known: In the summer of 1965, at the age of 69, His Divine Grace A. C. Bhaktivedanta Swami Prabhupada left the holy land of Vrindavan, India, to share Krishna's eternal message in the West. A little over one month later, he arrived in Boston by freight ship, carrying only forty rupees and a trunk of books – the treasures in that trunk were his own translation of Srimad-Bhagavatam's First Canto, his initial literary offering to the world. In the coming years this offering would overflow into a Vedic ocean of transcendental literature.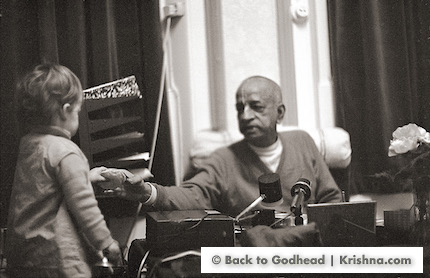 Soon Prabhupada was in New York City, where in 1966 he opened a temple and incorporated ISKCON. Enthusiastic followers joined him and made his teachings their life and soul. As quickly as one could say "Hare Krishna," that first temple surged with young seekers and fledgling devotees, and new temples were needed to accommodate the demand.
One of Prabhupada's first serious followers was Michael Grant, a jazz musician who would become Mukunda Dasa (and eventually Mukunda Goswami), one of Prabhupada's most outspoken advocates. After initiation, Mukunda planned a trip to India, but was sidetracked with the notion of visiting old friends on the West Coast. He and his wife, Jan (Janaki Dasi), made their way to see Jan's sister, Joan, who would also join them and eventually become Yamuna Devi.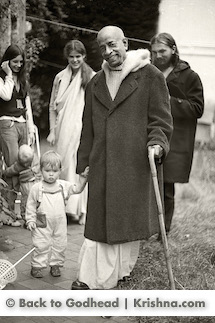 Mukunda and Janaki wanted to tell their close friends about the Swami they had met in New York (Prabhupada), and so, in early October 1966 they drove across America to Sisters, Oregon, where they reconnected with Sam Speerstra, who had recently gotten a job with the U.S. Forest Service to scout for fires in Deschutes National Forest. He lived on a ninety-foot-high mountaintop tower with his girlfriend, Melanie Lee Nagel. Mukunda convinced them of Prabhupada's authenticity, and they too soon become disciples. Sam became Syamasundara and Melanie, Malati.
These devotees, along with Gurudasa, Yamuna's husband, worked together to open a Hare Krishna temple in San Francisco, wanting to invite Prabhupada for the grand opening and to thus transform the face of the West Coast – and, from there, the entire world.
It was the height of the hippie era, and "love" was already a central theme. The devotees wanted to give this love an added depth by infusing it with Krishna consciousness. They knew that Prabhupada's presence would do just that. Consequently, they opened the first Hare Krishna temple in San Francisco, in the Haight-Ashbury district. It was the movement's second temple. Many more would follow.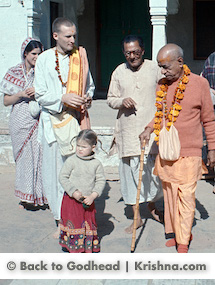 It was in San Francisco, just after the summer of love (1967), that Saraswati was conceived. The next summer, on June 17, some two weeks before the now famous 1968 Rathayatra festival, she was born. The baby was at the festival, an offspring of Lord Jagannatha's mercy.
Expansion of Krishna Consciousness
A third temple opened in Montreal, and in the summer of '68 Prabhupada was staying there. Prabhupada named Saraswati on the day of her birth.
"I ran out to the pay phone in the hall and rang the Montreal temple," writes Syamasundara. "The Swami's voice comes on: 'Bhaktivedanta here.'"
Syamasundara tells us what happened after that:
"Yes, Swamiji, our baby was born today here in San Francisco. It is a girl. Will you name her?"

A short pause. "She shall be called Saraswati devi dasi."

Over the moon, I yelled down the hall to Malati: "It's Saraswati!" Saraswati is the goddess of music and knowledge, and she became the first child conceived and born in the Krishna consciousness movement.

Swamiji wrote a letter to Sachisuta on June 17, 1968: "Just now I received one telephone message from San Francisco that a girl baby is born of Malati and Shymasundar. And they asked me for registration of the baby's name, and she is named by me as Sarasvati devi. Please pray for the newly born baby in Krishna consciousness."
Soon after, Syamasundara decided he wanted to meet the Beatles to share Krishna consciousness with them. Unsure why he was given this inspiration, much less whether it would bear fruit, he became determined to make the meeting happen and planned a trip to England. "After all," he reasoned, "George Harrison is getting more and more into Eastern spirituality and the music of India. Maybe he'll appreciate Krishna consciousness." Additionally, Prabhupada would often talk about London, in terms of the British Raj and its influence on India. And it became clear that he wanted ISKCON to expand into that part of the world. Thus for Syamasundara the meeting became an obsession. But Prabhupada told him that the baby should be at least six weeks old before traveling. "So we quickly meet with Mukunda and Janaki and Gurudas and Yamuna to pick a date for getting out of here," writes Syamasundara. "We decide to go to Montreal first to get blessings from the Swami [Prabhupada] and instructions on what to do in London. We shoot for late August."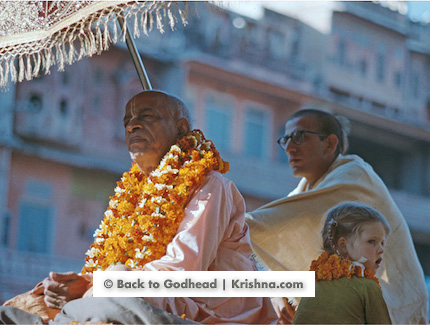 The three couples and little Saraswati arrived in Canada on August 10, 1968, and made their way to the new Montreal temple. Govinda Dasi, Prabhupada's assistant, greets them at the door, and upon seeing them, Prabhupada says, "Oooh, this very morning I dreamed about this child, this exact child. I dreamed about her this morning." He looks at Saraswati for a moment and says, "Remember me? I'm you're old friend." Saraswati looks up at him, wide-eyed and curious. He smiles at her lovingly. She is face to face with her "old friend."
Two days later, Prabhupada wrote to Hayagriva, one of his earliest disciples in New York: "Just on Saturday, several devotees have arrived from San Francisco: Mukunda, Janaki, Gurudasa, Yamuna, Shymasundar, Malati (and their little child, Srimati Sarasvati devi). All of them have come here for two weeks to practice together as our Sankirtana party, then they will go to London and begin preparations for our center there. While they are here, we are having rehearsal of Kirtana daily."
Prabhupada often expressed concern about Saraswati, so young and in the midst of a vital, growing movement, with a lot of activity all around her. But in general she was a happy camper, compliments of Malati: "I have seen that baby Saraswati is always eating," Prabhupada mused. "Malati is nursing her child so nicely that she attended my meeting every day and the child was playing and she never cried."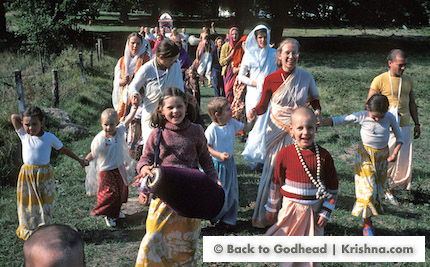 Soon they were off for London. Prabhupada dispatched them with great affection, especially Saraswati, to whom he offered a special good-bye. Syamasundara writes:
And then the Swami asked Malati to hand Saraswati to him. He grabbed her little swaddled body gently in one hand and swung her to his chest, looped his garland around them both, and with such obvious love he said, in his sometimes cheeky way, "Now they will say, 'What kind of sannyasi is he?'"

Malati: I don't think there was any photo of that. It was a very heartfelt departure. We were thinking, even, Will we see you again? We had one-way tickets. So we were intent on drinking in that vision of Swamiji behind that little desk, knowing we might not see him again, maybe ever. And indeed, this was the last time we saw Swamiji's face for almost exactly one year.
The three couples had one-way tickets to Luxembourg with the now nine-week-old Saraswati. They had virtually no money, and no one to receive them when they arrived – all they had was faith in Prabhupada's mission.
Meeting the Beatles, Winning Hearts
They planned a brief stopover in New York, where they saw ISKCON's first temple and their newly acquired brothers and sisters – Prabhupada's other disciples on the East Coast. From there they went to London, arriving on August 28. They struggled there for many months, working hard to make the Krishna conception known in the UK, staying wherever they could. Even though it took all they had, the six devotees and Saraswati were happy, making inroads by small increments. Overall, it was Syamasundara's dream come true – or at least the first part of it. He was in London, spreading Krishna consciousness. But now the more difficult part: meeting the Beatles.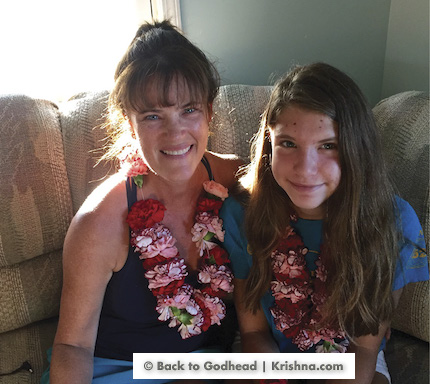 The specifics of how he met the "Fab Four," as they're called, have been detailed by many. The story is told particularly well by Syamasundara in Chasing Rhinos with the Swami, and by Joshua Greene (Yogeshvara Dasa) in his biographies of George Harrison (Here Comes the Sun: The Spiritual and Musical Journey of George Harrison) and Prabhupada (Swami in a Strange Land: How Krishna Came to the West). But in terms of our present context, what is especially significant is Saraswati's meeting with the famed pop band. Syamasundara writes:
Up the steep stairs I lead him. I make the introductions, everyone shy, exhilarated, grinning – the ladies first: "George, meet my wife Malati." (I'd already told him: formerly Melanie, hip, busy Frisco motorcycle chick, a dark-haired beauty – now vulnerable and blushing as she slips a garland around his neck.) "And this is our baby, Saraswati, almost eight months old. This is Yamuna." (My friend since childhood, no-nonsense Joan, contralto voice like an angel.) "And this is her sister Janaki, and Janaki's husband, Mukunda, who's my old college mate, the first of us to meet Bhaktivedanta Swami." (Mike Grant, jazz pianist extraordinaire.) "And Gurudas, Yamuna's husband." (New York street-wise dreamer and SF flower child.)

Gurudas breaks the spell. "Let's eat!" And we gather around on the floor as the girls lay out plates and bowls and heap them with Indian specialties. Just then, Saraswati crawls over, grabs a chapati off George's plate, and holds it up to his face – "Why, thank you, Saraswati," he says, unsure, but he takes a nibble. Malati grabs her, pulls her back to her lap, and everyone laughs. …

On Sunday, September 7, we invited George and Pattie [Harrison], with John and Yoko, to a picnic in our new temple in the gallery. The girls whipped up a multi-course lunch, and we had a kirtan and sat around on the cool tile floor eating and getting to know each other. Janaki taught John how to play kartals; Saraswati, now walking, charmed everybody; Gurudas ran around and took black-and-white photos, although it made John and Yoko a little uptight. Everyone loved the prasadam, and all agreed it was a perfect day.
But if Saraswati worked her way into Beatle hearts, as she did, she accomplished the same with Srila Prabhupada. In her childlike way, she "got it." She knew that Prabhupada held the key to Krishna. The following story illustrates this clearly:
"Ah, look, there is Miss Saraswati!"

"Pa-pa-pad!"

Saraswati rises from her obeisances, raises her little arms in the air, and runs toward him, then stops, hangs her head, shy, thinking maybe she's overstepped her bounds. Prabhupada leans down, takes her hand, and they walk together into his building and slowly up the stairs, chatting like old friends.

In a closet next to his room, Prabhupada had set up small Radha-Krishna deities. He's been teaching Yamuna and others the art of deity worship. Purushottam offers breakfast to the deities with an arati ceremony, ringing the bell, while the Swami sits joking around with Saraswati. Suddenly Saraswati rises to leave, and Prabhupada tosses a marigold at her that bounces off the back of her head. She picks up the flower, brings it back and, arm extended, she stuffs it into Prabhupada's mouth. Just then I walk in – and crack up. Prabhupada has that saucer-eyed look, an orange flower filling his mouth. I hand the kid her favorite toy, a small Gopal doll she had dropped on the stairs, and say, "Saraswati, show Prabhupada your new doll, Baby Krishna."

Saraswati hands Prabhupada her little doll, and he admires it with an "Oooooh!" She turns to me for my approval, and while she's looking away, the Swami tucks the doll behind his back and says, "Saraswati, where is Krishna?"

She looks around his desk, under the desk, makes a circuit around the room, and is about to cry, then points to Prabhupada, and says, "Pa-pad has Krishna!"

Her little hands dive around in the fold of his dhoti and behind his back while Prabhupada shakes with hilarity. Then he reaches back and brings out the doll. Saraswati grabs it from him, shrieks, and runs out of the room, leaving us speechless we're laughing so hard.
For devotees, the story engenders much more than its overt meaning. "Prabhupada has Krishna." Indeed.
With Prabhupada in India
On September 20, 1970, a letter arrives from Srila Prabhupada. The devotees in England are exhilarated, but few as much as Syamasundara and Malati: In the letter, Prabhupada expresses his desire to have twenty disciples come to India to be with him – and they are on his list. "I was upstairs at Bury Place [the ISKCON temple]," says Malati, ". . . and someone came up with this aerogram and Prabhupada was instructing us to come to India, so he gave a list of twenty names. We were on the list – and by hand he wrote, 'And baby Saraswati.'" The list included Gurudasa and Yamuna as well. Mukunda and Janaki would stay back and take care of the temple in England with a handful of other devotees.
Saraswati is now two years old. She is on her way to sacred India with the first coterie of Western devotees, flying there at Prabhupada's personal behest. When they arrive, the family finds itself in Bombay while Prabhupada is in Calcutta. But that only makes their thoughts of union sweeter – they haven't seen their guru in almost a year, and now they're in the same country, even if separated by many miles. They can't wait to be in his presence. Nonetheless, Syamasundara is developing strategies for preaching in Bombay on Prabhupada's behalf. In the long run, it was clearly all part of Krishna's plan – Western Vaishnavas in the land of the Ganges. And it was working.
The people of Bombay were receptive to Syamasundara's presence, and he wrote to Prabhupada to inform him. Prabhupada, never one to miss an opportunity to spread Krishna consciousness, quickly flew out to make that work for them on a larger scale. Sure enough, soon after arriving, they did public program after public program, with very little rest, each one larger than the one before.
At such functions, Prabhupada wisely engaged Saraswati in simple, fun, and yet effective ways guaranteed to sway any sensitive soul to the Krishna conception.
"Saraswati's job at these gatherings," writes Symasundara, "was to sing and dance, and Prabhupada carried her in his car – often she sat on his lap – to all the programs. She broke the ice at the meetings, melted India's heart, and she was soon the darling of Bombay."
Saraswati stayed in India throughout 1971, and she was even there for Prabhupada's historic venture into Vrindavan in November of that year – the first circumambulation of Krishna's holy land with Western disciples. Syamasundara remembers:
He's back home. This is where he hatched out the whole Hare Krishna movement. This is where Krishna empowered him to come West. And little Saraswati, she was one of his favorites. She followed him wherever he went. Sometimes he would grab her hand and walk with her. If Saraswati didn't come to his room every morning around eight o'clock, he would sometimes ask, "And where is Saraswati?" He expected to see her every morning. And quite often he would play some trick on her when she came, either to make her laugh or cry. But he would always make up and give her some nice sweet.
Prabhupada's mission was spreading rapidly, and Syamasundara was called upon to travel with him around the world, as his personal secretary, even while his wife and daughter would stay on in India. Thus, by late June 1971 Prabhupada and Syamasundara were off to Russia, and although Prabhupada didn't stay long, he changed the face of Eastern Europe forever. Today the movement thrives in that part of the world due to his brief time there. From Moscow they flew to Paris and then on to San Francisco. Then they went to New York and back to England. Syamasundara was amazed at how the movement had grown, and now, with Prabhupada's presence, it would grow even more. They also went to Kenya, where the movement was struggling to achieve a foothold among the local people. After four months, however, they were back in India, first Calcutta and then Delhi, where massive festivals called "Pandal programs" were being organized on Prabhupada's behalf.
Once in Delhi, Syamasundara was reunited with his wife and daughter, and as usual Saraswati was playing a major role at the festivals. Gargamuni Dasa, one of Prabhupada's earliest disciples, remembers her contribution at that Delhi celebration:
It was massively successful. You have to envision it. Connaught Place was modeled after its namesake in London, only larger, a literal hub for all the roads leading into Delhi, to the north being the Parliament and secretariat, and to the west residential areas for ministers, secretaries, VIPs, and the wealthy. Everyone came to this festival. People for as far as the eye could see. . . . Achyutananda, Dinanath, and myself, along with others, too, were on stage with Prabhupada, doing kirtan. Achyutananda was leading. And an amazing thing happened: Little Saraswati – she couldn't have been more than three or four at the time – goes in front of Prabhupada's seat, and turns to the audience and gestures that they should all stand up and dance. How do you say no to a child? So they did. Almost 30,000 people rise to their feet and dance. Mind you, this was a different India in those days. Indians were more conservative than they are now. They weren't into dancing at festivals. Still, they got up and everyone was in ecstasy. Prabhupada's oceanic smile was the icing on the cake. He was obviously pleased.
"Saraswati is a star in every show," writes Syamasundara. "She dances around on-stage, followed by Prabhupada's eyes. He laughs when she jumps in the air, enticing the audience to higher excitement. She wears tiny Rajasthani outfits: blouses and skirts of bold colors, mirrors and spangles. On one side of the pandal-tent is the very popular 'Questions and Answers' booth, where a senior devotee would sit on a high vyasasan and answer questions put by the public. All day long and into the night, three or four hundred visitors would stand around this booth and throw questions at Tamal Krishna, or Gurudas, or Rishi Kumar, until well after midnight. There was a photo-display of ISKCON activities around the world, and a large scale-model exhibit of the Mayapur scheme."
As for Saraswati, her time with Prabhupada was naturally life-altering. After all, the Bhagavatam (11.2.30) tells us, "Even half a moment's association with pure devotees is a priceless treasure." Lord Chaitanya confirmed this truth in the Chaitanya-charitamrita (Madhya 22.54): "Simply by a moment's association with a saintly person, one can attain the perfection of life."
Keeping Krishna in Her Life
Saraswati lived multiple lifetimes in just a few years. When she was five years old, it was time to start school. Her parents were aware that a stabilizing influence would be important for her future – a solid home foundation and regular attendance at a good school – and Prabhupada encouraged it.
"I tearfully dropped her off at the fledgling Gurukula school in Dallas – a highly accredited ISKCON boarding school at the time – in early 1973," remembers Syamasundara. But he and Malati missed her so much – and she, them – that she returned to her parents in London later that summer. For a while she attended the Gurukula in France as well. At that point, she spent more time with Malati, who saw to her education.
By the time of Srila Prabhupada's departure in 1977, Saraswati had returned to the States and then lived with Syamasundara in Los Angeles, where his work had taken him several years earlier. This allowed him to create a stable home for Saraswati. While there, she attended elementary and high schools in Topanga, Mt. Baldy, and Upland, California, and then went on to earn a scholarship and complete her studies at the University of Southern California, majoring in political science and psychology.
Now fifty-one, and called Sara, she is married and has two children. She still feels a sense of community with the devotees.
"World travel in my youth, especially being part of early ISKCON, has shown me that we're all connected. People are different and yet the same, no matter where they come from. We all want the same things, we're all spiritual beings, bonded on a fundamental level, beneath all the superficial differences."
Her core beliefs, she says, are the same as always. She maintains that real spirituality means "not being judgmental, to be open, forgiving, loving, as Prabhupada was to me."
He taught her to be loving to all creatures, and he taught her that real spirituality necessarily translates into action, and that the best action is delivered with a kind heart, motivated by spiritual purpose. She learned this from him, she says, not only by his words but by his example. Apropos of this, she is today a vegan, preferring a plant-based diet, and is a big supporter of the Golden Rule – "Do unto others as you would have them do unto you" – something she imbibed from her early days with the devotees. She tries to show by her everyday activities and her interaction with others what spiritual life means to her.
Throughout her life, Saraswati has always benefited from and reflected on Srila Prabhupada's mercy in her early years. It affects her life to this day. She remembers that he was her best friend and transcendental playmate in her childhood, and that he was always kind to her. "What I learned from him cannot be put into words," she says. "It formed who I am, how I see the world, and what I value in life."
She still chants, too, calling the maha-mantra – Hare Krishna, Hare Krishna, Krishna Krishna, Hare Hare/ Hare Rama, Hare Rama, Rama Rama, Hare Hare – her "great shelter," something she invariably turns to for peace and inner satisfaction. Although she is not a regular sadhaka in an external sense, she calls upon Krishna's name regularly, sometimes overtly and sometimes subliminally. It's always there for her: Reaching out for the holy name is like reaching out for Prabhupada in her youth, she says.
Nearly every day she remembers him smiling and laughing. The benefits of such a memory are limitless, especially when it relates to a pure devotee. In her early life among the devotees, Saraswati was always with her parents, it's true. But she was also traveling to various parts of the world, often finding herself in the same room with people who were unknown to her. Prabhupada's smile and encouraging laughter gave her comfort, even personal self-confidence, as one normally gets in the company of someone who is old and wise, like a kindly grandfather figure. His smile and laughter always lifted her spirits, she says. And because it was Prabhupada, it did a lot more than that: It helped her – and continues to help her – remember Krishna.