Srila Prabhupada spent much time in his "Western world headquarters," overseeing his worldwide mission.
By Karuna Dharini Devi Dasi
The place Srila Prabhupada called his "Western world headquarters" remains a vital oasis of Krishna consciousness.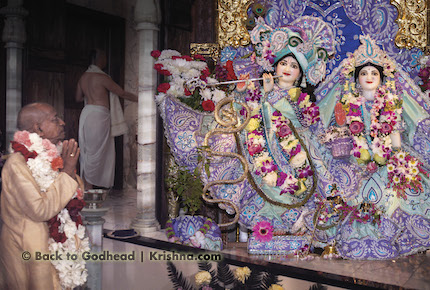 Part One: Some History
Starting off in Midcity LA, 1968
ISKCON's new center in Haight-Ashbury, San Francisco, was getting a good turnout. It was "the summer of love," 1967, when idealistic youth gathering in the Haight to seek peace, justice, and alternative lifestyles often became overwhelmed by the area's crime, pimps, and drug dealers. Srila Prabhupada's disciples offered hot prasadam meals at the ISKCON storefront every day, and their center became a drop-in for wayward souls of the freewheeling lifestyle that had become an epidemic. That summer, the San Francisco devotees staged the western world's first Festival of the Chariots, or Rathayatra, attended by thousands.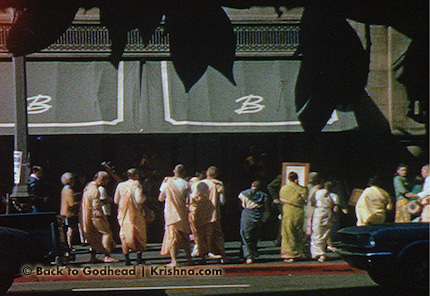 The devotees' activities in San Francisco brought media attention to Srila Prabhupada's movement, and one day Mukunda Dasa received a phone call from ABC TV in Hollywood. The caller invited Prabhupada and Mukunda for an interview on the Les Crane Show, scheduled for January 17, 1968. Prabhupada was already thinking about starting a center in Los Angeles, and this influential interview would bring him there.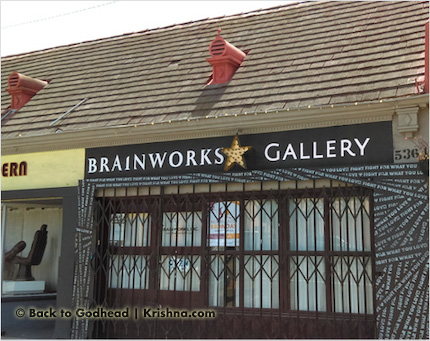 Several of Prabhupada's disciples had already arrived in LA and rented a storefront building at 2364 Pico Boulevard, in midcity, an area bordered by Beverlywood, the towering Wilshire Boulevard Miracle Mile, and Koreatown. The new center was furnished with an altar – two wooden orange crates covered with a madras. Atop the altar stood a mystical-looking print of smiling Krishna holding a cow. Dayananda Dasa, his wife Nandarani Devi Dasi, and Aniruddha Dasa anxiously awaited the day Srila Prabhupada would visit their new center. When Prabhupada arrived in Los Angeles the day before the interview, they had an apartment waiting for him on Saturn Street, one block from the center on Pico.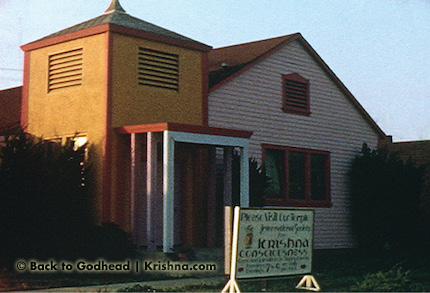 The next day was a success. Les Crane proved an amiable interviewer, and after that show, seen by millions, the devotees made many new contacts. Srila Prabhupada was happy to tour the new little center. Sitting under a tree in front of the apartment house on Saturn Street, taking the morning sun along with his massage, he gave his three disciples personal, friendly instructions. One was to regularly perform public chanting, harinama-sankirtana. To make this easier, they soon moved to a location on busy Hollywood Blvd., one block from Grauman's Chinese Theater.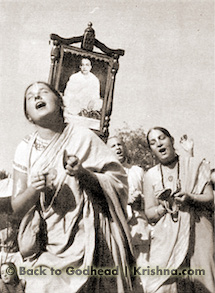 Prabhupada's presence drew devotees from San Francisco, and the young kirtana leaders led enthusiastic chanting for long hours at this new location, often until 1:00 a.m. The group also sold Back to Godhead magazines and incense. One night Srila Prabhupada, chauffeured in a car, parked in front of the kirtana party, and the delighted devotees bowed down on the busy Hollywood Boulevard sidewalk, paying loving obeisances to their spiritual master.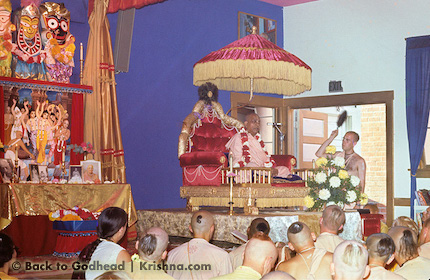 The devotees regularly held a Sunday Love Feast for guests, as Prabhupada had done in New York. Yet just when the center was gaining popularity, the devotees were evicted due to the intense aromas from their kitchen and the sounds of kirtana. Out on the sidewalk with pots, pans, and bedding, and the deities of Jagannatha, Baladeva, and Subhadra in their arms, they accepted a passerby's offer of the use of her garage. Soon Dayananda and Nandarani put up the married couples and single women in their home, a house in a poor neighborhood in Watts was rented for the brahmacharis, and Srila Prabhupada took the Jagannatha deities to his apartment.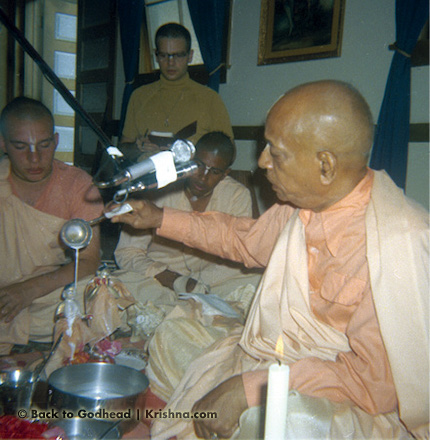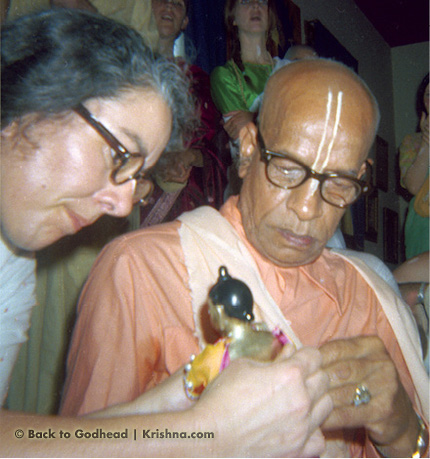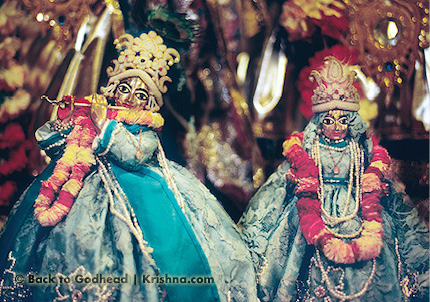 Spread out in several directions, but with their love for Srila Prabhupada holding strong, the group met at various places. The Sunday Feast continued, now in a decorated garage, and Prabhupada kindly came and lectured.
The devotees' greatest joy came at the Watts location on Monday, Wednesday, and Friday evenings, when Prabhupada lectured on the Bhagavad-gita and led kirtanas with the mridanga drum while everyone sang and danced. For months he tolerated the scattered living condition of his disciples without saying a word. Then one night he did not ask his usual questions, such as "How was the sankirtana?" or "How many magazines did you distribute today?"
Instead he asked, "How long do you expect me to sit in this house? The deities are in my apartment and you are all here. What are you doing?"
His looked at one devotee after another, asking each one of them, "What are you doing?"
He did not lecture that night.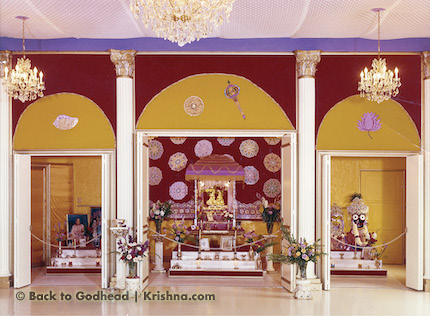 Soon after, they chanced upon a church for sale with three large adjacent rooms at 1975 La Cienega Blvd., and the devotees, with their deities, were able to be together again.
Fondly remembering their days at the West Los Angeles La Cienega temple, devotees describe themselves as a happy family, mostly in their twenties, with Srila Prabhupada in the center as their perfect father. They cooked together, Srila Prabhupada their expert guide introducing what he called "kitchen religion." He taught them how to make everything from rice to rasagulas and offered Krishna an amazing array of dishes. The devotees savored the prasadam and spent hours trying to perfect the recipes themselves.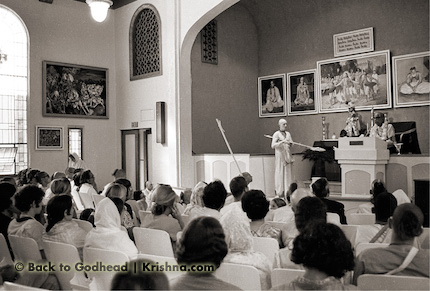 Prabhupada once asked, "Where is Krishna's favorite place in the temple?"
When no one could answer, he replied, "In the kitchen."
If he wanted a pencil, they would shout out, "Prabhupada wants a pencil! Prabhupada wants a pencil!" and run to bring it to him.
They planted a large rose garden for him in front of his apartment.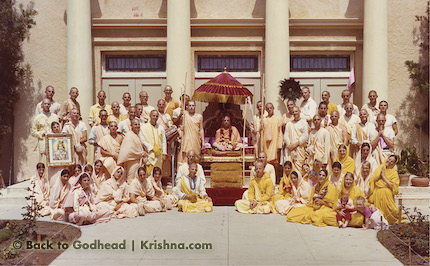 Srila Prabhupada was pleased with this new location and wrote to his disciples in other centers to describe it. From this center, which he called his world headquarters, he began to send devotees in every direction to open more centers. And he introduced important new aspects of Krishna conscious practice, which would include the worship of deities of Sri Sri Radha-Krishna.
Radha-Krishna Worship Begins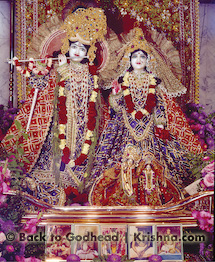 The disciples in Los Angeles heard that Prabhupada had taught the devotees in New York how to worship Radha-Krishna deities, and they wanted to start their own Radha-Krishna worship. There were no Radha-Krishna deities to be found in America, but one day eleven-inch brass Radha-Krishna deities arrived in a box, carried by an old friend of Prabhupada's, a widow from Vrindavan who visited for kirtana at the temple.
On July 16, 1969, Srila Prabhupada installed the deities in the temple. Because his mind was already a throne for Sri Sri Radha-Krishna, he didn't need an altar for Their worship. But out of his immense compassion, he wanted to give his disciples the opportunity to worship Them directly. They were transferred from the heart of the pure devotee, Srila Prabhupada, to the temple of the neophyte westerners on the credit of their developing love.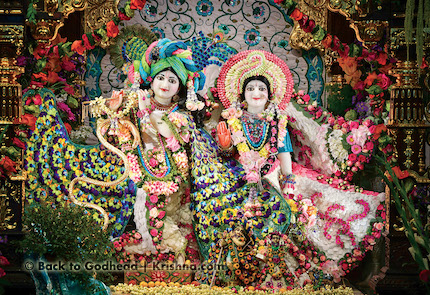 The devotees began a full schedule of decoration, aratis, and food offerings, just as Prabhupada had established it in New York, and the way it is done in temples in India. Since deity worship requires sewing, cleaning, and cooking, Srila Prabhupada turned to some of his older female disciples to initiate it.
Shilavati Dasi explains:
Srila Prabhupada kept a set of his own five-inch Radha-Krishna deities with him when he traveled. He would dress and bathe them every day. Sometimes we would watch. I wanted to be able to worship, too. I became very attracted.

But when I asked him many questions, he said that if I told you all of the regulations regarding deity worship, you would never get out of the shower [because of the high standard of cleanliness required]. You would never be able to do anything. He tried to give us as much as we could handle, but he also knew we were not very capable.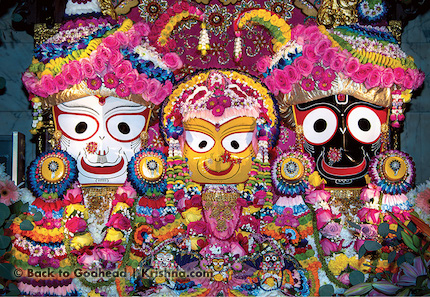 Srila Prabhupada described for Shilavati the traditional paraphernalia for offering the arati. When she had gathered all the items, she tried to perform the ceremony as Prabhupada looked on. Afterward, Prabhupada patiently took her aside and taught her how to do it correctly.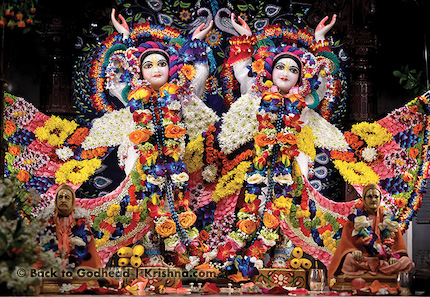 Each morning, Shilavati offered the mangala-arati to the deities. She was alone. All the other devotees were still sleeping due to their late-night sankirtana. Yudhishthira Dasa remembers that, because Shilavati couldn't blow the conchshell that announces the beginning of the arati, she would douse him with water every morning at 4:30 a.m., after his late night out on sankirtana, so that he would wake up to blow the conchshell.
Since flowers are required in deity worship, Jayananda Dasa donated one hundred and eight rose bushes and planted them in front of the temple.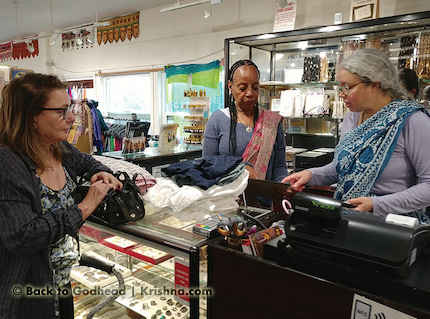 The Morning Program
Srila Prabhupada stopped the late-night sankirtana and requested all his disciples to attend the daily mangala-arati at 4:30 a.m. Everyone had to be in bed by 10:00 p.m. And what nectar to wake up to! At the morning Srimad-Bhagavatam class, Srila Prabhupada had the devotees responsively chant the Sanskrit mantras after him, and he directed that this become the standard in all temples.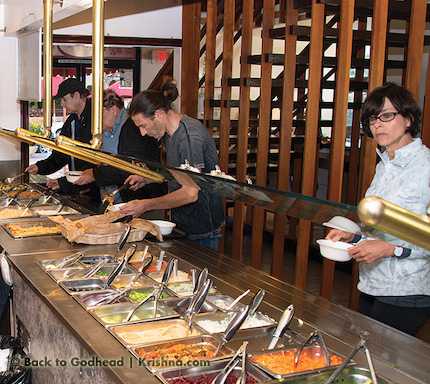 Meanwhile, in London, devotees had released a popular single record, "Govinda," with the help of George Harrison in his studio. It featured beautiful Sanskrit verses from the Brahma-samhita in glorification of Lord Krishna. One day the devotees played it in the temple, and Srila Prabhupada became stunned. His body shivered, and tears streamed from his eyes. In the silence of the moment, the devotees chanted softly. Finally Srila Prabhupada repeated the refrain from the song, govindam adi purusham tam aham bhajami.
And then he asked, "Is everything all right?"
The response was a huge roar.
"Jaya Srila Prabhupada!"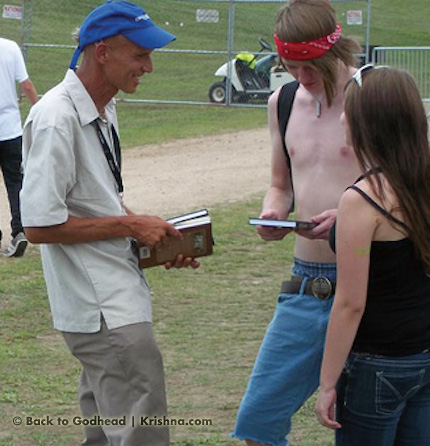 Then he began Srimad-Bhagavatam class.
"Arriving from his morning walks in Venice Beach or Cheviot Hills Park," Bhutatma Dasa recalls, "Srila Prabhupada would enter the temple just as the Govindam prayers began, stirring a spiritual excitement in the hearts of the devotees. Now we were about to share an hour of sweet transcendence with this most wonderful person – greeting the deities, singing Jaya Radha-Madhava, and hearing Srimad-Bhagavatam from the self-realized acharya. The morning programs with Srila Prabhupada were special beyond compare. They seemed to create an enduring mood that pervaded the temple."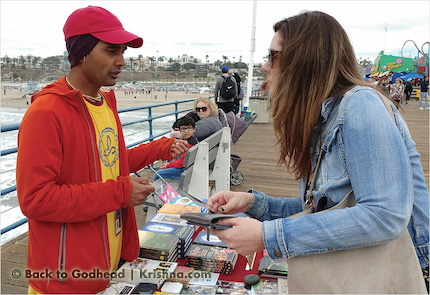 Moving to Watseka Avenue
After just one year, there was not enough room at the La Cienega address. The devotees' Spiritual Sky Incense business was growing, Back to Godhead distribution was increasing, and the Sunday Love Feast was attended by souls from local areas as well as the new centers in Laguna Beach and San Diego.
When Tamal Krishna Dasa and Dayananda Dasa found a big church with a service building and minister's quarters, Srila Prabhupada negotiated the price with the minister, and it became ISKCON's most impressive property.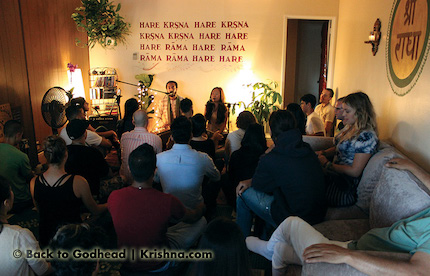 From Srila Prabhupada-lilamrita, Volume 4:
On the auspicious occasion of Bhaktisiddhanta Sarasvati Thakura's appearance day anniversary, the Los Angeles devotees received permission to enter their new temple on Watseka Avenue. The rooms had not even been cleaned, and the large hall was bare; but the devotees brought in Prabhupada's vyasasana from the old temple on La Cienega, and Prabhupada had them place on it a large picture of his spiritual master. Standing before his spiritual master, Prabhupada offered arati while some fifty disciples gathered around him, chanting Hare Krishna and dancing in the otherwise empty hall.

After the arati, Prabhupada directed his disciples in offering flowers to the picture of Bhaktisiddhanta Sarasvati. Then, still standing before the vyasasana, he said he had nothing to offer his spiritual master on this day except his own disciples. He then read aloud the names of all his disciples.

Taking his seat on a low vyasasana beside the large vyasasana of Bhaktisiddhanta Sarasvati Thakura, Prabhupada gave a short history of his Guru Maharaja, son of Bhaktivinoda Thakura and powerful acharya of the mission of Chaitanya Mahaprabhu. As Prabhupada recalled his first meeting with his spiritual master, he told how Bhaktisiddhanta Sarasvati had told him to teach Krishna consciousness to the English-speaking world. This large new temple, Prabhupada said, had been provided by Bhaktisiddhanta Sarasvati as a gift for the devotees to use in Krishna's service. They should not become attached to the opulence, Prabhupada said, but they should use this wonderful place for preaching. As he spoke, he wept.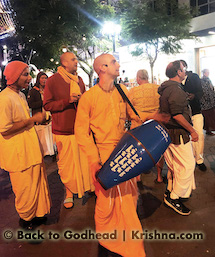 Afterwards, Srila Prabhupada directed the serving of a delicious feast. Then he instructed his disciples on how the buildings should be used, where the deities' altar should be, where devotees would stay, and other details.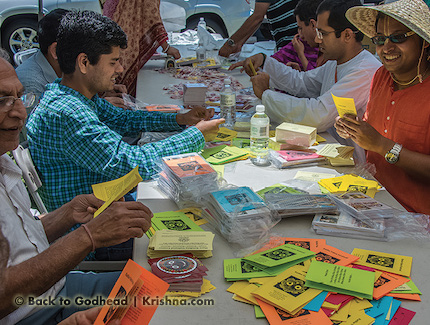 The Deities' Journey to Their New Temple
Inside the building on Watseka Ave. was an old Spanish-mission–style pulpit with arches over it. Devotees hung large oil paintings of the disciplic succession and Lord Chaitanya there. Srila Prabhupada lectured from the podium while disciples sat in the pews. He said he liked this arrangement for guests.
After many days and nights preparing for the move, the devotees took the deities on a long procession from La Cienega Blvd. through Cheviot Hills to the new location on Watseka Ave. The deities rode in a beautiful palanquin with a canopy to protect Them from the sun. A scene of Vrindavan – cows grazing along the banks of the Yamuna River and a full moon rising – was painted on the cart so that Radha and Krishna would feel at home. The palanquin was decorated with fresh fruits and flowers.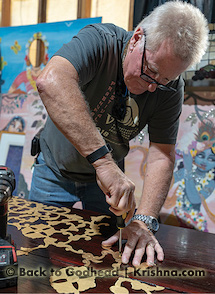 Along the way some devotees knocked on doors to ask for offerings. Their mood was spontaneous. "We're taking Radha and Krishna to Their new temple." Soon the palanquin was overflowing with an array of donated flowers.
Once the deities were placed on the temple altar, Srila Prabhupada directed the devotees to line up on two sides of the temple room – women on one side, men on the other. The space between them would allow Srila Prabhupada to see the deities, and allow the devotees to see Prabhupada and the deities.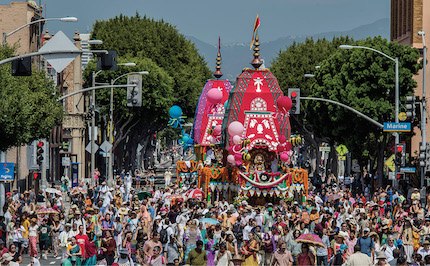 When Srila Prabhupada first saw the new altar, he reached up and touched some silk greenery decorating the top.
"This isn't proper," he told a temple leader. "Only real flowers and plants should be offered."
Once, when Srila Prabhupada entered the rear of the temple, he asked, "What is that in Krishna's eye?"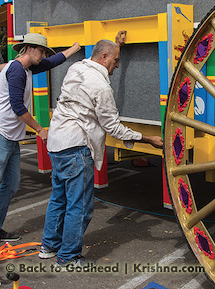 The devotees didn't see anything at first, but then discovered that a speck of the tilaka from Krishna's forehead had fallen into His eye.
One morning when most of the devotees were out of town for the San Francisco Rathayatra, a pipe bomb was thrown into the Watseka building through the back door. It exploded and shook everything. Some devotees were cut with small pieces of shrapnel.
Srila Prabhupada then taught the devotees Sanskrit prayers to Lord Nrisimhadeva. He went over the words several times with the stunned devotees, and then they sang it together. Srila Prabhupada remarked that because his movement was growing, the demons were becoming more envious.
With a May 1970 letter to all ISKCON centers, Srila Prabhupada introduced the morning program: "Now at the present moment I am concentrating my energy in this Los Angeles center which is ideal for all other centers in respect of Deity worship, Arotrika, Kirtan and other necessary paraphernalia. . . . I wish that you may come here at your convenience for a few days and see personally how things are going on."
This invitation brought devotees to Los Angeles to study the new standards Srila Prabhupada was setting for them. As the movement grew, more and more devotees made their home in what Srila Prabhupada eventually named New Dwaraka. They were sculptors, architects, carpenters, designers, musicians, businessmen, managers, accountants, technicians, writers, editors, artists, teachers, seamstresses, jewelers, photographers, film producers, speakers, and actors, and their skills blossomed due to their love for Srila Prabhupada. Much of his legacy was born from the culture of krishna-bhakti he inspired in LA, including translated and published Vedic scriptures, krishna-lila oil paintings, musical recordings, lectures, museum dioramas, festivals, dramatic performance, films, and the standard-setting worship of Sri Sri Rukmini-Dvarakadhisha.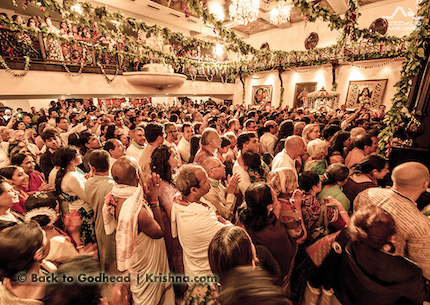 Part Two: New Dwaraka Today
Fifty Years of Growth
New Dwaraka was home to many original projects born from the seeds of the talent and ambition the early disciples offered to their beloved spiritual father. Those seeds sprouted into the strong plants of many traditional programs, thriving with fine, sweet flowers for the pleasure of Lord Krishna.
Govinda's
Srila Prabhupada was keen on opening Hare Krishna restaurants for the distribution of prasadam, and Govinda's Buffet of Los Angeles was the first of such vegetarian restaurants, opening in 1982. Today both Govinda's Gift Shop and Govinda's Buffet are a vital hub of the New Dwaraka community. Govinda's Gift Shop offers a superlative storehouse of the best from India, while the Buffet serves out a fresh daily assortment of prasadam dishes to a continuous flow of visitors. The Govindas are situated upstairs and downstairs in a building adjacent to the temple.
At Govinda's many a newcomer receives a warm greeting.
"So many interesting people come through, and they have a lot of questions about Krishna and the temple," says Aditi, who works the register and stocks shelves. "I get to give every customer I meet a free copy of one of Srila Prabhupada's books."
Govinda's is staffed by devotees, including householders and single men and women living in the ashrams.
Tadit Devi Dasi, the wife of temple president Svavasa Dasa, has been the purchaser and manager of Govinda's for thirty-three years. She holds a degree in fashion design, and her trained eye and chaste dedication to Srila Prabhupada's sankirtana mission have inspired her to assemble a gift shop that has attracted the media as well as a variety of celebrities from around the world. Govinda's Gift Shop has appeared in The Los Angeles Times, Los Angeles Weekly, The New York Post, Yogi Times, Yoga Journal, Allure, In Style, Harper's Bazaar, Lucky Magazine, and Vogue.
Tadit's determined sacrifice to maintain the quality and quantity of goods in the store has served as a dependable financial foundation for the temple and ashrams. The elaborate flower outfits offered to the deities on festival days are sponsored by the Gift Shop, and designed and put together by the women who work there.
Govinda's Natural Foods Buffet serves a fresh assortment of American and ethnic dishes daily. The peaceful, friendly atmosphere is a famous respite for busy Westsiders.
Govinda's kitchen is under the direction of Jaganivasa Dasa, a 1983 graduate of the Culinary Institute of New York City. He is also an Ayurvedic medical advisor and holds a masters in herbology and homeopathy from Ashford University in Washington, D.C. A culinary professional for thirty years, Jaganivasa specializes in five varieties of international cuisine.
With his mother as a respected chef, Jaganivasa developed a culinary sense early in life. He began cooking and helping in cooking classes at the age of four. Later Jaganivasa taught culinary art for three years in his native city of Cali, Columbia, where he owned and operated an intercontinental vegetarian restaurant.
Besides supporting the Los Angeles temple's opulent worship, the steady income from the two Govindas insures that teams of missionaries are able to travel and share Prabhupada's books by the thousands without any encumbrance.
Book Distribution
For many devotees who feel inspired to distribute Srila Prabhupada's books, New Dwaraka is the place of choice. The Bhaktivedanta Book Trust was established in Los Angeles in 1974, and to date forty-five million books and pamphlets have been distributed in North America.
Surprisingly, Srila Prabhupada's strategy for the distribution of his books didn't include commercial sales, although he had no objection to that method. He was convinced that sincere devotees who presented his literatures directly to the public could win people's hearts, so he emphasized the one-on-one approach of a missionary in the field.
In Los Angeles, ?nanda Kirtana Dasa heads up a traveling team of brahmacharis who go from concert to concert every summer, and campus to campus in the fall and spring, distributing Bhagavad-gitas, Srimad-Bhagavatams, and other books to young people.
"Every day is an adventure," he explains. "Recently I was distributing Bhagavad-gitas at Orange Coast College, and a professor asked me into his classroom to speak on it. The students were very interested. They were asking how to start a bhakti-yoga club!"
Bhrigupati Dasa is the go-to person for vehicles, permits, new distribution spots, book supply, bags, carts, tables, and medicine. He has been a distributor for forty-five years, and he knows how important it is to keep the young men who have chosen the missionary life supplied with basic daily needs.
"We have quite a few new devotees who have imbibed the spirit of book distribution," says Bhrigupati. "I never have to ask them to go out – they just go. Gauranga Prema was out manning a book table for three hundred and ten days last year. Prema Sankirtana did the same. It's really great to be living in a temple where there is so much support for distributing Srila Prabhupada's books. We feel the support directly and indirectly.
"Svavasa Prabhu, the temple president, wears two hats – he is also a trustee for Srila Prabhupada's Bhaktivedanta Book Trust. So we are really fortunate to have his influence. He personally glorifies and encourages all of us, which makes it a lot easier, and a lot more fun too."
Youth Outreach
Hari Bhakti Dasa opened "the Mantra House" in his apartment a half a block from the temple. Every Thursday night, between forty and a hundred youth descended on the small apartment from all directions to chant, do a little hatha yoga, and ask questions.
Eventually Hari Bhakti relocated the program to a full-size house, that of Atulya Bhakti Devi Dasi, who organizes the programs and does the cooking. The Mantra House has the Hare Krishna maha-mantra painted in large bold letters on the wall at the front of the room, intriguing every visitor to experience the chanting of the holy names of Krishna.
The dean of the University of Southern California met with temple president Svavasa to discuss what the devotees have to offer to students on campus, including literature, clubs, and food distribution. The dean gave Svavasa a pastoral position with the faculty. This gives New Dwaraka Youth Outreach the opportunity for a meeting room at USC as well as campus sponsorship of food-distribution programs. The temple also hosts Bhakti Club programs at the University of California at Los Angeles and Long Beach State University.
Nama Hatta
In the Southern California area there are fifty-two initiated devotees – preachers, pujaris, cooks, administrators – who share a beginning in their spiritual practice: all were inspired by the Los Angeles temple's Nama Hatta program.
Originally Caru Dasa encouraged ISKCON Life Members to hold Krishna conscious programs in their homes. As the years went by, and due to the efforts of Pavaka Devi Dasi and Nirantara Dasa, the programs increased to three or four a week at forty-five households throughout southern California.
Nirantara recalls:
When I started, there was a great demand, and sometimes I was doing two programs a day. Families would attend other families' programs, and so we built up a core group. I soon realized there was no way I was going to impress them with my knowledge of krishna-lila. Many already knew a lot about Krishna, but they wanted to know more about Prabhupada and Lord Chaitanya. So that was my first focus. Also, Krishna prompted me to connect with the children and teenagers because getting them interested meant I would automatically get the adults interested. I made the programs about them rather than me.
These Nama Hatta members, being primarily people with years of professional status, have offered their services in ISKCON as administrators, preachers, managers, accountants, editors, writers, doctors and teachers.
New Dwaraka Festivals
Besides Rathayatra [see the sidebar "Rathayatra Is Deity Worship"], New Dwaraka celebrates twenty-one other festivals every year, and Sri Sri Rukmini-Dvarakadhisha preside with effulgent, beaming smiles, expanding into the hearts of all who attend. During festival celebrations devotees stand transfixed before the deities, who appear in beautiful new outfits decorated in a style that is bold and regal, merciful and magnificent.
New Dwaraka has several unique festivals: Rukmini Dvadashi (the appearance day of Sri Rukmini), the marriage of Tulasi and Salagrama-shila, and the festival of Sri Sri Radha-Govinda, held on the anniversary of the 1986 passing of Their worshiper Gauri Devi Dasi, a beloved longtime resident of New Dwaraka. Sri Sri Radha-Govinda are the household deities of Svavasa and Tadit.
The New Dwaraka Fiftieth Anniversary festival will take place on July 16, 2019. By that time the freshly renovated deity rooms for keeping Their Lordship's paraphernalia will be completed. The festival takes place on the anniversary of the special day that Srila Prabhupada installed Rukmini-Dvarakanatha, bathing and dressing Them himself. At the end of his talk on that occasion, which appears as the Founder's Lecture in this issue of Back to Godhead, Prabhupada begins to weep in ecstasy, revealing to the devotees present his deep humility and the spiritual gravity of the moment.
The author wishes to thank Purushottama Kshetra Dasa for his kind assistance with this article, especially for writing the section on the Bhagavad Gita Museum and interviewing Svavasa Dasa.
Extra Content
"Rathayatra Is Deity Worship"
Srila Prabhupada could not attend the first Rathayatra celebration in Los Angeles in 1977 because he was in England at the time and too ill to travel, but when shown photos of the new chariots, he said, "We have never seen such carts!"
The Rathayatra festival is a high priority for the devotees of New Dwaraka. Mahanta Dasa, a disciple of Srila Prabhupada and a special servant of the LA Rathayatra, is one of the happiest and most persevering devotees you will find.
"When I joined here," says Mahanta, who started serving in New Dwaraka the year the festival was introduced, "the community was bigger. There were many, many disciples of Srila Prabhupada, and many flourishing projects started by him and his disciples. The worship of Sri Sri Rukmini-Dvarakadhisha and, of course, our big Rathayatra have really been maintained very nicely. I like working for Govinda's Buffet because I know it does a big service maintaining what Prabhupada gave us here."
In August of 2018 New Dwaraka held its forty-second annual chariot festival, attended by thirty thousand guests. Mahanta managed the free-feast booth, which served eight thousand plates of prasadam.
"For me," he says, "staying fixed in Krishna consciousness is all about the association of devotees, my Rathayatra service, helping with Govinda's Buffet and Juice Bar since 1986, and my deity worship. I dress the temple Gaura-Nitai deities.
"I really like to take shelter of my deity worship. I went to Hawaii for two years, but when I returned to help with Rathayatra, Gaura-Nitai gave me back my service to Them. They took me back.
"The Rathayatra festival is deity worship too. People ask me, 'Why do you spend so much time after Rathayatra washing buckets, trays, and lids? You could just hire someone.' I tell them that when I first arrived in New Dwaraka, Prabhupada's disciples told me that taking care of Rathayatra paraphernalia is just like massaging the lotus feet of the Lord."
Ratna Bhushana Dasa, another steady servant of the Rathayatra, concurs.
"The carts, the tents, the stoves, the trailers and trucks – we are told they are all part of the Lord's own body," he says.
"The Nectar of Devotion," Mahanta Dasa says, "tells us that anyone who comes out to the street and just happens to see Lord Jagannatha riding on His cart becomes a resident of Vaikuntha."
The Bhagavad-gita Museum
In 1971 Srila Prabhupada asked a few disciples to go to India to learn the art of diorama doll making. He said dioramas would become living books. Bharadvaja Dasa headed up this ensemble of sculptors for New Dwaraka's FATE museum, as the Bhagavad-gita Museum was originally known. By 1977 the full set of clay dolls were completed and on display. Ameyatma Dasa built a computer to meld the dolls with the multimedia technology of the times. Each of the eleven exhibits came to life. The concepts he helped invent would later come to be known in the industry as animatronics.
Radha-Krishna Dasa currently directs and hosts tours of the museum. He is a soft-spoken devotee from Iran, with degrees in civil engineering. He provides routine technical support for the museum and brought it into the realm of social media as well.
"I enjoy this service," he says. "It brings many people to the temple who might otherwise never come. Some are curious artists; some are from the Hollywood production scene or social clubs. Thousands of Atlas Obscura members have toured the museum."
In its inception the museum received rave reviews and attracted many guests to New Dwaraka, as it does now. But over the years, the old technology wore out. The original resplendent-clay dolls that were the genius artistry of Bharadvaja Dasa and many other diligent devotee artists waited in limbo for something better. Purushottama Kshetra Dasa eventually adapted the audio/video displays to a smoother running animatronics-specific program.
"The museum is a great educational tool," says Radha-Krishna Dasa. "Such a small space packed with so much profound transcendental Bhagavad-gita philosophy."
Under his management, museum attendance has more than quadrupled in recent years.
Still Prabhupada's Western World Headquarters
by Svavasa Dasa, New Dwaraka Temple President
Keeping the same temple morning program, with mature devotees guiding younger members, opulent deity worship, book distribution, the Bhagavad-gita Museum tours, weekly bhakti-yoga club meetings at several universities, and harinama singers going out regularly to greet the public, New Dwaraka remains the "Western world headquarters" of ISKCON, as Srila Prabhupada defined it fifty years ago. The temple is situated near major transportation routes to UCLA, USC, Hollywood, Beverly Hills, and various tourist attractions, so we get a wide variety of visitors who appreciate this transcendental place. They express gratitude for the delicious prasadam and peaceful atmosphere. Our Venice Beach Rathayatra Festival, now in its forty-second year, continues to attract tens of thousands of people.
It's no wonder New Dwaraka holds such charm; when we add up the periods of time our founder-acharya, Srila Prabhupada, spent here, it sums up to two full years. Out of the ten years he toured the planet establishing ISKCON, two of those years he invested in Los Angeles with his personal managerial supervision, spearheading many lasting projects, translating and publishing books, and offering spiritual protection and guidance. Prabhupada's personal quarters and garden are well kept here. This is certainly a holy tirtha full of transcendental blessings for everyone.
As a temple president, it is a great blessing to work here with many of the same nice devotees for over thirty-four years now. It's been a great honor for Tadit and me to do this service for Srila Prabhupada. What makes it really worthwhile is the generous support we feel from our congregation. They have lovingly contributed to renovate the deity-paraphernalia room. They have also contributed to protecting the devotees from the possibility of earthquakes by sponsoring the retrofitting of our properties, as well as supporting every festival.
Tadit and I started out at the Denver temple in 1973, and in 1978 we were put in charge of the temple. We had a community of fifty devotees with a small party of book distributors. It was a satisfying beginning, developing relationships with devotees, with the aim of distributing Srila Prabhupada's books in large quantities.
Tadit and I were then requested to move to Los Angeles, where I was to take the post of temple president. We were really surprised by the enormity of the Los Angeles temple project, but very excited about the possibilities of distributing huge quantities of Srila Prabhupada's books.
Years have gone by, and after some contemplation, and with the impetus of the devastating 1994 Northridge earthquake, which destroyed the opulent carved onyx columns and arches adorning the temple interior, we began an ambitious, still ongoing program to repair and enhance Sri Sri Rukmini-Dvarakadhisha's temple facilities. The many enhancements in New Dwaraka are our humble offering on the fiftieth anniversary of Srila Prabhupada's installation of Sri Sri Rukmini-Dvarakanatha.