By Maharani Devi Dasi and Urmila Devi Dasi
"Religion without philosophy is sentiment, or sometimes fanaticism."—Srila Prabhupada, Bhagavad-gita As It Is 3.3, Purport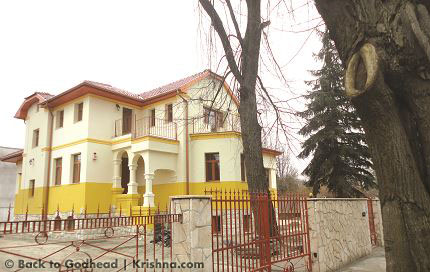 The food is fantastic, the music melodic, the dancing delightful. Entranced and enthralled with the Krishna devotional practices, people from cultures throughout the world visit Hare Krishna restaurants, festivals, and programs. Yet many guests might not guess at the depth of ancient knowledge that informs and enlivens these celebratory practices, perhaps even assuming that Krishna consciousness is some new or invented road to enlightenment. Perhaps some people ignore their curiosity and avoid taking part in Krishna conscious programs out of concern that they would be part of something without foundation.
Such ignorance of the roots of bhakti-yoga is not new. About five hundred years ago, Sri Chaitanya Mahaprabhu, who inaugurated the Hare Krishna movement in the modern age, traveled throughout India singing the holy names of the Lord while dancing in the streets with His associates. At that time, some leading scholars assumed that such public singing and dancing was only sentimental, without any deep knowledge of theology, philosophy, and scripture.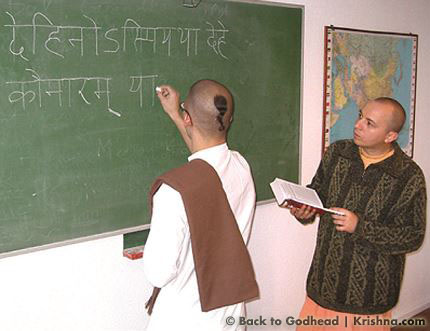 Sri Chaitanya gracefully and humbly challenged these scholars, showing them that His own depth of theological and philosophical knowledge far surpassed theirs. The scholars then embraced the path of bhakti-yoga that Sri Chaitanya taught, and became His ardent followers. Today in the Hare Krishna movement, besides the chanting, dancing, and feasting there are several centers of serious theological study. One of the most astonishing is in Budapest, Hungary.
EU Accreditation
A few steps from the Krishna temple in Budapest is Bhaktivedanta College, housed in a building completely renovated with government funds. Accredited completely on its own merits, independent of any other institution, the college offers fully EU-recognized Bachelors degrees—a Yoga Master and Vaishnava Theology. It will be a full-fledged university with the start of the upcoming accredited Masters degree in Vaishnava Theology. Most of the money to run the college also comes from the government, so anyone can afford the degree. [Does this mean it's free? Or inexpensive? In the US, state universities cost less for students of that state than for students from other states. Would non-Hungarians pay more?]
Before packing up and moving to Hungary to attend, you should know that instruction at the Budapest campus is conducted in Hungarian, a difficult language to master. English instruction for the Theology B.A. is given at a satellite campus in Helsinki. There is a plan to start offering the Yoga Master B.A. in English in Budapest by 2015–16. Bhaktivedanta College now offers the only B.A. in yoga in all of Europe, and the faculty hope that having the teaching available in English will draw students from throughout the continent and perhaps the world.
As of May 2013, there were 280 registered students in Budapest, 42% in Theology and 58% in Yoga. Eleven students are in Helsinki (all in Theology). Thirty-three students graduated in July 2013.
Most of the students are not ISKCON members, especially in the Yoga Master B.A., but during their studies most of them become devotees or genuinely sympathetic to ISKCON. Recently the college conducted a survey among active students to measure their attitude towards Krishna consciousness. At the conclusion of the first year of study, 33% were Krishna conscious devotees on some level when they started their studies and remain so or have increased their faith and commitment; 35% who were not Krishna conscious devotees at all at the beginning of their studies now consider themselves devotees on some level. Only 32% who started their studies as nondevotees remained nondevotees. By the end of their last (third) year of studies, only 18% of the students do not consider themselves devotees of Krishna.
While visiting on a Saturday, one can see hundreds of students eating scrumptious vegetarian prasada at the temple cafe. Indeed, the link between the college and the Budapest temple strengthened after the college building next to the temple was completed. College and temple have united as the Hare Krishna Educational and Cultural Centre Budapest, under a single board of directors. Shared management is an important principle of the college in general, demonstrated in a policy that all full-time teachers must have some managerial position or do administrative work. This policy reduces the distance between teachers and administrative staff and has engendered a deep service attitude among the whole staff.
Spiritually Qualified Teachers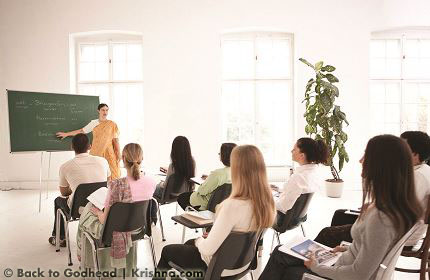 The college has eleven full-time and eighteen part-time teachers. Five full- time and four part-time teachers have a Ph.D., and another four are pursuing their Ph.D. studies. Every year the college has two or three guest teachers who visit from around the world. Full-time yoga teachers must be practicing devotees who daily chant the Hare Krishna mantra on their beads the minimum times required of initiates in ISKCON. Teachers of theological subjects must also follow ISKCON's regulative principles and be part of the local system of mentorship.
Spiritual requirements for full-time teachers are essential to achieve the college's mission: "The purpose of Bhaktivedanta College is to instill in its students faith in pure devotional service and Krishna, the Supreme Personality of Godhead. This is achieved by directly teaching the limbs of pure devotional service, and by also teaching knowledge, though not directly related to pure bhakti, like Vedic or contemporary sciences and arts, in a way that ultimately concludes in pure devotion."
In line with this mission, the curriculum serves a double purpose: On the one hand, it ensures the academic training of theologians for the founding organization, the Hungarian Society for Krishna Consciousness (HSKCON). On the other hand, it gives an opportunity for learning in depth about the traditions and contemporary application of Vedic culture and yoga for all those interested, regardless of their denominational background.
The Bhaktivedanta Library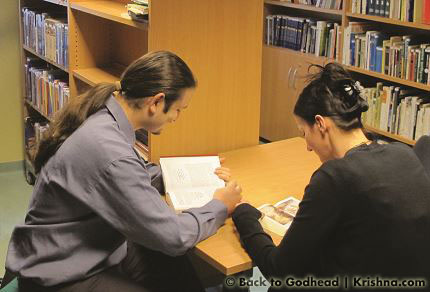 There's much more to Bhaktivedanta College, however, than just the college itself, even beyond the temple with which it's associated. The Bhaktivedanta Library, a specialized library of printed and digitized publications on Vaishnavism, Hinduism, and Indian and South Asian cultures, will impress any visitor. It has about eighteen thousand documents, and its stock is steadily growing, thanks to private donations and the regular help of the Indian Embassy in Hungary. The college has a unique Indological Library Collection from Ildikù Puskçs, one of the most famous Hungarian Indologists. The collection consists of about 3,600 titles beyond the main library collection.
In addition to a library of the work of others, the professors are busy publishing their own books. They have published seventy-six study guides, many college textbooks, and fifteen books. Tattva, the academic review of Bhaktivedanta College, has been published since 1998 with one or two issues per year.
To serve the many people who would like knowledge of bhakti-yoga without enrolling for a full college degree, in 2005 the college commenced pay courses, including Yoga, Vedic Philosophy, Bhagavad-gita, Personal Development, Indian Music, Indian Cooking, and Ayurvedic Training. The length of these courses varies from two to ten weeks. Since 2005, more than three thousand students have enrolled.
Conferences for Prominent Hungarians
The college is emerging as a leader in the EU in topics related to devotional life and sustainable living. For example, between 1998 and 2004 the college organized a Summer University, an annual summer program at Krishna Valley, a farm in Somogyvçmos. Artists, leaders of other religions in Hungary, experts of the electronic media, and well-known advocates of natural and social sciences discussed important natural and social issues during lectures and round-table conferences. Hundreds of people attended each year.
In 2005, the college team replaced the Summer University with an annual conference, known as "Vital Questions Conference," which is one of the official events of the Hungarian Academy of Sciences. This conference presents Vaishnava theology and practice as a science, and provides a regular forum for dialogue both between leaders in science and religion and among religious leaders. It attracts the most distinguished Hungarian scholars, theologians, and decision-makers. Topics in various years were crisis, death, health, human relations, karma and free will, the existence of God, and religious peace and violence. The topic for 2013 will be meditation.
The Bhaktivedanta College is indeed well integrated into Hungarian scientific networks. For example, most of the staff are members of the Hungarian Society of Religious Science as well as the scientific societies related to their fields of study. There is also a regular system of exchange between Bhaktivedanta College and colleges of various faiths in Hungary.
Outside of Hungary, the college has an affiliation agreement with Sardar Patel University in Gujarat and Somaiya University in Mumbai. It is a member of the UN's Academic Achievement program and the EU's ERASMUS network, a student-exchange program. Students can get scholarships from the College for their research, and the bursars present their results at the annual Students' Science Competition.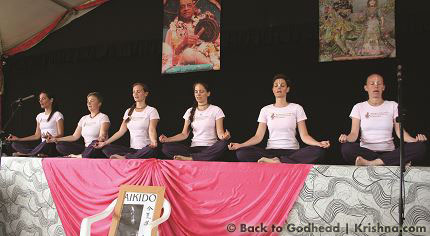 Certainly no one will dispute the fact that Hare Krishna devotees know how to celebrate with their energetic kirtanas of singing and dancing, and the feasts of karma-free food that inevitably follow. Now, as is certainly pleasing to Sri Chaitanya, the Hare Krishna movement has a serious presence in the world of theology, philosophy, and transcendent science.