By Mayapriya Devi Dasi
Following Prabhupada's formula, a small center in Virginia offers much to students looking for meaning beyond academics.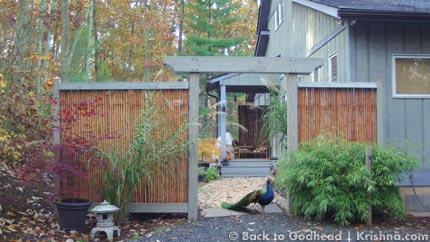 The door opens and several college students enter, pulling off their shoes and scarves and rubbing their hands together by the wood stove, enjoying its radiant warmth. Another two cars filled with students are parking in the driveway. Ishana Dasa and Laura, with little Jai and Mira, are already inside. The atmosphere is warm and friendly, and everyone is happy to see each other.
It's Sunday in Charlottesville, Virginia, and this is the Bhakti Yoga Club.
In 1993 my husband, Amit Acara Dasa, and I decided it was time to move on. We had helped start the new Goloka community in North Carolina in 1982, working to build the geodesic-dome temple. We watched the temple community grow from three or four of us to a large group of householders and temple devotees. After approximately ten years, we wanted to try to do something more for Srila Prabhupada. We decided to find a college town, open a small center, and start a Bhakti Yoga Club at a university.
After a short search, we selected Charlottesville, Virginia, home of the university of Virginia. A town of about 40,000 in a county of 100,000, it seemed to be a good size and to have a progressive attitude. We weren't city dwellers by any stretch; we liked the country. But we would be moving from a small farm to a small city. It would be a real change for us, and it turned out to be an important one.
We moved near the University of Virginia (UVA) in the summer of 1993 and began the paperwork to start a club. At the first activity fair, ninety-eight students signed up for the club. "Wow," we thought, "this will be great!" but getting them to come was another matter. Each week, we'd call the list and find a few who wanted to come. In the first years, even the few who came showed little serious interest, but all were nice and polite. Some weeks no one came. We'd present the program to each other and then make feast plates to take around to our neighbors. That neighborhood ate a lot of prasadam.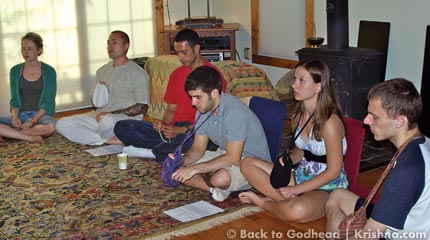 As the years passed, we moved twice, each time to a more rural location, and the attendance increased with each move. Even though we are now more than twenty minutes from UVA, our rural setting on a ridge overlooking the Blue Ridge Mountains attracts the weary students, and they seem invigorated by being in the country. The students have changed too. Somewhere around 2002, the young people who joined seemed more interested. They wanted more from life than a good job—they wanted their lives to matter. The Bhakti Yoga Club was waiting for them, and they were ready for the subject we were teaching.
A Simple Formula
Our formula is simple and easily recognizable: kirtana (with a variety of instruments so everyone can participate), Bhagavad-gita class and discussion, a round of japa, and prasadam with conversation. But our approach is not exactly like a Sunday program at a temple. We start each year with a curriculum to cover. First we give a class on what yoga is and isn't, and we follow it with one explaining that we are not the body but the soul. Then we give classes on how yoga links us with Krishna, karma and reincarnation, the modes of nature, and so on. By the end of the first semester, the students have a foundation of basic bhakti-yoga philosophy, chanting, and more. After the class on chanting, we begin the weekly practice of chanting a round of japa together. In the second semester we branch out into more complex topics and have some guest speakers. Since we're in our home, the atmosphere is warm, informal, and relaxed.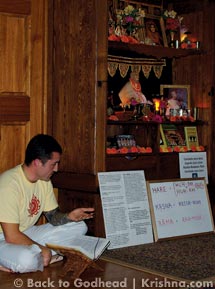 Each week, we send out an attractive email to the two hundred or so students and nonstudents on our email list, recapping the previous week's class and previewing the next one. Many attendees have already graduated but have asked to stay on the email list so they can keep in touch and read the class summaries. They also write letters telling us about their lives and asking questions. Several of our BYC alums have received initiation in ISKCON, some have lived in temples, some have become active in temples in cities where they found jobs, and one even taught school for a while in Sri Mayapura Dhama.
We also have a Bhakti Book Club, which meets at Ishana Dasa's house twice a month on a weekday evening. At the BBC, we choose one of Prabhupada's books and read it aloud together. The students don't have time during the week to add more to their already hectic reading schedules, but coming to the club and reading together out loud seems to work well. We stop to discuss when the students have questions or comments. First we start with small books so they'll feel a sense of accomplishment when we finish one, and then we move to the next.
Some students become very interested in chanting japa. We stress it as a meditation. Since they are familiar with silent meditation and are drawn to it, we tell them how mantra meditation goes a step further. It teaches us how to control the mind like silent meditation, but at the same time, it connects us with Krishna—taking the meditation to the highest level. Each week we play a recording of Srila Prabhupada chanting japa. The students sit with straight backs and full concentration and chant a round of japa with him. We have beads to lend those who don't have their own, but nearly each week another student will decide it is time to have his or her own japa beads.
An Atmosphere of Support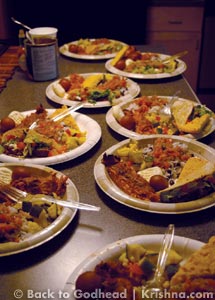 We encourage serious students who have come for several years to give class or lead kirtana. We try to create an atmosphere of support and friendship, where everyone wants everyone else to succeed. When students have a special interest, we try to help them. For example, someone who wants to learn to cook can come out some weeknight for a lesson or two. Last year, two young women who wanted to learn to lead kirtana came to our home to practice. Amit Acara is teaching two young men to play harmonium, and I'm teaching one student the mridanga. We tailored a special advanced study program for one young man. He read assigned books and then met with Amit Acara a few times a week to discuss them.
Putting on the programs, improving them, and finding new ways to engage the students is our constant meditation. Our efforts are rewarded many times over when we see the changes in the students who attend regularly, or when an alum writes us, as one did the other day, to tell us that something we told him seven years ago still resonates with him today.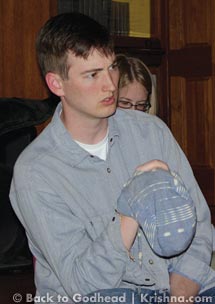 We also run a website for students, BYC alums, and anyone interested in the path of bhakti (www.bhaktivedantacenter.com). Coded by last year's BYC president, Bhakta Andrew Davidow, the site provides a community for students and a place to return to for those who have graduated but want to learn more and stay connected to the Center. It has writings, recipes, podcasts, slideshows, and more. It is designed for beginning and intermediate practitioners of bhakti who are out in the world and may have no other active connection to a temple. It is also a site where devotees can feel comfortable sending curious family members or people they meet. The teaching on the site is relaxed and approachable.
An Example for Others
Wherever we travel, we hear our Godbrothers and Godsisters expressing a desire to become active preachers, as when they were in younger bodies. And we know there are those who may not be initiated but wish to share what they have learned with others. Prabhupada's Sunday Feast formula was kirtana, a little philosophy, and prasadam. Almost any practitioner can supply some level of competence in those three, enough to gather friends at home for an evening centered on Krishna.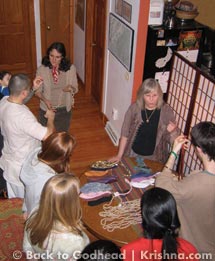 Throughout the years, many devotees have given us encouragement and help, and we value their support. We hope this display of cooperation will encourage others to start a Bhakti Yoga Club or have programs wherever they live. There is such a need for teaching those who are interested in bhakti-yoga but who may never go to a temple or do not live near one. The rewards are so great, and the effort, while substantial, is doable, even for those who work full time like us. You can adapt your presentation to your time, place, and circumstances.
Our programs inspire us to deepen our understanding of the philosophy. We read more, we chant better, we are enthusiastic, and we feel closer to Srila Prabhupada because our constant meditation is to give others what he is giving us. When we teach, there is no question of feeling bored or uninspired. This is our eighteenth year of teaching bhakti-yoga in this university town, and we can't imagine our lives any other way.