www.founderacharya.com is the official ISKCON site for His Divine Grace A. C. Bhaktivedanta Swami Prabhupada. The site is created and managed by the Srila Prabhupada Position Committee, part of the ISKCON GBC Strategic Planning Network. The website serves to educate devotees on Srila Prabhupada's unique position as the founder- acharya of the International Society for Krishna Consciousness.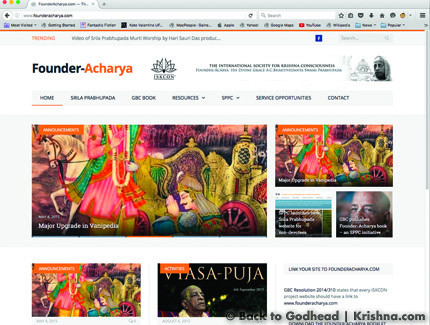 On the menu bar, the Srila Prabhupada button reveals a brief biography of His Divine Grace. The GBC Book button opens a page where you can download Srila Prabhupada: The Founder-Acharya of ISKCON, a book by ISKCON scholar Ravindra Svaruupa Dasa, written to help devotees understand how Srila Prabhupada is in the center of our lives and our Society, and to know how to keep him in that essential role.
The Resources button has a dropdown list of pages. First is Biographical Books, a list of books by Prabhupada disciples detailing his life and times. Next is Vanipedia, a website created to document and categorize the teachings and philosophy that are Srila Prabhupada's legacy and the core of his mission to carry out the orders of his spiritual master.
Next on the list under Resources is Websites on Prabhupada, a page providing links to the Vanipedia and Bhaktivedanta Archives websites. The Vyasa Puja Tributes page allows Srila Prabhupada disciples to offer their tributes to be included in the yearly Vyasa Puja book. You can download and read the book from the previous year. Last on the list is a page describing the ISKCON Disciples Course, its purpose, and how to apply for the course.
The next button on the menu bar is SPPC, or Srila Prabhupada Position Committee, the creators of founderacharya.com. First on the dropdown list is Websites, with links to sites created by the SPPC. Second on the list is The Vyasa Puja Project, a page describing the importance of celebrating Srila Prabhupada's Vyasa Puja. It includes resources that can be downloaded and used to inspire ISKCON temples and communities worldwide in celebrating Prabhupada's Vyasa Puja festival.
Last on the list under SPPC is a page describing the Founder-Acharya Seminar, in which fundamental topics on understanding Srila Prabhupada's position are explored in depth. At the bottom of the page is a link to videos of the entire seminar.
The next button on the menu bar, Service Opportunities, opens a page requesting assistance from devotees for the further development of founderacharya.com.
Last on the menu bar is Contact, a page providing contact information and a web form for questions or messages.
Founderacharya.com is designed for ISKCON devotees. The SPPC has also created a sister site, www.prabhupada.net, intended primarily for a nondevotee audience. This site provides a modern, accessible explanation of Srila Prabhupada's life and teachings and is a good site to share with interested people.
– Madhumangala Dasa