www.iskconcommunications.org is the website for the Office of Communications for the International Society of Krishna Consciousness (ISKCON). The Office of Communications engages the world's media to create and sustain a positive image for ISKCON and its members as a religious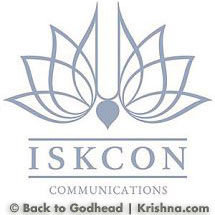 and cultural organization.
The site is created to provide information about the goals of ISKCON and to serve as a conduit for journalists, writers, and media organizations seeking to learn about ISKCON or obtain comment for stories, articles, or news segments they may be creating.
The About link on the toolbar gives background information about ISKCON, describing its place in the Gaudiya Vaishnava sampradaya, its basis in the Vedic literature, and the spiritual renaissance instigated by Sri Chaitanya Mahaprabhu that led to the formation of ISKCON.
In the About section there is also a description Srila Prabhupada's work as the founder/acharya of ISKCON, his place in the Vaishnava lineage, and his efforts to spread Krshna consciousness by his translation work and extensive travels. To give further insight into the Society, this section also presents the Seven Purposes of ISKCON.
The News link connects to the section for ISKCON News, "the news agency for the International Society for Krishna Consciousness." This section also contains links to other websites that provide reliable, balanced, and timely information of interest to devotees, friends, and people interested in ISKCON.
Under Publications you will find a list of links to related ISKCON documents and journals that provide a deeper look into the world of Gaudiya Vaishnavism.
The Media section provides links to the official ISKCON Media Kit and to a source for stock photos of the Hare Krishna movement that can be used in publications. The Media Kit is designed to provide accurate facts for journalists and media officers to use when presenting stories about ISKCON. This improves the consistency and integrity of reports about the Society. The stock photos have a similar purpose. They allow media officers and journalists to visually represent ISKCON appropriately in their work.
The Contact section reveals a world map providing the contact details for ISKCON Communications Directors around the world. This makes it much easier for journalists and media officers to get in touch with ISKCON officers authorized to speak to the media on behalf of the Society.
—Antony Brennan