In the early 1960s, Prabhupada lived in Old Delhi, with almost no money or support, as he prepared for his mission to the West.
By Hladini Devi Dasi
Residents of old Delhi recall Srila Prabhupada's time spent in Chippiwada between 1963 and 1965 as he prepared to embark on his mission to the West.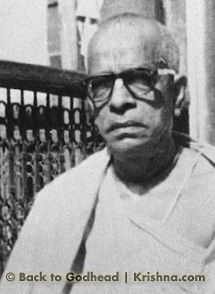 Sri Sri Radha-Vallabha Temple, Chippiwada, Delhi, 1960, excerpt of visitors-book entry:
I am pleased to write herein that I have come to Delhi from my H.Q. 1/859 Kesi Ghat, Vrindaban (U.P.) purely on spiritual mission to propagate the cult of devotional service of the Lord. . . . In my opinion temples are centres for educating the public in spiritual values and I have a mission to organize all temples for that spiritual education. Temples are not meant for ordinary householders engaged simply in the matters of animal propensities. Those who are actually engaged in the service of the Lord Deity, the predominator of the temple, can only be allowed to remain in the temple, otherwise not.
I am in the service of the Lord,
A.C. Bhaktivedanta Swami
Editor, Author, & Preacher in Transcendental Science
Delhi, 18 September, 1960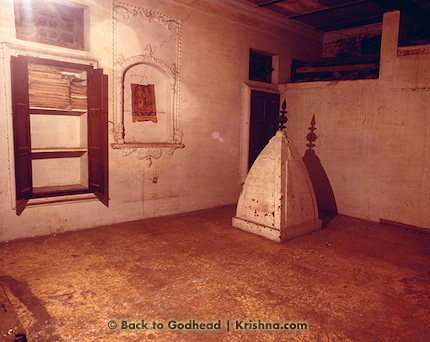 In 2012, Brahmananda Dasa, one of Srila Prabhupada's first disciples, expressed to me his desire that someone research and publish literature on Srila Prabhupada's pastimes in Old Delhi during the early 1960s. Deciding to fulfill Brahmananda's wish, I took on the challenge of retracing Srila Prabhupada's steps in the traditional publishing district of Old Delhi, known as Chippiwada.
Old Delhi
During Srila Prabhupada's visits to Old Delhi in the early 1960s, he was often accommodated by different businessmen who observed the tradition in Indian culture of being charitable to sadhus. Having sojourned in various premises within Old Delhi districts such as Chippiwada and Nai Sarak, he was eventually offered a more permanent dwelling by Pandit Sri Krishna Sharma, Honorary Secretary to the century-old religious society Sri Nawal Prem Sabha. Prabhupada's room was on the second floor of a small temple in a narrow lane off Chah Rahat Street in Chippiwada. There Srila Prabhupada would spend many hours translating Srimad-Bhagavatam and writing articles for his Back to Godhead magazine, as well as preparing for his journey to the USA. He simultaneously maintained his rooms at Sri Sri Radha-Damodara temple in Vrindavan, commuting between the two premises.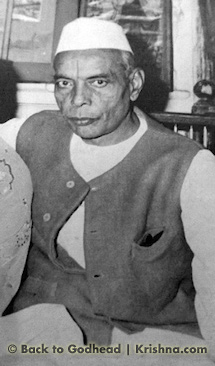 Chippiwada is a locality within the greater Chandni Chowk district of Old Delhi in which publishers, printers, book-binders, and paper-merchants have been running their businesses for hundreds of years. In the narrow streets in this district, tradesmen can today still be seen carrying out work tasks in much the same manner as they did before the current era of digital information and technology. In the cramped tapered lanes surrounding Chah Rahat Street, rickshaw peddlers fill their rickshaws to the brim with all types of paper goods, while those on foot carry large loads of paper on their heads and shoulders as they run through the streets delivering their bundles to merchants.
Sri Sri Radha-Vallabha Mandir
It is estimated that Sri Sri Radha-Vallabha, who preside over this small Vaishnava temple in which Srila Prabhupada would spend countless hours translating and typing, were first installed on their altar 125 years ago. K. C. Sharma, who lived in the adjoining building, had been one of seven trustees of the temple, while his father had in turn organized the carving of the deities. The black stone from which Lord Vallabha is carved is known as a kasauti stone, traditionally used by jewellers in India to test the purity of gold. Radharani was carved from white marble.
Although much of the exterior of the temple building has progressively deteriorated and repeatedly been renovated over the many decades, the inner altar chamber appears much as it did more than a century ago. Srila Prabhupada's room was situated directly above the altar, and on its marble floor stood a pyramid-shaped structure above the deities to prevent anyone from standing there. The room opened up onto an open-air terrace-style rooftop that surrounded the room.
On 19 August 2011, this building was legally transferred to ISKCON, whose members now care for it.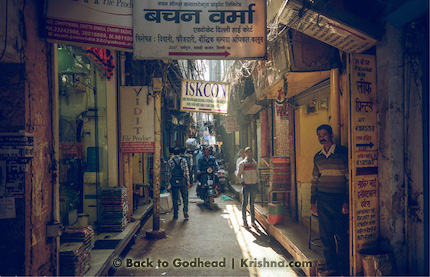 Srila Prabhupada Arrives
My visit to Chippiwada ISKCON was preceded by some rudimentary arrangements made for my research. Devotees at the temple had contacted people in the Delhi region who had interacted with Srila Prabhupada during his tenure there in the 1960s. Understandably, most of them were now elderly, but their memories of Srila Prabhupada had remained intact. Perhaps the most striking person I encountered was Shrikant Vedi, who as a boy had lived at the Chippiwada temple at the same time as Srila Prabhupada. Shrikant Vedi has many memories of his time spent with Srila Prabhupada, and he was happy to share them with me.
According to Shrikant Vedi, Sri Sri Radha-Vallabha's temple was built in the late 1800s for his grandmother Srimati Subhadra Vedi, who required a suitable place of worship. Subhadra had been a medical doctor, freedom fighter, and guru with a substantial number of followers. One of her followers had donated the land on which the temple was progressively established according to her instructions. Regular Bhagavad-gita classes were held at the temple, and annual Rathayatra festivals were inaugurated.
Then in the late 1950s, at the age of eleven, Shrikant Vedi along with his mother and sister took up residence at the temple to care for the aging Subhadra. Subhadra had been using the same room that Srila Prabhupada was given. Vacating the room, Subhadra left behind a library of religious books written in Sanskrit, Hindi, and English, some which Srila Prabhupada would read.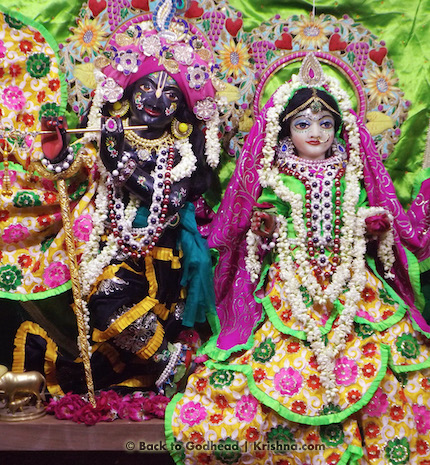 Shrikant Vedi remembers the day Prabhupada first arrived at the temple. He was fourteen years old, and had opened the door to receive Prabhupada:
When Prabhupadaji first came I had opened the door for him at night around 2:00 a.m. I was still wearing my nightclothes. I had the keys to his room. I was told that Swamiji is going to come. He was addressed as Swamiji then. . . . He had with him a stove, aluminium plate, lota, pressure cooker, karatalas, manjira [another kind of hand cymbals], and mridanga.
Shrikant Vedi tells how Srila Prabhupada "always treated us like kids" and that he regarded Shrikant Vedi as his own son. The Vedi family tended to Srila Prabhupada's needs, and he in turn affectionately gave them all nicknames.
My whole family was looking after him, as and when required. My mother was providing food and preparing meals, so Prabhupadaji called her "Baby Ki Ma" ["Baby's Mother"]. "Baby" was the nickname of my younger sister, and my nickname was "Babu." I was helping him in his day-to-day work.
Life at the Temple
During his stay at Sri Sri Radha-Vallabha temple, Srila Prabhupada would rise at 3:00 a.m.
"He never took a bath in hot water," says Shrikant Vedi. "He always bathed in cold water in all seasons."
After bathing, Prabhupada would do kirtana up until 7:00 a.m. He would chant the maha-mantra by himself, often accompanied by a mridanga, chimta, or jhanjhar (percussion instruments). He would then start typing. Between 9:00 and 10:00 a.m. he would go out for his routine chores and come back just before noon and take a short nap. Sometimes Srila Prabhupada would offer the 7:00 p.m. arati to Sri Sri Radha-Vallabha, and at other times Shrikant Vedi's mother, Shakuntala, would do it. He rarely gave classes, as he spoke in polished English, which few Old Delhi residents could understand.
The 150-year-old building that shoulders Sri Sri Radha-Vallabha's temple to the left of the entrance is owned by the Sharma family. Sisters Seema and Savita Sharma remember their interaction with Srila Prabhupada in the 1960s. They were young girls and fascinated by the "elderly guru from Bengal."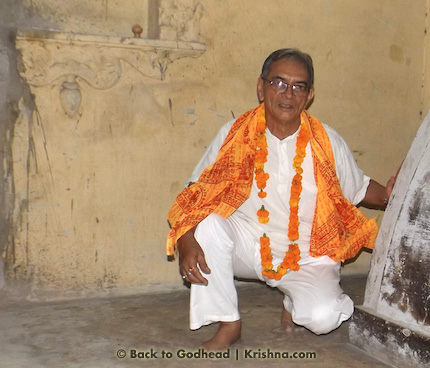 Says Savita, "We were kids then and used to take his carbon paper for his typewriter and run away. He used to never yell or shout at us. He used to affectionately take his carbon paper back and give us a new one [giggles]."
Savita, then six years old, remembers how playful and affectionate Srila Prabhupada was with them. She and her sister would deliver one bottle of milk every day to Prabhupada, as her father worked for the Delhi Milk Scheme. But the delivery of this milk was done in a rather unusual way. Cut into the wall that separated the two premises was a small entryway that had long ago been abandoned, with the surrounding wall remodeled. The entryway was too small for adults to fit through, but the Sharma sisters would easily climb through to deliver Srila Prabhupada's milk. Savita Sharma remembers Srila Prabhupada's gentle and friendly nature.
He used to give the children very nice instructions. Whenever he saw them coming back from playing, he would tell them, "Study well and take the Lord's name." . . . In the evenings he walked around and around on the roof. He was very polite. When you spoke to him, it felt very much as if someone from your own family, your own person, was speaking with you. . . . He was the gentleman amongst gentlemen, never interfering in anyone else's business. Just he did his worship and translated his books, his Gita. . . . He used to address us by our home names or nicknames. My name was "Bhalo" ["Good One"].
In addition to Shrikant Vedi, his sister Alka, and the Sharma girls from next door, other neighborhood children, such as Usha and Sri Ram Sharma from Sita Ram Bazar, would also come into Sri Sri Radha-Vallabha's temple hall to play. Srila Prabhupada would relate Radha and Krishna's pastimes and ask the children to participate in enacting some drama in front of the deities.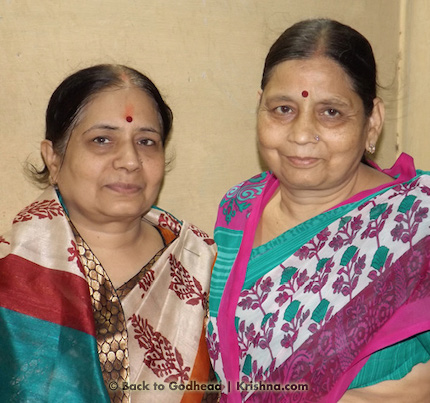 "His door was always open," Usha remembers. "He used to sit on his mat and just keep typing. He used to give me sweets, and he called me "Gudiya" ("Little Doll").
During his stay at Sri Sri Radha-Vallabha temple, Srila Prabhupada would often prepare kichari for himself, as well as for others frequenting the temple, including Pandit Sri Krishna Sharma.
Shrikant Vedi remembers: "I used to chop vegetables, but he used to cook. He used to feed us as well. He used to jokingly say, 'I do all the work, you eat.'"
Chotey Lal Pandeyji, a pujari from a kshatriya Vaishnava temple situated immediately across the lane, also remembers Prabhupada serving out cooked prasadam, as well as fruits and nuts. "I was really greedy for the prasadam. . . . I was also then really attached to him."
Chotey Lal was a teenager at that time, and on occasion he would bring milk for Prabhupada simply "out of love for him." Prabhupada would greet Chotey Lal with "Hari, Hari" and try to teach him kirtana, but Chotey Lal didn't understand much of what Prabhupada said.
During his tenure at Sri Sri Radha-Vallabha temple, it seems that Srila Prabhupada evoked deep emotions in those with whom he interacted.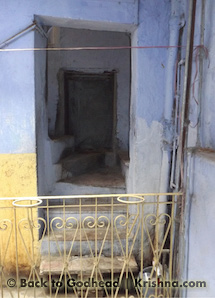 Says Manjula Sharma, the daughter-in-law of Pandit Sri Krishna Sharma, "My husband was very devoted to Prabhupada. That's all I know. He used to start crying every time they spoke about Prabhupada."
During our interview with Shrikant Vedi, he could not hold back the tears in recalling his memories of his time spent with Srila Prabhupada.
Chippiwada Kalan
Although Srila Prabhupada rarely bought cooked food from street vendors, on occasion he would buy jalebis at an eatery called Madhuras, at Kannad Place, a short walk from Sri Sri Radha-Vallabha temple. This jalebi shop remains today, but has been refurbished, as has the general merchant store on the main junction off Chah Rahat Street, from which Prabhupada would buy odd items.
Not far from Chah Rahat Street stands a small coal shop, which today operates much in the same way that it did in the 1960s. Shrikant Vedi comments: "Normally I went alone to collect the kerosene and coal, but he also went several times . . . during the winter season."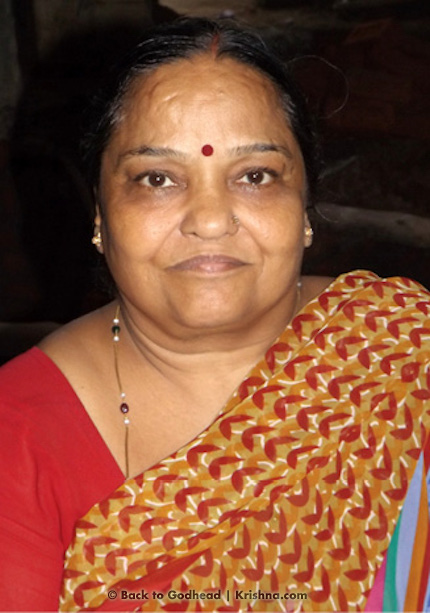 During this time, Srila Prabhupada was known in the Chippiwada Kalan district as "Bengali Baba" because he had come from West Bengal.
In the Dariba Kalan district remains a typewriter shop from which Shrikant Vedi would purchase typewriter ribbons and cyclostyle papers for Srila Prabhupada. This shopfront, which Prabhupada would also visit, belonged to Remco Type Writing Company. But it was from the Chopra typewriting company close by that Prabhupada bought a small portable Remington typewriter for thirty rupees.
Other businesses frequented by Srila Prabhupada included paper merchants such as Munshi Lal & Sons and Siddho Mal & Sons, both still in operation today in the Chippiwada Kalan district. In the many winding lanes surrounding Sri Sri Radha-Vallabha temple, numerous petite paper-merchant shopfronts maintain their traditional workplace ambience. These worn and haggard lanes were once blessed by the footsteps of Srila Prabhupada in his endeavor to fulfill his spiritual master's request to disseminate Krishna conscious literature to the entire world. As I meandered my way past the tapestry of dilapidated manmade structures concealing memories of the activities of Krishna's empowered representative, I was overcome by the thought of the privilege bestowed upon the local residents.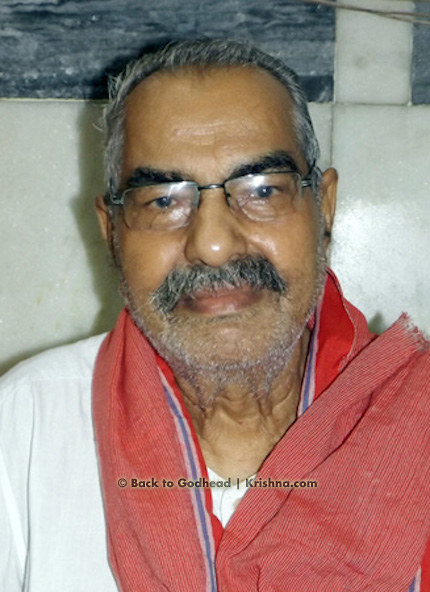 During his time at Sri Sri Radha-Vallabha temple, Srila Prabhupada never consulted allopathic doctors for his health. When he once was ill with tick paralysis, he visited the Ayurvedic store Chotey Lal Hakeem on Chah Rahat Street, a short walk from the temple. This clinic is still in operation today, handed down from father to son, Ram Jain. During the time Ram Jain treated Srila Prabhupada for the illness, he visited Prabhupada in his room at Sri Sri Radha-Vallabha temple.
Translating, Writing, and Printing
Shrikant Vedi would go into Srila Prabhupada's room every day, offering to help him carry out menial and routine tasks. He remembers the many hours Prabhupada spent typing in his room, with other activities being given less attention.
Hladini: Did he eat anything at night?

Shrikant Vedi: No, he drank water and slept. He woke up and again started typing. . . . He used to sleep less. If he got an idea while sleeping, he would wake up and start typing again. He used to directly write on the typewriter. He never had any rough notes.

H: Did Prabhupada ask for help with typing?

SV: No, I offered to help him. He was constantly typing. There was no fixed time. . . . He had a Remington typewriter. It was really small, and Prabhupada used to type with one finger, but I used to type with both hands, as I was a typist. Seventy-five percent was typed by him, and the remainder by me, as I was also working then. I used to type, but Prabhupadaji used to correct them, as his English was really tough. . . . I would type for Back to Godhead magazine, just local papers.
"Baby" Vedi, Shrikant Vedi's sister, remembers how their mother would at times yell at them to be quiet so that Srila Prabhupada could concentrate on his writing. When Prabhupada eventually printed his first volume of Srimad-Bhagavatam, he gave an autographed copy to Shakuntala, in gratitude for the services she carried out for him. He also gifted her a small set of Radha-Krishna deities (with asana) and a small Laddu Gopala deity, which were later passed on to Shrikant Vedi.
At times, Shrikant Vedi helped Prabhupada carry his typed notes to printers in the Kamla Nagar district, a brisk one-hour walk from Chippiwada.
Prabhupadaji used to ask for help, and then I used to carry papers with a coolie, as he used to get the work done faster. Some papers on my shoulders, and some on his. They [Prabhupada's typed manuscripts] used to be printed on big newspapers in black ink. He used to do corrections again with a pen, and then finally it went for [the final] printing. . . . Then after the printing, we used to bring them back.
Srila Prabhupada had tried various ways to generate interest in his Back to Godhead magazine. First, he would cut the template stencil for each issue and print hundreds of copies. He would then offer potential buyers a hundred copies for one rupee, but in the words of Shrikant Vedi, "It was difficult to sell copies. Being a Bengali, his English was polished and people didn't understand that. Hence, we used to give them away for free or donate. If nothing worked, we used to accumulate those copies."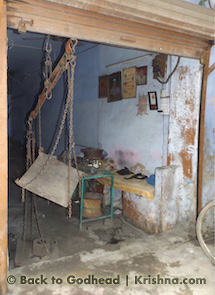 Srila Prabhupada was a learned Bengali and had a good command of English, whereas the residents of Old Delhi were mainly businessmen and not highly educated. Despite his substantial successes in Srimad-Bhagavatam sales to institutions such as libraries and the U.S. Embassy, Prabhupada was not recognized by the local citizens, and his efforts to distribute his publications in the Old Delhi district became frustrated. In early1965 he became so discouraged that he simply wanted to give up. But his determination to disseminate the teachings of Srimad-Bhagavatam continued, despite the discouraging response from provincial Old Delhi inhabitants.
Shrikant Vedi remembers:
We used to go walking to the printer, as we had no money. During those days the ride used to be for one penny. But we had no funds. And then we used to return back to the room and do the corrections. This is how his books got printed. We kept the price of the book as Rs.100 initially, but no one purchased it. And this was because no one understood English. Then Prabhupadaji gave it away for free, but no one took it still. Then he dropped the prices to Rs. 58, then Rs. 51, then Rs. 21, but no one took it. We used to stand at the jalebi stall near the hospital.
Although the agreement between Srila Prabhupada and Pandit Sri Krishna Sharma was that the rent for Prabhupada's room should be two rupees per month, Sri Krishna Sharma would at times himself contribute to Prabhupada's expenses. In deference to Srila Prabhupada's preaching mission, Sri Krishna Sharma also at times assisted Prabhupada in certain business aspects of his Back to Godhead magazine. As a token of his appreciation for the various services rendered to him by Sri Krishna Sharma, Srila Prabhupada gave him the name Hari-bhaktanudasa, "one who serves the Lord's devotee."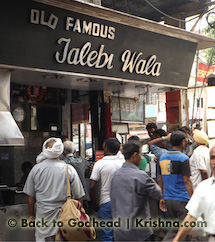 Radha Press and O.K. Press
In Vrindavan, Srila Prabhupada had befriended a Vaishnava by the name of Sri Krishna Gopal Sharma, whose son Hitsaran Sharma owned the printery Radha Press in Delhi. It was Hitsaran who first introduced Prabhupada to Pandit Sri Krishna Sharma, who offered him his room at Sri Sri Radha-Vallabha temple. Today, Radha Press is run by Vanchi Vallabh, Hitsaran's son.
My grandfather's name was Sri Krishna Gopal Sharma. . . . He used to revere and respect the sadhus, the sannyasis, the saintly people, because he is from Vrindavan. And when Swamiji [Srila Prabhupada] came to Vrindavan, he firstly lived in the association of my grandfather. . . . At that time, we [the Sharma family] were connected to the Gaudiya Matha from Kolkata, because the Gaudiya sampradaya is very old in Vrindavan. It goes way back. Bhaktisiddhanta [Sarasvati Thakura] and others were running the Gaudiya mission, and we were connected to the Kolkata Gaudiya Matha in Vrindavan.
In the early 1960s, Srila Prabhupada's main endeavor had been to publish the first few cantos of Srimad-Bhagavatam in English, and Hitsaran became highly instrumental in this endeavor. But according to Vanchi Vallabh, his grandfather had been concerned that Prabhupada's mission might demand too much of Hitsaran's time.
Actually, my grandfather did not want him to meet his son, my father, in Delhi. "Don't disturb my son in Delhi." But when he lived at Chippiwada, he used to come to our house in those days right here in this very place.
Srila Prabhupada would often spend the entire day visiting Hitsaran and his family. Vanchi Vallabh felt that Prabhupada bestowed many blessings upon them, and that Prabhupada, in various ways, extended his love to them. They reciprocated by trying to support him in his printing efforts, as well as in his personal life.
He used to request my mom to make kadhi and rice. My mom used to go out of her way to fulfill his request. He used to address my mom as "Maa." This [geographical] area was a jungle then. The river Yamuna used to flow from here, and it was pure then. It has now become a drainage. Prabhupadaji, with a bag in his hand, used to cross the river on the old bridge to reach our house.
After receiving a substantial monetary donation from another religious publisher, Hanuman Prasad Poddar, Srila Prabhupada had approached Hitsaran Sharma to begin printing. But Radha Press only had the small ten-point lettering, whereas Srila Prabhupada wanted the larger twelve-point. Hitsaran then agreed to take Prabhupada's work to another printery in Churiwalan, Delhi, by the name of O.K. Press, run by a Mr. Kanshiram and his son Omkar. Progressively, Srila Prabhupada spent more and more time visiting O.K Press, overseeing the various stages of the printing.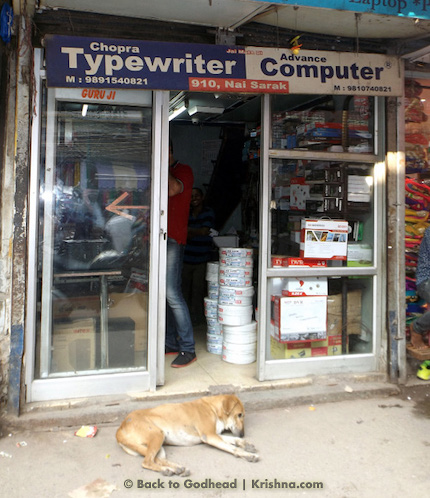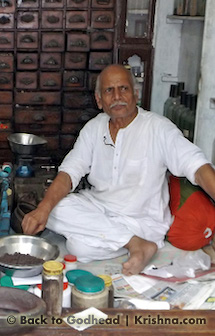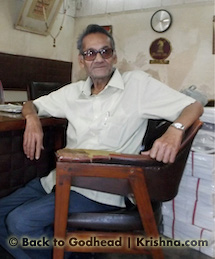 When Srila Prabhupada departed for the USA in 1965, he took with him the first three volumes of Srimad-Bhagavatam, printed by O.K. Press. His "spiritual mission to propagate the cult of devotional service of the Lord," as he had defined it in 1960, would truly flourish in "educating the public in spiritual values." These first publications of Srimad-Bhagavatam opened the door for the resurgence of the timeless wisdom of the Vedas to reach the hearts of the world's varied populations.
Thank you, Srila Prabhupada, and thank you Brahmananda Prabhu, for engaging me in this truly amazing service.
The author wishes to thank the following for their assistance: Satsvarupa Dasa Goswami, for his books Srila Prabhupada-lilamrita and Prabhupada: Your Ever Well-Wisher, the devotees at Chippiwada ISKCON, and all the interviewees who participated in her research, with a special thanks to Shrikant Vedi.