A devotee in Mauritius with a successful prasadam pastry shop teaches his secrets to others.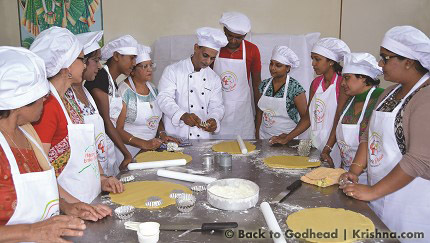 Navakishora Dasa, from Mauritius, joined ISKCON in 1985. Before coming to ISKCON, but inspired by Srila Prabhupada's books, he became a vegetarian at the age of thirteen. While learning to cook, he used to visit ISKCON Phoenix regularly and spend most of his time in the kitchen with his notebook, collecting a variety of recipes.
In 1996, during the Srila Prabhupada Centennial, Navakishora was offered the opportunity to serve his spiritual master, His Holiness Giriraja Swami. That meant staying in Mumbai at ISKCON's temples in Juhu and Chowpatty on and off until 2001, when his health declined and he returned to Mauritius to recuperate.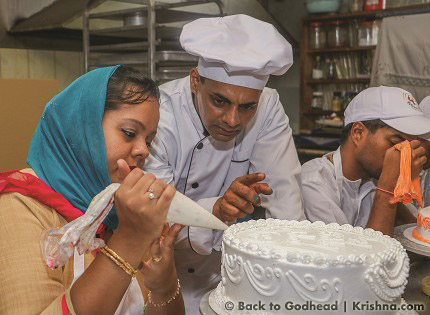 In 2002, inspired by his family's business, Navakishora decided to start one of his own. His idea was to open a store to sell prasadam near his village. He set himself to the task, bearing in mind that he was just a humble servant at the Lord's mercy. Lord Krishna says in the Bhagavad-gita (9.27), "O son of Kunti, all that you do, all that you eat, all that you offer and give away, as well as all austerities that you may perform, should be done as an offering unto Me." This is indeed a high principle, and it was Navakishora's guiding light and motivation. He met obstacles in developing his prasadam business, but he saw them as opportunities to grow and improve in his Krishna consciousness.
The small store was successful, and in 2007, seeing the obvious need to expand, Navakishora moved the business to a hotspot on the island. There he applied his tenacity and ability to the maximum, driven by an intense desire to serve krishna-prasadam to as many people as possible.
Navakishora likes to innovate, so he decided to add variety to his menu. He advertised on the Internet:
Adding to the already rich variety of palatable Indian dishes, La Marmite Divine (The Divine Pot) introduces flaky faratas with a choice of seven delicately seasoned curries ranging from dry to wet, squashy to sticky, and munchy to crunchy!

The flavor of the pudding is in the eating.

Come to be served.
This is how Navakishora chose to attract lost souls to the magic of krishna-prasadam. He showed how varied, healthy, colorful, and purifying prasadam can be. He soon won appreciation, and the business flourished.
More Expansion
Success instilled even more determination in him, and soon he came up with a business plan for vegetarian pastry distribution around the island. The project was viable, and SMEDA (Small and Medium Enterprises Development Authority) financed half of it. Navakishora wisely chose to invest SMEDA'S cash gift in the latest bakery equipment so that he could be competitive. Soon prasadam in the form of pure vegetarian pastries and cakes was going out to shops and supermarkets around Mauritius.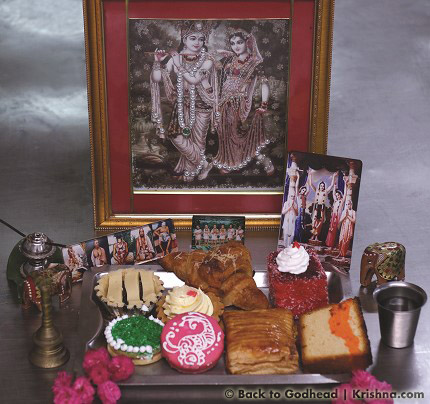 As Navakishora zealously carried out his service with faith and perseverance, a new opportunity opened up: customers began asking him to hold vegetarian pastry-making classes. At first he declined, thinking that his students might become competitors, a common practice in Mauritius. But after reflection and advice from friends, he concluded that because teaching is noble, he would incur no loss. In teaching others he would not only promote vegetarian cuisine, but would simultaneously bring an awareness of the purity and power of prasadam.
With more zeal than ever, he applied himself to launching his new project: the very first pure-vegetarian pastry school in Mauritius. There was a lot to do, including obtaining the approval of the Mauritius Qualification Authority (MQA); registering the school's program officer, manager, and trainer; setting up the premises for official visits; and getting ready to start the course.
The opening ceremony of The Divine Pastry Shop took place in 2013 in the presence of the Minister of Business, Enterprise and Cooperatives, Mr. Jim Seetaram, along with other distinguished guests, devotees, friends, and acquaintances. It has since welcomed over one hundred students from all religious and ethnic backgrounds in Mauritius.
Entrepreneurship with a Different Vision
From his own experience, Navakishora has gathered that entrepreneurship inspired by Krishna consciousness allows one to view business through a different lens. Specifically, it helps one develop an attitude of service to God, which raises one beyond mundane life.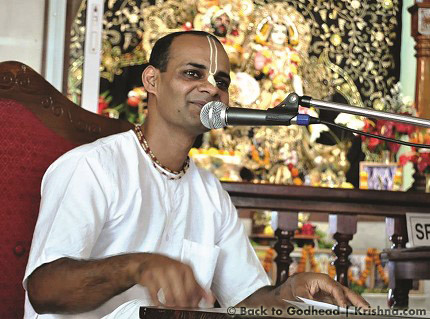 It is said that all work and no play makes you burn out very fast, but in Krishna consciousness, because the service is performed for the pleasure of the Lord, one's occupation becomes sublime, and thus one naturally derives great satisfaction.
Few people will give away the fruits of their hard-earned experience. But devotees, friends, and colleagues inspired Navakishora Dasa to share what he learned. More than ever he wishes to continue his service to Srila Prabhupada with enthusiasm and dedication and in this way increase the flow of the nectar of Krishna consciousness by making krishna-prasadam available to one and all.