ISKCON's "Walking Swami" retraces Srila Prabhupada's early travels in America.
By Bhaktimarga Swami
The Hare Krishna movement's "Walking Monk" completes another long journey – this time across America.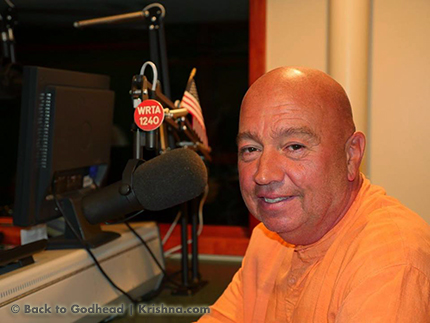 When Srila Prabhupada arrived in America in 1965, he first stayed at the home of Gopal and Sally Agarwal in Butler, Pennsylvania. After a month he traveled to New York, where he opened the first storefront temple. Then he went on to establish a temple in San Francisco.
The route of my two-year, 3,550-mile trek through seventeen states touched these three places and others Srila Prabhupada visited. It was divided into three legs: Boston to Butler to New York (950 miles in 45 days); Butler to Seward, Nebraska (985 miles in 60 days); and Seward to the Pacific Ocean at San Francisco (1,615 miles in 90 days).
I also conceived the trek as an opportunity to meet souls in an American setting, and as much as possible, along the Old Lincoln Road, the nation's first highway.
Now that the undertaking is complete, the memories of the pilgrimage across the United States are endearing for me and, I hope, for some hearts I and my team connected with. The following are some journal entries about the walk.
Boston, Massachusetts – Monday, Sept. 21, 2015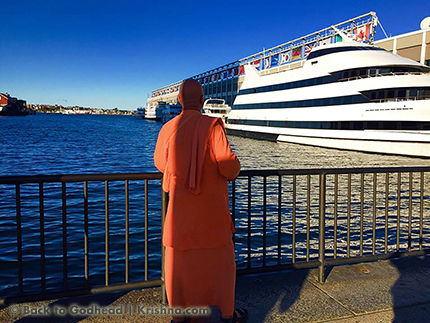 There is nothing more auspicious than initiating a project spearheaded by way of sankirtana (sharing sacred sound with the world). It was the Harinama Ruci party, a group of young men who chant to please the Lord and the crowds, who became my send-off party. Two Canadian young men – Karuna Sindhu Dasa and Pradyumna Dasa – accompanied me for some initial steps on the long road.
Hartford, Connecticut – Friday, Sept. 25
Tre'von Stapleton, 19, is an African-American and resembles Bob Marley with his dreadlocks and tall lankiness. He came to visit the ISKCON center in Hartford and heard my talk about Radharani, Krishna's consort, on Her "birthday," during which I mentioned our cross-U.S. walk.
"I wanna go with you guys!"
An obstacle to his joining us was his mother, with whom he was living and who might not concur with the idea. He also had a steady girlfriend and a good job as top salesman for three consecutive months at a men's clothing store. Hurdles perhaps.
"I'll take care of it all and get a leave of absence from work," he said.
On the power of conviction, he became a team member along with Vivasvan Dasa and me. Tre'von and I got on well together as walkers. We even shared the same birthday.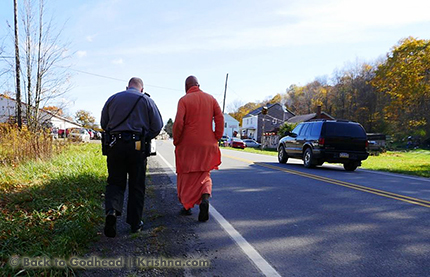 Tre'von was listening to what I had to say regarding Prabhupada's teachings.
"We are not these bodies. I'm not white. You're not black. We're spirits. That's the fundamental wisdom of the Vedas as taught by Prabhupada."
"What's his name again?" asked Tre'von.
Woodward, Pennsylvania – October 13
Tre'von was learning Sanskrit mantras, and among them is the great mantra, the maha-mantra: Hare Krishna, Hare Krishna, Krishna Krishna, Hare Hare / Hare Rama, Hare Rama, Rama Rama, Hare Hare. Some commuters spotted us as we ambled along. Some recognized me from the news-media attention, while others, unaware of our cause, found us a bit odd. In this conservative neighborhood, I could easily be mistaken as an escaped prisoner in an orange jumpsuit.
Police were called to investigate after receiving several calls. They dashed to our location in front of a farmhouse, and went through the regular formalities of questioning. All was fine.
I was frank with the officers.
"You know, people are rather paranoid. They watch too many horror movies and too much TV and news."
They agreed with me.
"We're just walking to promote peace – the walking culture. It's really needed right now."
Once again they agreed.
Washington Valley, New Jersey – Sunday, Nov. 8
As the three of us – Tre'von and I and now Mandala – strode along in a quiet residential area, brilliant autumn leaves were descending, and the sun (the eye of God) cast its rays to create streaks of light through the trees. It was Sunday, when people tend to be more holy, or at least relaxed.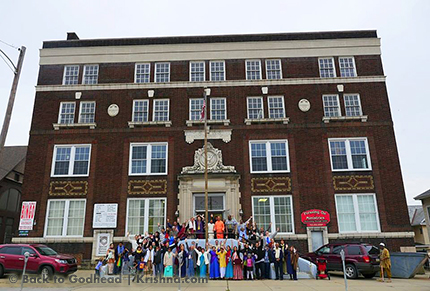 The three of us clutched our meditational japa beads. As we softly chanted on them, we came upon another group of pilgrims – much to our surprise, a dozen or more people across the street were also on foot with beads in their hands. On inquiring, we learned that they are a group of Catholics who routinely saunter from one church to another on Sundays. With their rosaries, they are praying to alleviate the suffering of humanity.
Our mutual objective became clear when one of the pilgrims said, "Oh well, we all accept the same God, right?"
Manhattan, New York – Tuesday, Nov. 10
New York had been a gateway to the New World for immigrants for centuries. When Prabhupada arrived in 1965, his very motive in coming was a different spin on the meaning of exploring the land of freedom and opportunity.
We stopped at the Irish Hunger Memorial and then Ground Zero, where a sad, eerie emotion momentarily consumed us (our walking party had grown to ten). We finally arrived at Tompkins Square Park and the "Prabhupada tree." It is a majestic elm and a milestone. It was here that Prabhupada chanted to the beat of a tom-tom drum.
To celebrate this milestone for the first leg of the journey – a 950-mile walk from Boston to Butler to New York City – my good friend Abhirama Dasa and I, along with our walking group, joined hands and walked clockwise around the tree, the traditional Vedic way of offering respect. This is the tree under which much chanting took place when the launch of kirtana was casually ushered in. Half a century ago, a mix of people, including members of the Beat Generation, were a curious crowd to see "Swamiji" and his young students singing and dancing to the sound of God's name.
Toledo, Ohio – Thursday, June 2, 2016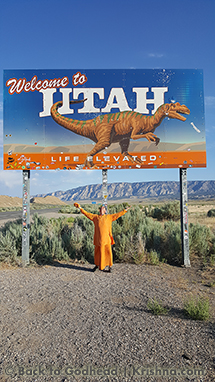 The restart point for the U.S. walk was Butler, Pennsylvania. A new crew consisting of Gopal from West Virginia and Uttamananda from Canada made up my support team. A very large section of America, the Midwest, began once we left Pennsylvania and entered the state of Ohio, with its fields, factories, picturesque countryside, and Amish.
When people see a walking monk set against this landscape, they are prone to react in their own ways. Some are quite helpful, offering water, food, lodging, or just encouragement. I try to reciprocate in some way.
Two young men were crossing the bridge arched over the interstate. They saw me coming, noted my robes, and took me for a Kung Fu master.
"Can you teach us how da fat?" ("to fight")
I admitted to not being a martial artist.
"I can teach you the lifestyle of gentleness. Learning defense can be good, but try to defend with words. Use wisdom. That failing, use the weapon."
With that, I took a defensive stance with my hands.
"Hey man, that's so cool!"
Morenci, Michigan – Friday, June 3
As I walked through town, a jogging high school teacher slowed down and came to my side.
"Buddhist?"
"No. Hare Krishna monk!"
"Oh yes, let me see – George Harrison, the airports. What else?"
I told the jogger that we follow the ancient teachings of the Bhagavad-gita, "The Song of the Divine," and that it addresses our dharma, or obligation – our ultimate purpose in life, which is to love the Creator.
"Good stuff!" he said and moved on, now with a mantra card in his hand.
My aim is to inspire, but I also need encouragement. I received an email message from Jayadvaita Swami, a monastic brother.
"Well, you're doing the healthiest thing in the world – and making a valuable spiritual contribution by your example."
Bristol, Indiana – Wednesday, June 8
I came upon a walker, a short and sweet middle-aged woman. She told me why she walks regularly.
"I walk every day to be fit to serve my Lord and others."
Good, I thought. She hit the nail on the head.
Williamsburg, Iowa – Tuesday, July 12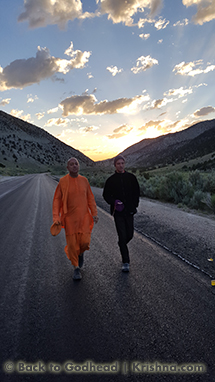 Clearly this is corn country. Rains come down profusely, allowing for happy plants. I had prepared myself after hearing the forecast for the day. I felt it called for my normal rainwear – sweat pants and T-shirt. I learned from my Ireland trek that the traditional dhoti can tear when drenched, as it wraps around the leg too tightly when I'm striding out.
The rain subsided. An officer came.
"I got a call that someone's walking."
With slight sarcasm I replied, "Is it a crime to walk, officer?"
"No, but I do have to answer people's concerns. You're the Walking Monk, aren't you?"
"Yes, I am."
"You see, yesterday, in the last county, you were suspected of being an escaped convict because of the orange. You were near a prison. Today you're near a mental institution, and so anyone walking around here is in potential danger."
We spoke as friends.
"Well, if you ask me," I said, "the motorists are committing the crimes. Worldwide, over a million people die from auto accidents each year," I said.
And with that, I considered what Prabhupada said: "Simple living and high thinking." He championed rural life, with dependence on land, animals, and God – the eco-friendly, agrarian culture.
Sidney, Nebraska – June 2, 2017
For the third leg of the walk I have with me a team of two brahmacharis, Hayagriva and Marshall, who are backing my every effort through a drier countryside. With cornfields behind us and deserts ahead, we still come upon the occasional town, and in this one, Sidney, we have lined up a program at the North Elementary Summer Camp.
I told the children of our road adventures, and then we led them in yoga stretches and chanting. The students, teachers, and parents took incredible delight in the spontaneous dance contest as they moved to the chant and the beat of the drum.
The students (ages 6 to 10) worked up quite a sweat as they exerted their energy, knowingly or unknowingly, in honor of the Creator.
Denver, Colorado – Sunday, June 11
One of the primary features of my walks is visiting temples that Prabhupada established. Denver, although off the beaten path, was not to be missed.
Keeping contact with spiritual association becomes the top priority for anyone on the path of bhakti. In fact, Prabhupada aptly taught that spiritual culture and values lie in four principal relationships with people: (1) revere superiors, (2) befriend equals, (3) guide the young, and (4) avoid antagonists.
Vernal, Utah – June 28
The desert intensifies with fewer trees in view, while salt flats and salt lakes become more prominent, along with sage and rabbit brush. The human population grows sparse. Utah is the seat of Mormonism, and with its more concerted effort toward a God-centric culture, it makes our trek somewhat less stressful.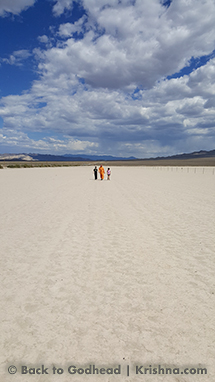 Yesterday I was interviewed by Amy Richards on KLCY 105.5 Eagle Country Radio station, which features country & western music. Today I'm featured on Radio Channel X94 with host Jennifer. Our talk before going on air was casual, and it basically stayed that way throughout, even when I showed her a copy of the Bhagavad-gita As It Is.
Her eyes widened, and she said, "I've got that book!"
"Okay, we're on live. Put on the headphones and go to the mic."
She introduced me to her listeners as a spiritual guest, "The Walking Monk," and proceeded to say my name quite well. She mentioned that we'd had a discussion and that "Swami describes that the pop music we play has a definition in the . . . what language was that again?" she asked lightheartedly.
"Sanskrit," I said.
"He said 'pop' means 'sin,' and so that's why we have the monk with us – to deal with our sins."
We had a good laugh, a laugh that traveled over the desert plains and mountains and reached the ears of listeners before they heard about the virtues of walking and chanting Hare Krishna.
Carson City, Nevada – Sept. 1
A high-court judge from the city of Ely had spotted Hayagriva, Marshall, and me chanting on the grass in the park and invited us over to speak before members of the local Lion's Club. The meeting was held in the Jailhouse Motel Casino.
Doors for venues were opening up to us in places we wouldn't have imagined in the past, such as summer camps, seniors' centers, and yoga studios. Now it's casinos!
In Carson City we conducted a Dog Blessing in Fuji Park. Loraine is a member of Dog Rescue, and she had arranged for dog owners of formerly abused canines to witness an ancient rite – arati.
Compliments of my godsister Anavadyangi Dasi, I offered the traditional arati paraphernalia before a picture of Prabhupada, performing this act of devotion using incense, flame, water, and flowers. The pet owners noticed how docile their dogs were, and then I spoke on Bhagavad-gita 5.18: "The humble sage, by virtue of true knowledge, sees with equal vision the gentle brahmana, the elephant, the cow, the dog, and the man who eats the dog."
They loved the message.
Jackson, California – Sept. 6
The brahmacharis and I had never encountered such dryness in our lives; it seemed an endless desert. I used an umbrella to deal with the merciless sun and, if need be, began the day's twenty-mile trek at 3:00 a.m. Anything to beat the heat.
Finally we came upon the Sierra Nevada Mountains and were amid shady coniferous trees. It was a relief. A biker pulled over. Thrilled to see a monk, he offered me the only thing he had on him that he could offer as a gift. He asked if I smoked weed (marijuana).
"That's kind of you," I said, "but our guru, Prabhupada, placed some self-discipline on us. You know, it helps to build character."
"Gotcha!"
"You're a good man. You stopped to talk. It shows you're human; you're kind."
I also met Rachel Norris, a journalist with the Amador Ledger. She went on to write a great article about the walk, an article that in many ways sums up our purposes. She extended herself, and even invited Hayagriva, Marshall, and me to spend the night in her home. Here's an excerpt from her article, "Walking With Purpose":
"Something very special and rare has come to our attention in the last couple of days, and it's something that will make you walk the walk, literally. Bhaktimarga Swami, also known as The Walking Monk, has walked across Canada (Earth's second largest country) from coast to coast, four times to be exact. . . . Starting in November of 2015, Swami began a trek from Boston, Massachusetts all of the way to San Francisco, California to honor the 50th anniversary of The International Society for Krishna Consciousness (ISKCON), founded by his guru, Srila Prabhupada, who passed away in 1977 at the age of 81 years."
San Francisco, California – Sept. 15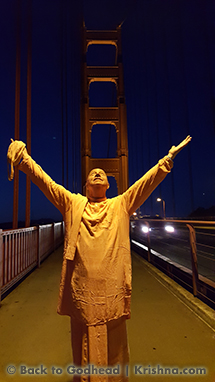 As the sun rose, it was a sensational brisk walk over the Golden Gate Bridge, then four miles from Masonic and Page streets to Irving and the last few steps, which ended at the Pacific Ocean. Our dear friends Vaisheshika Dasa and his wife, Nirakula Dasi, had come to join us on the path that half a century earlier had hosted the procession of the first Jagannatha Rathayatra on western soil.
The sun was shining, and the ocean as well. Maybe Uncle Sam cracked a smile as we somewhat clumsily trudged through the sand before I cupped some water in my hand and sprinkled it over my head. An offering of love, via legs, feet, and heart, to the perfect teacher, Srila Prabhupada, was complete – a pilgrimage through America.