"I had made the trip with an open heart and mind, but never imagined quite how huge a transformation this journey would have on me."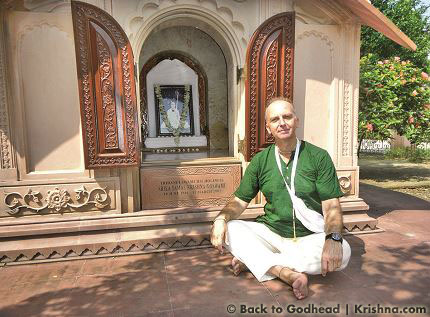 I started planning my pilgrimage to Vrindavan and Mayapur early last summer at my home in Taiwan. As my dates were becoming fixed, Sankirtana Dasa, my friend and mentor from the Taipei temple, told me he would also be visiting Vrindavan around the same time, and we synchronized our outbound flights so we could travel together. The weeks flew by, and suddenly it was October 4 and time to meet up for a flight to Shanghai, and from there to New Delhi, arriving at 1:10 A.M. (local time) the next day.
Our first night was to be at the ISKCON temple in Govardhan, the holy site forty kilometers outside the town of Vrindavan where Lord Krishna lifted Govardhan Hill fifty centuries ago. We arrived around 5:30 A.M. My first impressions were of an interesting, tranquil, and beautiful place with courtyards, gardens, a small goshala (cow sanctuary), and a real feeling of quiet devotion.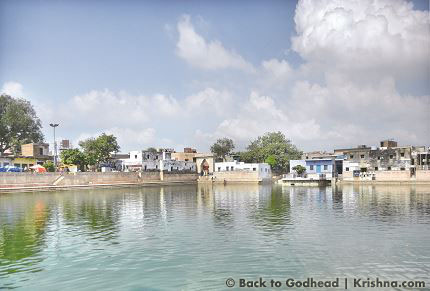 We were shown to the room we'd reserved, and within half an hour we started the 22-km parikrama (devotional circumambulation) of sacred Govardhan Hill. I have to admit I was surprised at the hill. It wasn't the mountainous outcrop I had imagined, but a small hillock perhaps twenty-five meters high. I then remembered reading about the curse of Pulastya Muni, which was causing the hill to shrink by the size of a mustard seed every day. Regardless, being next to it felt very, very special.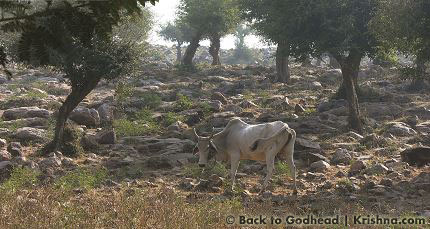 The walk around Govardhan Hill included stops at various sites of Lord Krishna's pastimes. When we reached Govinda Kunda, we touched the water of the pond to our heads and sat for a while discussing Lord Krishna's lifting of the hill. Krishna had persuaded the locals that their annual offerings to Indra were misguided. They should gather everything they had ready for the sacrifice to Indra and use it to worship Govardhan Hill instead. This so incensed Indra that he challenged Krishna. For seven days and nights he tried to flood the area with torrential rain. Krishna lifted Govardhan Hill on one finger to give shelter to the people and animals of the area. Eventually Indra had to accept Krishna's superiority, and in repentance bathed and worshiped Him at this very place. This pastime was an important demonstration that sacrificial worship of demigods is not required. Rather, what's required is loving devotional service to Krishna, who revealed that Govardhan Hill is in fact a form of Himself. To be here now seemed so magical. I wished I could sit for longer and contemplate deeper on Krishna's activities in this area.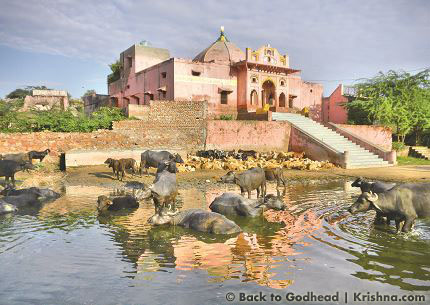 The Most Auspicious Holy Place
We continued our walk until we reached Radha-kunda. Hidden for many centuries, Radha-kunda was re-discovered by Lord Chaitanya in the early sixteenth century, as was the neighboring Shyama-kunda. We paid respects at a temple and then sat and prayed, each in our own way, by the sacred pools.
I remembered the story of how Krishna at this site had saved the villagers from the demon Arishtasura, who had taken the form of a raging bull. Afterwards Srimati Radharani reminded Krishna that to kill a bull is a sin and that He had to bathe in all the sacred rivers to counteract the sin. Krishna then called all the sacred rivers, who appeared in person and filled a pond He had dug with His foot – Shyama-kunda. Krishna then told Radha that She and the other cowherd girls (gopis) had become contaminated by siding with the bull-demon and needed purification. So they dug a pond with their bangles, and the sacred rivers, with Krishna's permission, filled Her pond – Radha-kunda – the most auspicious and holy of all sacred places.
Sankirtana bathed in the water of Radha-kunda and then invited me to do likewise for my own spiritual benefit. I am usually skeptical about many such things – the power of the mind to believe something it wants to believe can be so strong – but in this case I felt something very real. Not only was the water cool and refreshing, but it refreshed my very being.
We returned to the ISKCON grounds shortly after 1:00 P.M., and after lunch it should have been time to rest, but my mind was wide awake with what I had seen and felt. I walked in the grounds and visited the goshala. The cows were so sweet, such characters, and I loved feeling them nuzzle against me.
Remembering TKG
After that I sat by Tamal Krishna Goswami's Pushpa Samadhi. This memorial tomb contains not his body, but flowers that were on his body as he passed from this world. He had opened a temple at Govardhan and had spent considerable time here. His body is entombed in Mayapur, and I would later visit his Samadhi there.
I had known TKG, as he was often called, in Hong Kong in 1981–82 and should have been initiated by him, but for various reasons it didn't happen. He had also asked me to move into the temple and give up my newly acquired career, but I refused. Nevertheless, I have always felt a powerful connection with him, and he remains dear to my heart. I said a few prayers – it was more like talking to him, and I hope that my approach wasn't offensive, but it was from my heart. I just wanted to tell him that I was there and how much I missed him. I chanted a few rounds of japa, and then the ants got the better of me, and so I walked some more.
I strolled the kilometer back to the village, not able to stop imagining that Lord Krishna's feet might have trodden this very dust. I bought a couple of sadhus lunch, and no sooner had I done that than two more came and asked me to buy them flashlights. I wasn't sure if I was just being another stupid foreigner getting fooled, but I reckoned that as they weren't asking for money but for food and flashlights, perhaps they were genuinely in need.
As I lay in bed that evening, I reflected on all I had experienced in my first eighteen hours. The whole atmosphere felt special. My character has always favored quieter places, and this seemed so perfect.
I woke refreshed, and we joined the beautiful morning arati at 4:15 A.M. The shrine room was intimate and serene, with deities of Lord Krishna and Lord Balarama and, in a separate space, Lord Chaitanya and Lord Nityananda. When we left for the town of Vrindavan a few hours later, my departing thoughts were "This is a place where one could seriously study the scriptures," and I hoped to have the good fortune to return in less rushed fashion.
Vrindavan, Prabhupada's Home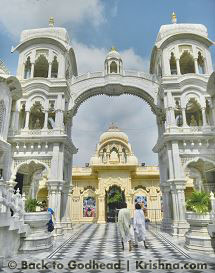 Vrindavan is about 85 miles south of New Delhi and a 45-minute car ride from Govardhan. On arrival we went to pay our respects in ISKCON's beautiful Krshna-Balarama Mandir, which is near the entrance to the town and its many temples. I was struck by the beauty of the place, and by the care and attention it obviously received to keep it so clean and tidy amidst the hustle and bustle of life outside. I felt strong emotions, especially visiting Srila Prabhupada's beautiful Samadhi. I forgot all about my traveling companion. This was my time alone with Prabhupada, this amazing person who had traveled to the USA in 1965 when he was sixty-nine years old, almost penniless, but determined to spread Krishna consciousness all over the world. What an inspiration, and what a great example to us all.
Our lodging was about eight minutes' walk from the temple complex. I would come to know the road well over the next days, from our 4:00 A.M. walk for morning services, to the 8:00 or 9:00 P.M. return in the darkness of the evening, having listened to some talks, and all times in-between. Monkeys sat on the walls watching as people walked past; cows, with their big, beautiful eyes, strolled along at a much more leisurely pace; people called out "Radhe! Radhe!" as greeting to each other, as words of farewell, even as a means of expressing "Get out of the way – I'm coming through." "Radhe! Radhe!" And on a couple of occasions a camel sauntered along with a big wooden cart in tow, the camel driver looking somewhat incongruous as he chatted merrily on his cell phone.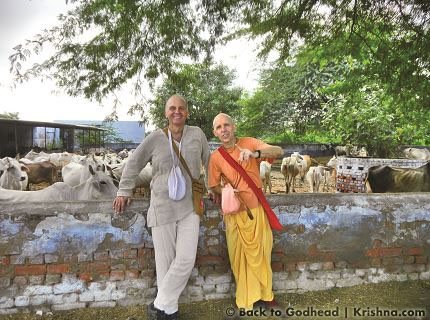 When we first arrived, as my traveling companion settled into the rooms we were sharing, I left him and returned to the temple. Sorting out my bed could wait; my desire to soak up the atmosphere in the temple could not. I found my way back, paid my respects to the deities, and listened to the kirtana that goes on twenty-four hours a day here, letting it resonate in my heart. I then returned to the relative quiet of Srila Prabhupada's Samadhi, just a few steps across the lovely clean marble courtyard.
A group of women were singing kirtana sweetly. I prostrated to ISKCON's founder-acharya and walked around the shrine three times before settling myself onto the marble floor, japa beads in hand. I had no idea of time, nor did I care.
And so time passed in Vrindavan over the forthcoming days.
Reunion with the Hong Kong Deities
I received a message from Sankarshana Dasa Adhikari, an inspiring ISKCON preacher and guru, that I could visit him. I felt privileged to spend time with him, and to meet some of his followers and listen to his talks. The same Radha-Krishna deities I had worshiped at the Hong Kong temple back in 1981–82 are now under his care. TKG had discovered the Krishna deity (Gopinatha) on Juhu Beach in Mumbai, and an ISKCON Life Member, a former king of Udaipur, donated a beautiful deity of Radharani.
It was an amazing, very special feeling to see Them again, and I was thrilled one evening when Sankarshana Dasa gave me two tiny flower garlands these small deities had been wearing. It was a lovely lesson to see the devotional care being taken to please the deities.
One day Sankarshana took me to see Srila Prabhupada's private rooms within the temple complex. Yet again I felt moved to be where Srila Prabhupada had spent time, to see the bed from which he passed from this world, and to be allowed to touch my forehead where his feet would have been. Just to see these things that belonged to him made me want to beg his forgiveness for not being closely part of this wonderful movement since I first had contact back in 1977–78. Things happened, life got in the way, maya, time passes so quickly – I can waste no more of whatever life I have left in this body.
One day we took a ricksha to the Radha-Damodara Temple, built in 1542 by Jiva Goswami. The deity, carved by Rupa Goswami, has been worshiped ever since. There were many fascinating things to see at Radha-Damodara, including the samadhis of prominent gurus in Lord Chaitanya's line. But I was particularly moved to see the two rooms Srila Prabhupada stayed in prior to his departure to the West in 1965. The simplicity and austerity were striking.
For my last full day in Vrindavan I returned to Govardhan to meet a close associate of Tamal Krishna Goswami: Keshava Bharati Dasa Goswami. These were precious hours spent in the privacy of his room. His concern, loving kindness, and compassion hit me incredibly deeply. After a couple of hours with him I felt reassured, enlivened, energized, and recharged. I paid my respects to him, and as I stood up he gave me the warmest of hugs, which touched my inner being. I could not remember ever feeling this way even when my father hugged me as a child.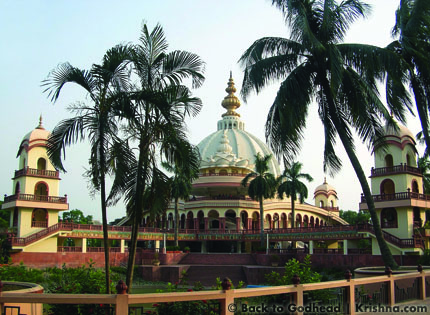 On to Mayapur
The next morning it was time to meet another couple of wonderful devotees, and then say my farewells and continue my journey alone to Mayapur. A car took me to Delhi, where I had been booked into a hotel overnight, and then a flight first thing in the morning to Kolkata. A car was waiting and carried me safely on the four-hour journey to Mayapur.
I was shown to my room and later had time to walk around the ISKCON grounds. As I explored, somehow I immediately felt I was home. I had just arrived, I didn't really yet know where things were, and still it felt like home.
I thought about Lord Chaitanya, the combined form of Radha-Krishna, who appeared here in 1486, and about how He started the sankirtana movement. I pondered in wonder about how Srila Prabhupada had continued Lord Chaitanya's mission some five hundred years later. Mayapur was always so precious to Srila Prabhupada.
I found Tamal Krishna Goswami's Samadhi and knelt in front of him once more. Again I just talked to him, told him that the article "What Hare Krishna Means To Me," which he had asked me to write in 1981, had been published in the September/October 2013 issue of Back to Godhead, and then I said "So now, Gurudeva, what next?"
Over the next five or six days I enjoyed walking around the wonderful complex so much. I looked at the building work and the architect's plans for the new construction. I stared with amazement at Srila Prabhupada's memorial. I joined the morning services and attended the daily Bhagavatam class. I visited Srila Prabhupada's Bhajan Kutir, his original residence on ISKCON's Mayapur property, and sat in wonderment thinking of how he had returned to India in 1970 and then, the following year, worshiped Lord Chaitanya in this straw hut, the first building of what is now the expansive Sri Mayapur Chandrodaya Mandir complex.
Doubts Dissolving
Something amazing, something very, very special, was happening to me. All my doubts, questions, and concerns just melted away. Suddenly I could see the deities as I had never been able to see them before. I felt I could relate to them directly, could "feel" them somewhere deep inside, communicate with them. I prayed and prayed, especially to Lord Narasimhadeva, exposing my inner feelings to Him, surrendering, and asking Him to do with me whatever He wanted. I felt as if this was really it – what I had been searching for all these years. It made sense.
I met more wonderful devotees who were all so welcoming and made me feel I was with family. One devotee kindly arranged for me to meet the brothers and longtime Mayapur pujaris Pankajanghri Dasa and Jananivasa Dasa. They were kind and warm and patient. One morning Pankajanghri Dasa must have noticed me praying sincerely to Narasimhadeva; he stepped forward and gave me one of the Lord's tulasi leaves. That little gesture meant so much to me I could have cried.
The week passed all too quickly. I didn't want to leave, ever. My emotions were running high, and I couldn't control them. For the last two days, whenever I thought of leaving, tears came to my eyes. When I prayed to the deities on my last day, I couldn't keep the tears from falling down my cheeks.
I slowly walked to Tamal Krishna Goswami's Samadhi again and knelt before him to say I was leaving but would be back. I sobbed. I no longer cared if anyone saw me. I walked back to Srila Prabhupada's Bhajan Kutir one final time and listened to a few minutes of the 24-hour kirtana. I walked inside and prostrated by his bed, touching my forehead to his shoes.
With such emotions, it was time to leave. I was amazed at the change in me. I had made the trip with an open heart and mind, but never imagined quite how huge a transformation this journey would have on me. I had been told, "Once you visit, you never leave." Now I understand why.