His Holiness Bhakti Charu Swami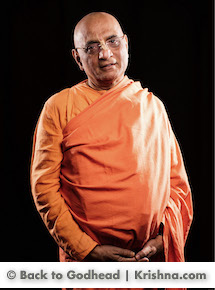 His Holiness Bhakti Charu Swami, a leading member of the Hare Krishna movement, passed away on July 4 this year due to complications related to COVID-19. He was seventy-four years old.
Born in West Bengal, Bhakti Charu Swami was initiated by Srila Prabhupada early in 1977 and awarded sannyasa only three months later. He traveled with Srila Prabhupada to serve him for the final year of Prabhupada's life. After Srila Prabhupada's departure in 1977, Bhakti Charu Swami served in Mayapur for several years.
In 1987 he became an initiating guru in ISKCON and joined the society's Governing Body Commission (GBC), serving as its chairman in 1988 and 2017.
Fulfilling Srila Prabhupada's instruction to him at their first meeting, by 1995 Bhakti Charu Swami had translated into Bengali all of Srila Prabhupada's major works, more than fifty volumes, including Bhagavad-gita, Srimad-Bhagavatam, Chaitanya-charitamrita, and The Nectar of Devotion.
In 1996 Bhakti Charu Swami produced a biographical video epic on Srila Prabhupada's life. Entitled Abhay Charan, the series was broadcast on national television in India and distributed globally on DVD.
In 2004, at the invitation of the chief minister of Madhya Pradesh, Bhakti Charu Swami oversaw the construction of a magnificent ISKCON temple in just ten months in Ujjain, the ancient holy city where Krishna and Balarama went to school.
Bhakti Charu Swami served as ISKCON's governing body commissioner for France and South Africa when these zones were facing immense difficulties. Through perseverance, he was able to turn the situations in these locations around.
In 2007 in Ujjain, he opened a facility to manufacture beautiful deity altars of all shapes and sizes for temples and devotees globally.
In 2013 he began development of a new ISKCON temple in Panihati, West Begnal.
In 2014 he established Arogya Niketan, a traditional authentic Ayurvedic clinic in Ujjain. He also joined Artha Forum and begin delivering keynote speeches globally on spirituality to large audiences of business leaders.
Under his direction, the Ujjain ISKCON temple feeds more than 23,000 school children a day from its 6,000 square-foot industrial kitchen. He also served for a period as the chairman of Annamrita Foundation, ISKCON's midday meals program, which feeds over a million children across India every day.
He served twice as the chairman of the GBC executive committee and was the GBC zonal secretary for ISKCON in Mayapur, Kolkata, Ujjain, Bhubaneswar, Bangladesh, and Seattle. For decades he traveled across India, the U.S.A., the U.K., South Africa, the Middle East, and Australia, holding spiritual retreats and seminars and fulfilling Srila Prabhupada's instruction to him to spread the teachings of Lord Caitanya Mahaprabhu. Bhakti Charu Swami was known for his beautifully melodic kirtanas and his insightful classes on the Vedic scriptures.
In 2016 he released his memoir, Ocean of Mercy – A Search Fulfilled, in which he recollects his intimate interactions with Srila Prabhupada.
In November 2016, the Institute of International Social Development – New York, an NGO in special consultative status with the Economic and Social Council (ECOSOC) of the United Nations, awarded an accolade to Bhakti Charu Swami to show their gratitude for all the support he had given them on behalf of ISKCON in spreading the message of spirituality for world peace and understanding between nations and civilizations.
Adapted from an article by Madhava Smullen at iskconnews.org.