www.howicame.com collects stories from around the world about how ISKCON devotees came to Krishna consciousness. An initiative of the ISKCON Governing Body Commission Outreach Committee, it is designed to inspire devotees in their practice of Krishna consciousness by revealing the many ways people discover Krishna on the way to devotional service.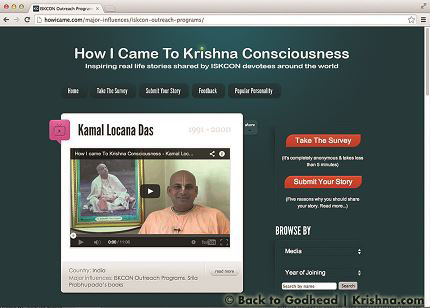 The website's secondary purpose is to help ISKCON devotees evaluate different forms of outreach and help them better serve the needs of people just beginning to learn about Krishna consciousness.
To analyze the effects of different forms of outreach, howicame.com has an anonymous online survey where you can check boxes to answer questions about the influences that drew you to Krishna consciousness and which parts you found most or least appealing.
If you have your own inspiring story about how you came to Krishna consciousness, click on Submit Your Story and fill in the details. Your story may be inspiring to other readers. Stories about how devotees came to Krishna consciousness have long been a popular feature in Back to Godhead.
You can browse the site in a number of ways to see how others were inspired over the years. Tools in the right-hand column help you find interesting stories. Under Browse By, click on Media to choose to read, listen to, or watch devotees telling their stories. Or you can click on the Year of Joining button to browse stories by time frame. This way you can look at stories "back in the day" or choose to hear from those who have found Krishna more recently.
In this same section you can type the name of a devotee into the search box to look for the stories of particular people.
You can also browse a list of Major Influences to find stories grouped according to the reasons devotees were attracted to Lord Krishna.
—Antony Brennan