By Jaya Krishna Dasa
A devotee looks back on his thirty-five years of producing and acting in Krishna conscious plays.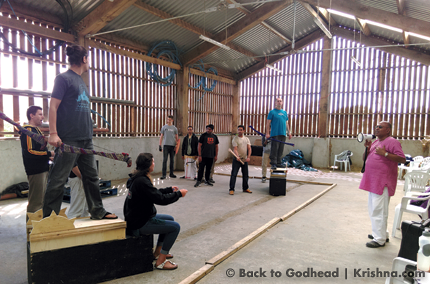 I come from a typically pious Gujarati family. My family moved from Kenya to the UK in the winter of 1969. I was seven years old and remember being greeted by snow and biting cold weather. Nonetheless, we adapted and began our new British way of life. But all that was to change in the summer of 1971. Call it fate, karma, or the guru's mercy, but my eldest brother was handed a Back to Godhead magazine, and we soon found ourselves going to 7 Bury Place for the celebrated Hare Krishna Sunday feast.
Bhaktivedanta Manor opened in 1973 and became the main place my family visited over the years. Over time, I got involved in a variety of services, such as gardening and chanting Hare Krishna on the streets of various towns. But one service really took hold of me, and that was drama.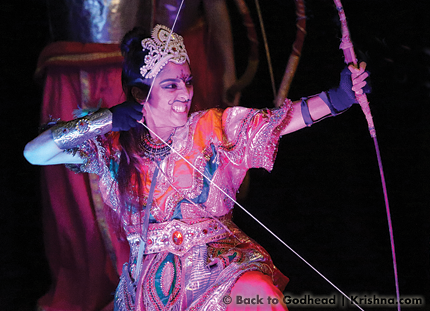 This was around the time when the temple actors were coming into their own as an established drama troupe. I got involved with them at the age of thirteen, when the troupe asked me and my brothers to play monkeys in the Ramayana. Little did I know that this would change my life by igniting my passion for drama. Over the past thirty-five years, I have continually learned how to transform this passion for dramatic art into a spiritual meditation and an offering of love to Lord Krishna.
In my debut, I had to attack a giant demon, played by a very tall devotee. I was tiny in comparison, and to demonstrate his awesomeness he effortlessly lifted me and flung me offstage. A handler was supposed to catch me, but I went flying into what seemed like a dark abyss – and landed in the audience. No broken bones, and (remember, I was thirteen) from then on I was hooked on Krishna conscious theater.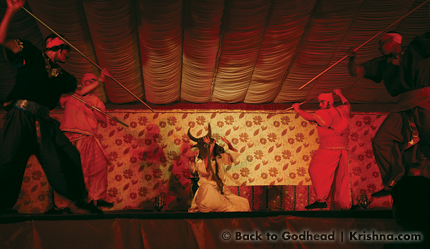 I worked with the Bhaktivedanta Players consistently for years, learning the craft, picking up skills, and enjoying the thrills of being part of one of ISKCON's finest drama troupes. As I grew older, I took up more responsibilities. Along with theater, I also served as a pujari and as a traveling book distributor. And nowadays I perform marriages for our congregation and conduct tours arranged by ISKCON Educational Services for the groups of schoolchildren who visit the Manor every day throughout the school year. In 1985 I became one of the two leaders of the Bhaktivedanta Players, along with my good friend Dvaraka Puri Dasa. He is also a lover of theater and one of the most talented and versatile actors I have met. In our thirty years together, neither of us has looked back, and the troupe has gone from strength to strength.
Tours at Home and Abroad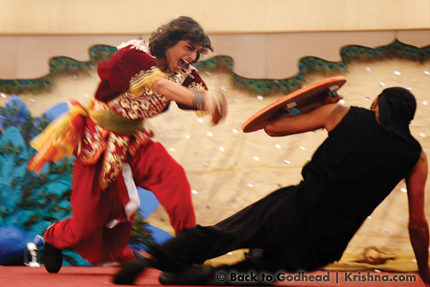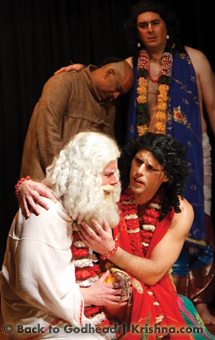 By touring with the Players, I had many opportunities to travel internationally. We toured in the USA ten times and have played at temples all over Western and Eastern Europe and South and East Africa. In India we performed in Mumbai and Delhi, and in Mayapur and Vrindavan.
Once we performed the Ramayana to an audience who absolutely loved the show. One man was so moved that he came backstage to see us and started crying. He said the drama had touched his heart and was his first experience of sacred Vedic pastimes.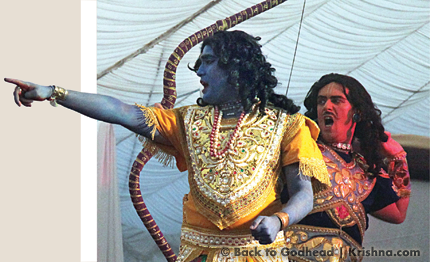 Another time, we were on a nationwide tour of schools in the UK. While we were getting ready at a school with over a thousand children, a portion of the cast phoned us to say that their car had broken down and they would not make it on time for the show. My mind filled with anxiety. How could we go on without the other actors? I tried to adjust the cast. But we were too short of actors for such a big production. With a heavy heart I decided to cancel the show and went to see the headmaster to convey the bad news.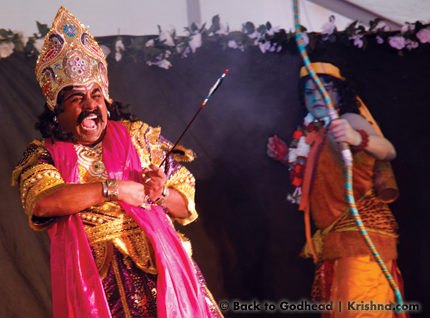 As I walked down the hall, I saw hundreds of excited children with looks of pure anticipation to see our show. My heart now sank to my stomach. How could we let them down? I rushed back and told the actors to improvise. My adrenaline was pumping, and even though I didn't know how we would do it, I knew we had to make the show go on.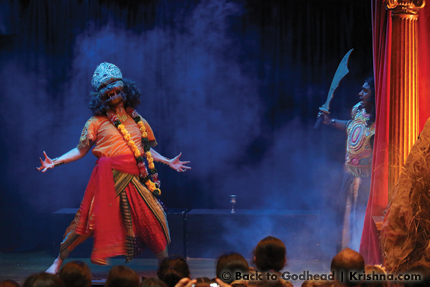 We pulled it off. Neither the students nor the teachers seemed to realize there were some actors missing. The kids and teachers were excited about the play and felt truly grateful to us. I really felt Krishna guiding us in that production; otherwise, it wouldn't have been possible for us to successfully complete the play.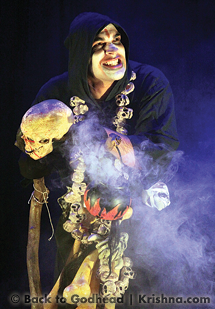 On another occasion, our drama was in full swing. The emotions were high, and the atmosphere thick with tension. More than seven hundred children were captivated with the show, when suddenly the soundtrack shut off. There had been a power cut. The actors froze onstage. With our backing track gone, we were lost. After a moment I felt Krishna empowering me to carry on. We were so familiar with the lines from the soundtrack that we were able to just go on. By the end of the play all the children stood up, shouting and screaming with joy. They were elated that we carried on. The teachers were so happy that they rewarded us with extra donations for our efforts.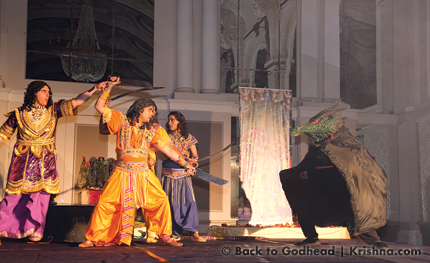 A particularly memorable experience took place in New Delhi while performing for ten thousand people at an outdoor public program. At the end of the drama, the audience gave us a standing ovation and shouted for an encore. What a feeling that was!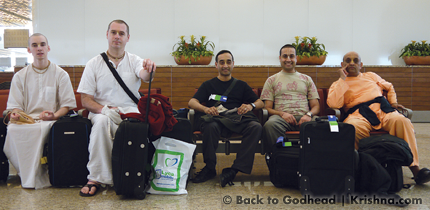 It is moments like these that have inspired me to continue my service. It is a magical sensation to experience the cumulative appreciation of hundreds and thousands of people for more than thirty years.
Appreciative Audiences
Some professional actors who work in London's West End have seen our plays. They have approached us after performances and said that our plays are much better than what is produced in some West End theaters. They encourage us to get into the West End and get more exposure. But with professional theater, it's a matter of who you know and whether any investor will take a risk with you.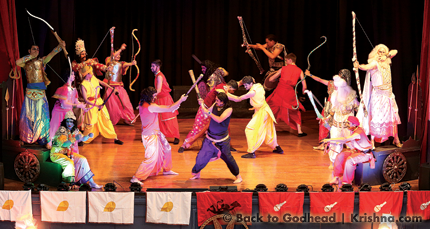 Nevertheless, we still reach huge audiences despite our limitations. And we get due credit for our shows. Our biggest audience to date was twenty thousand spectators at an outdoor venue in the UK. Whenever we perform plays at a festival and receive feedback at the end, we invariably see our dramas ranked as one of the top three performances at the festival.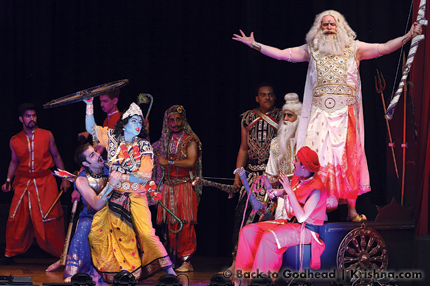 Still, some of the smaller plays are my favorites. They invoke a special sense of intimacy. You can really get into developing a tender emotional bond with the audience. One such play was a two-man show about Bilvamangala Thakura, an eleventh-century saint who struggled with heavy existential problems but ultimately conquered his demons on the strength of his devotion to Lord Krishna. Although he had blinded himself, he saw Krishna in his final days.
It's good for people to learn about spiritual culture through a medium in which they are entertained and can experience emotions. Srila Prabhupada once said after seeing a drama performed by his disciples in New York that it was "better than the book."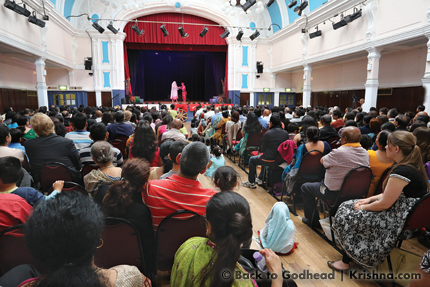 During the UK's millennium celebrations in 2000, we staged a two-and-a-half-hour Ramayana. Tamal Krishna Goswami, a playwright with two published plays to his credit, saw our play and met us backstage afterward to compliment us. He said he thoroughly enjoyed it. Despite its length, he was never bored. He said that we had expertly woven a variety of emotions into the drama and finished by creating an overall feeling of happiness. He added that the English devotees have always been blessed with the ability to produce powerful, commanding dramas. He recalled Srila Prabhupada saying that drama would be pivotal in the Krishna conscious "cultural conquest" of the UK.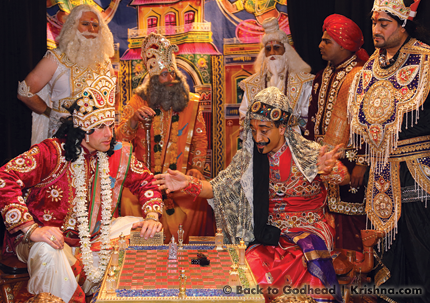 As the years have rolled on, I have been blessed with two wonderful children, Ekachakra and Varshabhanavi, who both pretty much grew up on the stage. They have been involved in many plays and have even traveled worldwide with our troupe. My daughter now wants to do acting as a profession. I wonder who she got that idea from!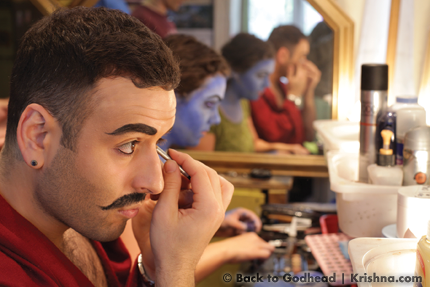 Dvaraka Puri and I have been in charge of the Bhaktivedanta Players for thirty years, and last year we prepared several exciting productions in celebration of our anniversary. Our main presentation was a sumptuous dramatization of the Mahabharata, which we took to venues across greater London.