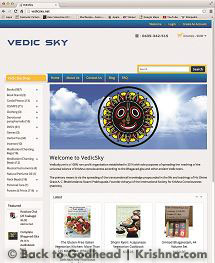 www.vedicsky.net is the result of Anand Laksmanan's desire to find a way to distribute Krishna conscious literature as far and wide as possible.
When he ran the bookshop at the ISKCON temple in Adelaide, Australia, Anand found it a challenge to get many of the books devotees would ask for. He hoped someone would make available online all the Krishna conscious books ever published. Then he decided to create a website to do just that.
Vedicsky.net is a not-for-profit website designed to help you easily find the book you are looking for. If you know the name of a book or the author, you can use the search box on the top of the site to see if it is available.
If you are just browsing, you can use the categories down the left of the site to browse by type. If you click on a plus symbol (+), more detailed subcategories will be revealed for more detailed browsing. At the time of this review there were more than nine hundred book titles available. You can also browse other categories, including games, essential oils, clothing, and devotional paraphernalia.
"I'm trying to get all the relevant books," says Anand, "but I'm not even halfway there. Given the rate new books are being published, I will probably never get there, but still I want to try."
Vedicsky.net is largely a one-man operation. To collect the books he offers for sale, Anand deals with publishers around the world by email and telephone. He says that's time-consuming, but dealing with the shipping and logistics is a mammoth undertaking.
Anand doesn't want his website to compete with temple bookshops or the Bhaktivedanta Book Trust.
"On the contrary," he says. "I'm a big customer and admirer of the BBT. I want to help them make books available through this twenty-first-century form of book distribution."
Many books on Vedicsky.net are not found on other sites, and Vedicsky is not designed to sell directly to book distributors. If you are looking for a book and it is available at the local temple, you should get it there, Anand says.
His website is intended for people in the Asia Pacific area, including Australia and New Zealand. For people in these zones, Anand can offer competitive shipping costs, but he will sell to online visitors from any country.
"My desire is that people unfamiliar with or new to Krishna consciousness will come to this site to buy a vegetarian cookbook or even herbal tea, and after browsing may buy a Krishna conscious book. In any case, every customer gets a free small book."
In North America you can get Krishna conscious books online at krishna.com. In Europe you will find similar books at blservices.com.
– Antony Brennan