Websites come in all shapes and sizes. Some are encyclopedic and contain large amounts of information. Others are called "landing pages" and contain just enough information to whet your appetite and point you elsewhere for more information. Some websites are complicated places that try to be everything you could want. Others are simple, sleek, and full of space, giving you just enough but not overwhelming you with choices.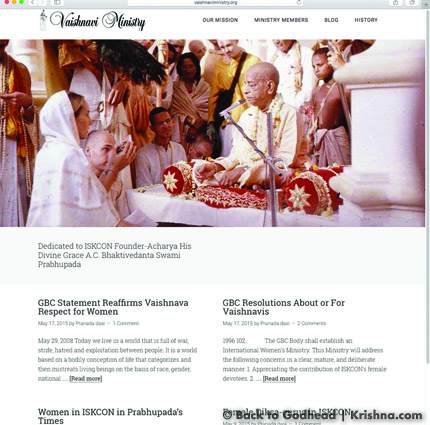 Vaishnaviministry.org falls somewhere in the middle. It is easy to navigate and full of space; it's not a complicated maze of choices but has more than enough information to give you an understanding of the ministry and its work. Everything on the site is accessible from the home page.
The mission of the Vaishnavi Ministry is to "Promote a culture of open-hearted respect for Vaishnavis through association, education, representation, support, and service." The site gives a comprehensive overview of the position of women in ISKCON, including what things were like for women during Srila Prabhupada's time and how things have changed since then up to the present day.
Scrolling up gives you easy access to the latest entries in the blog, and buttons at the bottom of the page allow you to scroll through the pages to see what else is available.
Along the top of the page, on the menu bar, clicking on the title logo on the left always brings you back to the front of the site. On the right, a series of links takes you deeper into the content.
If you click on the Our Mission link you can read the full mission and purpose of the Vaishnavi Ministry. This explains the prime motivation and direction of the ministry, which reports to ISKCON's Governing Body Commission (GBC).
Clicking the Ministry Members link lets you see who runs the ministry and who is on its advisory council.
The Blog link gives you full access to all the articles available on the site in one long list, ordered by date. There are some detailed and scholarly pieces for you to read.
Under History, the Vaishnavi Ministry has gathered papers, articles, and audio and video presentations on the topic of women in ISKCON. If you have any documents, videos, or audio files that could be preserved in the ministry archives, you are encouraged to send them in.
The Contact link allows you to send comments or questions to the ministry. Most pages have a search box in the right-hand column, and below that some navigation buttons that will help you find something to read.
– Antony Brennan