His Holiness Bhakti Vrajendranandana Maharaja
On December 30, His Holiness Bhakti Vrajendranandana Maharaja passed away at the ISKCON Kuala Lumpur temple, surrounded by devotees chanting the Lord's holy names. He was in his seventy-ninth year.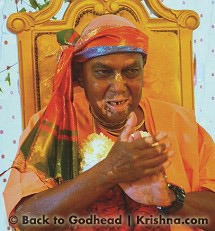 Born in Malaysia, Bhakti Vrajendranandana Maharaja traveled to the UK to study and joined ISKCON in Birmingham in 1971 when he was about thirty-three years old.
Subhaga Dasa (now Subhaga Swami) was his inspiration at that time and remained so throughout his life. He moved to the Bury Place temple in early 1972 and served selflessly there. He was known as a simple, surrendered, hard-working brahmachari.
He was initiated by Srila Prabhupada in July 1972, receiving the name Vrajendra Kumara Dasa. He traveled extensively throughout the UK, distributing books until his move in 1975 to India, where he took up the responsibility of temple commander at ISKCON's Krishna-Balarama Mandir in Vrindavan.
In 1979, with two other devotees, he returned to Malaysia to establish ISKCON there. In 1983 he accepted sannyasa from His Holiness Jayapataka Swami. He continued to spread Krishna consciousness in Malaysia as well as in India and other countries. From 1983 until his departure, he served as the president of ISKCON Malaysia.
Bhakti Vrajendranandana Maharaja's health began declining in the late 1990s. Still, he pushed on, enthusiastically serving in whatever way he could. He faced regular health crises and several times survived against all odds.
In early December last year, he went into a coma. Although he regained consciousness, the doctors made it clear there was nothing more they could do, and he was taken back to the temple, where he passed away five hours later.
All devotees who knew him will attest that he was truly a great Vaishnava free from malice, envy, lust, and greed, a completely surrendered soldier in Srila Prabhupada's great sankirtana army. We have lost the association of a wonderful soul, but his example will stand as a beacon for many years and generations to come.
– Janananda Goswami