Sri Nathji Dasa
"I first met Srila Prabhupada, my spiritual teacher, in March 1971, and this changed my life," Sri Nathji once said. "Meeting a pure devotee has that effect – it brings one to another stage of existence."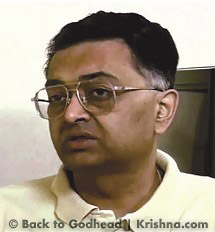 A very successful businessman, Sri Nathji often unexpectedly met Srila Prabhupada on Juhu Beach, Mumbai, while each was taking his daily morning walk. They would stop and chat. Sri Nathji (N. D. Desai) was grounded in the advaita philosophy of impersonalism and would argue in its favor. Prabhupada, a Gaudiya Vaishnava acharya, would assert God's personhood as Krishna, countering Sri Nathji's point of view. In time, with gentle argument and heated debate, Prabhupada systematically took Sri Nathji from advaita philosophy to Krishna consciousness. And Sri Nathji was happy for the transformation.
Narendra Dharmsinh Desai, born in Baroda, Gujarat, succeeded in the fields of electrical, metallurgical, and chemical engineering. His business life was important to him, as was his family – his wife, Maithili, and his three children, Kushal, Vineeta Srivastava, and Chaitanya. But the foundation of it all was his spiritual life, and meeting Srila Prabhupada, as he often said, was "the anchor of my ship." It gave him purpose and meaning and allowed him to engage his considerable intelligence and wealth in the Lord's service. He helped build the Juhu temple in Mumbai, and later the Chowpatty temple, which he continued to serve and support throughout his life.
Sri Nathji was also instrumental in the ongoing Food for Life program in Mumbai, which feeds 700,000 children every school day. He was a prominent supporter ofthe Bhaktivedanta Hospital and its outreach programs, such as the Varshana Eye Camp, which provides free cataract surgery for residents of 120 villages in the Vrindavan area. And he helped finance Gopal's Garden School in Mumbai.
His inspirational, managerial, and financial input is felt in the Govardhan Eco-Village, a seventy-acre sustainable farming community and retreat center in the foothills of the Sahyadhri Mountains. His contributions to the Temple of the Vedic Planetarium in Mayapur, West Bengal, were significant as well.
These are just a few examples of his reach in the devotional community and beyond. Sri Nathji was a perfect example of how to use one's material station and wealth in the service of the Lord.
– Satyaraja Dasa
For more on Sri Nathji Dasa's life in Krishna consciousness, please see Satyaraja Dasa's book Bhakti-Yoga in Business: The Spiritual Journey of Dr. N. D. Desai. Available from the Krishna.com Store.