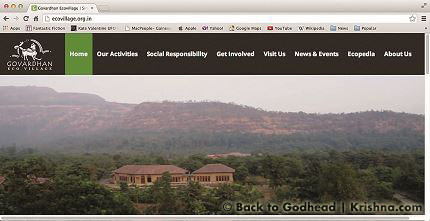 Many ISKCON farm communities around the world are fulfilling Srila Prabhupada's wish that devotees create self-sustaining rural projects. He wanted these farms to be the perfect places to practice Krishna consciousness and to be examples of the benefits of natural living.
Devotees have taken up the challenge of growing their own food, developing cow-protection programs, and following the simple-living/high-thinking way of life of devotional service on the farm. Some of these communities are being recognized as leaders in sustainable living based on renewable resources.
Here are the websites of a few of ISKCON's successful rural projects.
www.navavrajadhama.hu/en
New Vraja Dhama in Hungary is 200 kilometers from the capital city of Budapest. Established in 1993, this sustainable farm community is home to around 150 devotees. The residents grow almost all their own food.
The community has created a program called the Eco Valley Foundation to teach people about self-sufficient farm communities and economic sustainability.
New Govardhana in Australia is located near Murwillumbah, in the picturesque Tweed Valley, northern New South Wales. It is nestled atop a ridge with magnificent views of the valley.
Established in 1977, the farm has a gurukula, a cow-protection program, and extensive organic gardens. Seventy devotees live on the property, and around five hundred live in the surrounding area and are part of the regular congregation.
New Govardhana manages a volunteer program in which people come to stay on the farm, work in the organic gardens, and learn about Krishna consciousness. At any time, the popular program has as many as forty volunteers from around the world.
Located in the Appalachian Mountains in West Virginia, New Vrindaban was established as ISKCON's first farm community in 1968. Srila Prabhupada said it should develop a cow-protection program, be self-sufficient, and provide spiritual education.
Today New Vrindaban is developing an eco-village model, has large vegetable and flower gardens, and hosts the longest-running cow-protection program in the Western world. Each year thousands of people visit the farm to take part in programs and festivals.
www.ecovillage.org.in
Govardhan Ecovillage is a farm community and retreat center
located 108 km north of Mumbai, India, at the foothills of the Sahyadri mountains. The community manages a cow-protection program, gives shelter to other animals, uses organic farming methods, and has developed renewable-energy sources, including a cow-dung-gas plant and solar-power generation.
Recently Govardhan Ecovillage won the Asian Leadership Corporate Social Responsibility (CSR) award for "Best Overall Sustainable Performance."
– Antony Brennan