By Krishna-mayi Devi Dasi
After getting too many hints they couldn't ignore, a devotee couple decides, with reasonable trepidation, to open a Krishna temple in Sin City.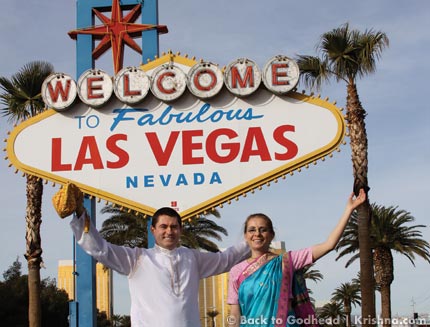 "What do you think about opening a center in Las Vegas?" asked Badrinarayana Prabhu, whose area of responsibility as one of ISKCON's governing body commissioners (GBC) includes Nevada.
I looked at my husband in disbelief.
This must be a joke, I thought, Why Las Vegas, of all places on earth? What Krishna devotee cultivating a life of high moral values and principles would voluntarily jump into the jaws of Sin City?
It was 2001, and on our way from St. Louis to San Diego, where we were now speaking with Badrinarayana Prabhu, we had just passed through Las Vegas. What a scary sight! Glittering billboards advertised all kinds of abominable activities, inviting visitors to indulge in extreme sense gratification. Being from Europe, we had never seen such a place.
I guess that similar thoughts must have crossed my husband's mind when he heard Badrinarayana Prabhu's proposal.
"No, thank you," my husband, Surapala Dasa, politely but firmly declined. "I'm not qualified to take up that service in such a challenging place as Las Vegas."
I took a deep breath of relief.
Leaving Europe for America
My mind traveled back in time and space to Denmark. It was 1998. We were getting ready to board a flight to Boston, not in search of a better life and riches but to find a suitable situation for devotional service. Leaving the secure community of Danish devotees and embarking on a journey to the unknown land of America was not easy for me. But my husband had a burning desire in his compassionate heart to spread Krishna's message, so at the first opportunity, when an a old devotee friend of his invited us to the Boston temple to help with managing and preaching, my husband accepted without a second thought. He had learned English by hearing Srimad-Bhagavatam classes at the Copenhagen temple, so now the door to a wider field for spreading Krishna consciousness was open to him.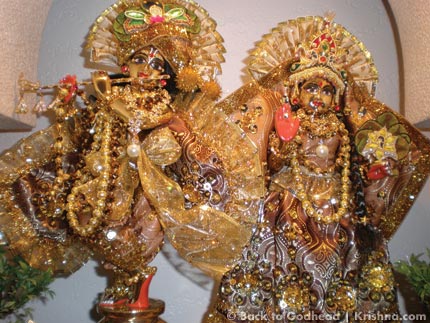 My husband joined the Krishna consciousness movement in 1980 in Poland. Carefully and lovingly trained in the art of bhakti by His Holiness Devamrita Maharaja and tasting the bliss of Krishna consciousness, he developed an intense desire to share this nectar with others. When Communism collapsed in 1986, he preached all over Poland, planting the seeds of bhakti in the hearts of many seeking souls, including myself. Preaching Krishna consciousness became his very life and soul.
We met in 1987, got married in 1990, and together embarked on a beautiful and rewarding journey in Krishna consciousness. I never expected it would take us to a place so distant as America, but in 1998 we landed in Boston, and after a three-month stay moved to the St. Louis temple. My husband served as the temple president there for three years, and then Romapada Maharaja, our GBC, encouraged us to take a much-needed transcendental vacation. So we embarked on an exciting North American tour, unaware of the surprise awaiting us at the end. We traveled from temple to temple, gaining new experiences and reenergizing with the inspiring association of wonderful Vaishnavas. We visited temples in Kansas City, Denver, Spanish Fork, Los Angeles, and Laguna Beach, then headed south to San Diego.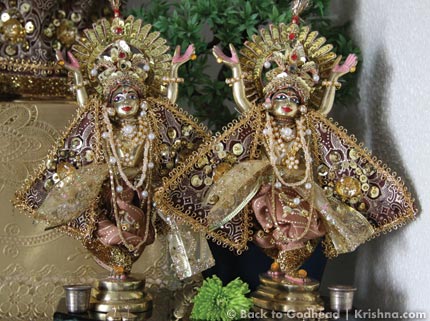 Everywhere we went, devotees suggested we open a center in one city or another. So here we were in San Diego, walking on the beach, enjoying the fresh air and the pleasant ocean breeze, and wondering if Krishna was trying to tell us something. We were foreigners and had always resided in a temple or a devotee community. The thought of living on our own was not easy to digest. And we were obligated to the St. Louis temple. Feeling perplexed, we decided to continue our transcendental vacation as planned and see what the future would bring.
After our arrival in Tucson, Arizona, the temple president spent all day long talking with us about the importance of opening temples and how much it pleased Srila Prabhupada.
"I don't know why Krishna is arranging all of this for us," my husband told me. "I don't feel qualified to establish a new temple. To be convinced, I need a tangible sign from Krishna that this is what we need to do."
At the very moment he finished speaking, we heard a knock on our guestroom door. The Tucson temple president excitedly exclaimed that Ganapati Swami had just called him from Las Vegas looking for someone who could open a center there. Now it was quite clear to us that Krishna was directing us where to go and what to do. After being assured by the temple president that we would get the blessings of the GBC for St. Louis, we decided to open a center in Las Vegas.
Maya's Great Playground
We had planned to end our vacation in Vrindavan, India, but due to Krishna's amazing sense of humor, we were ending it in a place completely opposite to Vrindavan. Krishna was inviting us back to the very place we had wanted to run away from.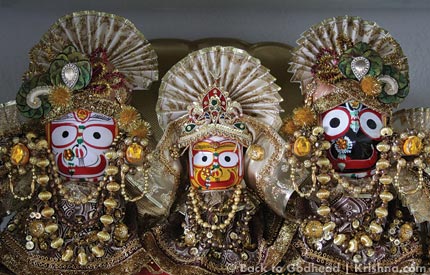 Las Vegas, as everyone knows, stands for mega Kali-yuga entertainment. With its abundant gambling, prostitution, intoxication, and meat-eating, it is about as far from the devotee's way of life as one can imagine. Even in the current recession, the city still boasts thirty-seven million tourists a year. Maya's great playground attracts millionaires and billionaires from around the world, and the development of theme-park resorts over the last few decades has made it a vacation destination for families as well.
"Separation from spirituality is a heavy music that falls on Las Vegas," our new Las Vegas friend Christopher told us. "I think Krishna arranged your move here to prove that God and the spirit of Vrindavan can be found anywhere."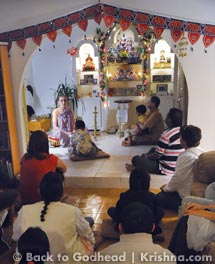 Our humble beginning was not easy, but Krishna always helped us. We spent the first month at a budget motel that was neither attractive nor safe. We ate canned beans heated on a small electric burner.
Then one of Krishna's friends in Las Vegas assisted us with obtaining a home loan. The loan officer was a little shocked to meet his new clients, missionaries with no credit or employment history, no substantial savings, and no salary.
"I've never had a case like this," he said, "but still, I'm going to try."
We were approved for the loan within a short time, and in the beginning of 2002 we bought a small house at 5226 Sandstone Drive, the first Krishna conscious oasis in Las Vegas.
We started with Sunday programs, and attendance was small at first. Sometimes it was just the two of us, but we were not about to give up and added monthly public programs at the main library in Las Vegas.
After a few months, we incorporated our new establishment as ISKCON of Las Vegas. Although Krishna consciousness had begun to flourish, our financial struggles continued. As missionaries with no Green Card, we were not yet able to be employed legally. We worked seasonally, distributing phone books. Driving an old Volvo station wagon, a donation from our new GBC, Badrinarayana Prabhu, we began working at five in the morning because the car had no air conditioner. June and July are the hottest months in Las Vegas, the temperature reaching well over 100° F. For Europeans like us, it was like experiencing hell.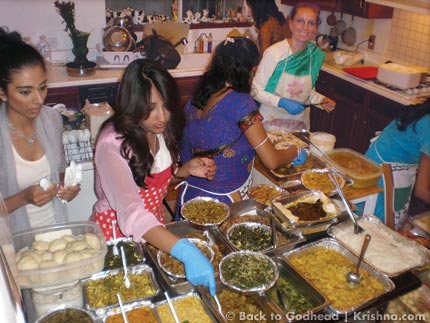 We gradually fell behind on the mortgage payments and got more and more into debt. We started making plans to return to Poland. But Lord Krishna had plans of His own.
Krishna Sends Help
It was November of 2003. One day we went to the Fremont Street Experience to pick up some free souvenirs from casinos to send as Christmas gifts to our families back in Poland. The casino girls were inviting passersby inside: "Free pull and you win prizes." I could see people coming out with different souvenirs and thought it sounded like a good deal.
"Let's try," I said to my husband and walked inside the casino.
As he followed me, a sudden thought crossed his mind: "You think you are going to receive a pen, but you will get $10,000."
This strange thought surprised him, but he didn't mention it to me.
We didn't consider what we were about to do to be gambling, which of course is against our principles. We were getting something for free; we just didn't know what.
As my turn approached, I pulled the slot-machine handle. The casino girl looked at the result with big eyes, then she looked again, then she looked at me.
"Four queens!" she shouted excitedly. "You've just won $10,000!"
My husband and I were the only ones who stayed calm. Everyone around us was jumping in joy and yelling, "You just won $10,000!" as if the goal of our life had come true.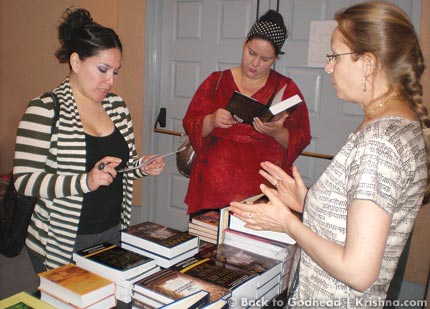 Armed security guards escorted us to the car. Upon arrival at our temple, we placed the $10,000 at the lotus feet of our deities, Sri Sri Gaura-Nitai. Feeling great gratitude in our hearts, we wondered at the Supreme Lord's mysterious ways. The following morning we paid all our debts and began the next chapter of the history of the Las Vegas temple.
Sometime later we were able to secure steadier jobs delivering newspapers. With time, my husband became a martial arts instructor, then a security guard, and is currently working as a clerk for the U.S. Postal Service. I completed college courses in Internet design and technology and started a business called Gopal Web Design, which allows me to work at home and manage the daily activities of the temple. We can now cover the temple's expenses, and thus Krishna's mission here continues.
To be more accessible to visitors, in November of 2007 we decided to move our small temple from our house to an office suite and called it Govinda's Center of Vedic India. The new place was tiny but attractive and centrally located, close to the airport and facing a major intersection. A huge bright-yellow banner with a beautiful picture of Krishna advertised our programs to thousands of passing drivers, many of whom called for more information.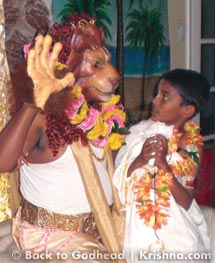 When the lease expired in June of 2010, we moved into a beautiful temple near the Las Vegas Strip on historic Dean Martin Drive. From our front door one can see the entire skyline of the famed gambling kingdom just a few miles away. Ten years have already passed since we came to this city. What a journey it has been! From canned beans to sumptuous feasts, from a low-class motel room to a temple with a yoga studio, a gift shop, and guest rooms, from attendance of just the two of us to twenty or thirty grateful guests regularly. As I reflect on those years while looking at the shining skyline of Sin City from the temple's front porch, I am more and more amazed at how Lord Chaitanya's prediction that Krishna's name will be sung in every town and village is becoming a reality in front of my own eyes.
I feel very grateful to the Lord for so mercifully using us in His mission and bestowing upon us amazing realizations. Las Vegas is indeed the home of many needy souls. We humbly try to ensure that those interested get nourished spiritually, get plenty of prasada, and have a spiritual place to know Krishna and build a loving relationship with Him.
Besides the Sunday Feast, we conduct daily morning programs, weekly yoga classes, bi-weekly Bhagavad-gita study, vegetarian cooking classes, transcendental picnics, and twice-a-year Bhakti Retreats. Last August we took part in the city of Henderson's first India Independence Day Parade. Nearly one hundred people attended our Janmashtami celebration.
Las Vegas Rathayatra
Since 2012 commemorates the tenth anniversary of ISKCON Las Vegas, what better way to celebrate than to hold the first Rathayatra not only in Las Vegas but in all of southern Nevada? As I write this, we're preparing this wonderful festival for April 21, 2012. The ancient Rathayatra festival signifies, among other things, bringing Krishna into our hearts. The Las Vegas Rathayatra will be part of our attempt to bring divinity back into the lost culture of Las Vegas. And we hope that it will inspire those few spiritual seekers here who are sincerely striving for spiritual perfection but feel isolated and overwhelmed by the dark energies of the city.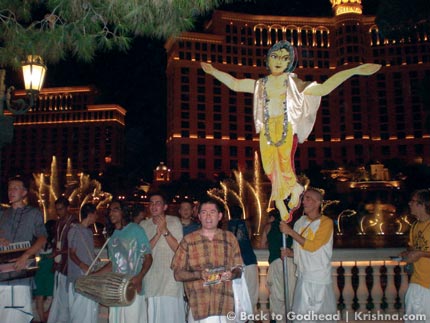 We welcome devotees everywhere to celebrate with us ten years of chanting the holy names in Las Vegas and to bless us for the years to come.
A Note of Thanks
I would like to express my humble gratitude to my beloved gurudeva, His Holiness Devamrita Maharaja, for his ever-flowing mercy that gives us strength to continue our service in Las Vegas, and to Badrinarayana Prabhu for his encouragement and inspiration. My deepest thanks to my dear husband for his daily guidance and compassion, and to all Las Vegas devotees and friends for their love and support.