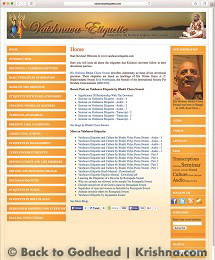 One of the benefits of Internet technology is that a large volume of information in many locations and formats can be brought together and made accessible in one easy-to-use format. With the advent of mobile computing on tablets, laptops, and cell phones, this information can be accessed almost anywhere.
In the Chaitanya-charitamrita (Antya 4.130) Sri Chaitanya Mahaprabhu says, "Maintenance of the Vaishnava etiquette is the ornament of a devotee." This makes it important for all devotees to be well versed in matters of etiquette.
To provide a go-to source for the understanding and practice of Vaishnava etiquette, www.vaishnavaetiquette.com brings together information from across many of Srila Prabhupada's books, other Vedic literature, and lectures by senior devotees.
There are two menus, on either side of the homepage. Three buttons in the right column allow you to browse the site for audio, video, and articles. The right column also has a tag cloud, a box with a number of words inside, some larger than others. Information posted to the site is tagged with a word that categorizes the information. The larger the word in the tag cloud, the more information in that category. Each word is a link to a list of articles on the site. This allows you to easily browse the site for information in these categories.
A search box allows you to find information about the particular term you are looking for. Above the search box you can also enter you email address and subscribe to receive notice when new material is added to the site.
In the left column you can browse information on the site in a range of categories. The topics include how we should interact with others, how we should serve and honor prasadam, how we should carry ourselves in the temple and other holy places, and much more. Clicking on each of these buttons brings you to a list of lectures you can choose from.
In the center column is a list of links to seminars by senior devotees who go in to great detail about the many facets of Vaishnava etiquette.
If you type the word "manual" into the search box and click on the link that says "download" in the search results page, you can download a PDF copy of the book "A Manual of Vaishnava Etiquette and Lifestyle." This book discusses many of the etiquette issues discussed on the website.
– Madhumangala Dasa