The year is filled with celebrations of the activities of Lord Krishna, Lord Chaitanya, and many Vaishnava acharyas. There are appearance and disappearance days, Ekadashi fasts, and many other occasions to remember the Lord, His activities, and His devotees.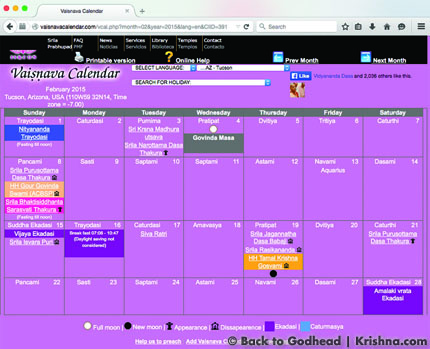 There are so many days that it can be hard to remember them all, or to know exactly when they occur in your country or region. Using the Internet, some devotees have solved this problem for us. You can download a file of dates that merge into the calendar on your PC, so you can plan for upcoming festivals. You can view a calendar online, and you can subscribe to reminder services that send you an email letting you know when Ekadashi starts and ends, or when various celebrations are coming up.
The following websites can help you keep track of all the festivals, so you will never miss another opportunity to remember the Lord and His pastimes.
www.vaisnavacalendar.com allows you to view an online calendar containing the dates for each festival and celebration. On the right-hand side of the page, you select your country and city in the dropdown box; then the page reloads to reveal the Vaishnava calendar for the current month.
Some of the entries are underlined; they are links you can click on to see more information about the particular day.
On the right at the top of the page are arrows marked Previous Month and Next Month. You can click on these to navigate to future or past months.
Using the dropdown box titled "Search for Holiday," in the middle on the top of the page, you can find the date of a particular festival you are interested in. When you choose the festival, the page will reload to reveal the date.
Symbols on the calendar indicate the days for the full moon and the new moon.
www.vaisnavacalendar.info provides a number of options to help you. When the site opens, you are presented with a form to subscribe to an email that reminds you about upcoming festivals. You can choose your location to ensure the email contains the correct dates for where you live.
From this site you can download files to update your Google calendar, your iPhone calendar, or several other systems with the dates for festivals throughout the year. On the black navigation bar running across the page is a tab titled "How to ICS" that tells you how to install the downloaded files into your computer system or mobile device.
On the navigation bar, under the tab "Calendar Events" you will find a list of every festival, every remembrance day, and every Ekadashi. If you click on a link, you will be presented with useful details about each significant day.
– Antony Brennan