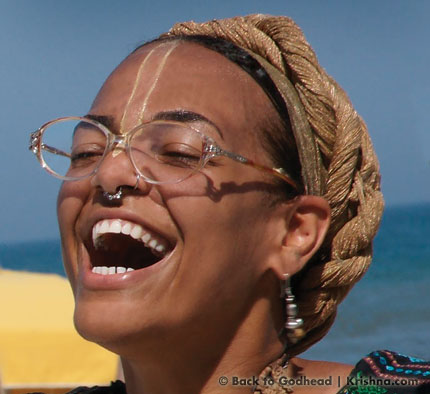 "To be blissful – to be joyful – is our birthright. It's part of who we are; it's our natural constitutional nature."
To some people, "devotion to God" may conjure grave activities: prayer, worship, and religious observances. They may not associate joy with devotion. Yet in fact, joy is a natural result of devotion.
One of Krishna's primary teachings in the Gita is that we are not the body that we inhabit but we are a soul. He says, "As the sun alone illuminates all this universe, so does the soul, one within the body, illuminate the entire body by consciousness." (Gita 13.34) That soul is not some random, foreign particle but is part of Him, of Krishna, as Krishna Himself declares: "The souls in this conditioned world are My eternal fragmental parts." (Gita 15.7)
Just as a drop of ocean water has the qualities of the vast ocean, so as part of Krishna, we, as spiritual entities – souls – have His qualities. Krishna, for example, is eternal, and we (as spirit souls) are too, as Krishna explains: na jayate mriyate va kadacin, "For the soul there is neither birth nor death at any time." (Gita 2.20)
Besides being eternal, Krishna is also blissful (ananda). (Brahma-samhita 5.1) And as part of Him, we are also blissful by nature. To be blissful – to be joyful – is our birthright. It's part of who we are; it's our natural constitutional nature. And we revive that nature when, with an attitude of devotion, we come in touch with Krishna or His devotees.
In the words of Barbara Holdrege, Professor of Religious Studies at the University of California in Santa Barbara, "The joy of bhakti is actually Krishna's own bliss. What the bhakta is tasting when the bhakta experiences joy is actually just a reflection of Krishna's own nature that they are partaking of."
Perhaps we can feel an ember of joy lying beneath our daily weighty problems and stresses. Perhaps when we're chanting Hare Krishna or serving Krishna in any one of a myriad of ways, we can feel the dichotomy between our deepest identity as a joyful being and what we tend to experience in daily life. In other words, maybe we can occasionally glimpse the fact that this world is not offering us the happiness that's our birthright; it's not giving us everything we seek.
Not Getting What We Seek
Govinda Dasi, one of Srila Prabhupada's early disciples, relates that when she first met Prabhupada he asked her about her life.
When she told him that she'd traveled extensively in Europe, he said, "Oh, you are so young and you've traveled so much?"
"Yes," she said. "But none of it made me happy."
Prabhupada smiled beautifully and said, "Ah yes, that is required."
In other words, what can propel us toward devotional service to Krishna is the understanding that this world does not and never will give us what we seek – lasting joy. In Krishna's words: "Four kinds of pious men begin to render devotional service unto Me – the distressed, the desirer of wealth, the inquisitive, and he who is searching for knowledge of the Absolute." (Gita 7.16)
But devotional service to Krishna can transform our life: The first symptom of pure devotional service, Rupa Goswami says, is immediate relief from all kinds of material distress.
Just as when a hungry person eats a nutritious meal her hunger abates and she feels pleased, similarly when we, as souls, revive our relationship with Krishna, we feel detached from all that's material and we feel fulfilled. We feel joyful. In Krishna's words, brahma-bhutah prasannatma na shochati na kankshati samah sarveshu bhuteshu: "One who is transcendentally situated at once realizes the Supreme Brahman and becomes fully joyful. He never laments or desires to have anything. He is equally disposed toward every living entity." (Gita 18.54)
Or, in the words of the Srimad-Bhagavatam (1.2.19): "As soon as irrevocable loving service is established in the heart, the effects of nature's modes of passion and ignorance, such as lust, desire, and hankering, disappear from the heart. Then the devotee is established in goodness, and he becomes completely happy."
Another symptom of pure devotional service that Rupa Goswami mentions is that it automatically puts one in transcendental pleasure. Sria Prabhupada elaborates:
It is stated that as the personal attendants and maidservants of a queen follow the queen with all respect and obeisances, similarly the joys of religiousness, economic development, sense gratification and liberation follow the devotional service of the Lord. In other words, a pure devotee does not lack any kind of happiness derived from any source. He does not want anything but service to Krishna, but even if he should have another desire, the Lord fulfills this without the devotee's asking. (The Nectar of Devotion, Chapter 1)
There is, however, much more dimension to the joy a devotee experiences than the joys of religiousness, economic development, sense gratification, and liberation. There's even more than the external joy that's so clearly present in the minds and hearts of the devotees when they're smiling, dancing, and laughing as they chant Hare Krishna and do other services for Krishna's pleasure.
For example, in the pastime of Krishna's chastising Kaliya, when Krishna understood that the multi-headed serpent was poisoning the water of the Yamuna River, He jumped into the river and swam around in it, challenging Kaliya. Kaliya grabbed Krishna in his thick black coils and apparently trapped Him there. Seeing this, Krishna's friends, the cowherd boys, who were on the riverbank, became overwhelmed with grief. They'd devoted their activities, affection, thoughts, and lives to Krishna and knew no one but Him. When the other residents of Vrindavan heard what was happening, they rushed to the riverbank and on seeing Krishna in that condition were, like the cowherd boys, overcome with anxiety and fear and grief. Krishna's mother, Yashoda, tried to enter the water but, restrained by the others, fainted. Krishna remained seemingly trapped in Kaliya's grip for two hours, and by that time His friends and relatives on the shore were practically dead from grief. Seeing their condition, Krishna freed Himself, danced on Kaliya's many hoods, and soundly defeated him.
The fear, anxiety, grief, dread, and near-death state these devotees felt are not what we usually identify as joy, but in the transcendental understanding, these emotions are not just joy, but are extreme joy. They are not due to any material cause, nor are they tinged with anything material. They are purely in relation to Krishna and are therefore ecstatic.
Another example of the absolute nature of emotions in the transcendental realm is when Krishna left His dear girlfriends, the gopis. Their overwhelming sorrow at separation from Him is understood to be the highest of all ecstasies, vipralambha-bhava, the feeling of being apart from their most beloved.
Emotions Beyond Duality
This material world that we know is a relative one. It's full of dualities: pleasure and pain, enjoyment and suffering, honor and dishonor, good and bad, young and old. In Krishna's world, however, the absolute world, there are no dualities. Whatever is in relation to Krishna is all good, however it appears externally.
What can we, who are still in the grip of the relativities of this world and have not yet reunited with Krishna enough to feel any sort of ecstasy in relation to Him, do with this knowledge of the absolute nature of spiritual emotions? Chaitanya Mahaprabhu gives us a hint when He prays, "I know no one but Krishna as My Lord, and He shall always remain so, even if He handles Me roughly by His embrace or makes Me brokenhearted by not being present before Me. He is completely free to do anything and everything, yet He is always My worshipful Lord, unconditionally." Sikshashtaka 8)
This attitude of "Whatever happens, my dear Krishna, whether apparently good or apparently bad, I am Yours" is pleasing to Krishna and pleasing to us, too. It's a commitment and resolve we can strive for. It means we give ourselves over to Krishna and depend on Him for shelter, knowing that in the final analysis, whatever happens, there is no other shelter anywhere in the creation. By remembering Krishna in good times, those times become better. By remembering Him in difficult times, those times become less difficult.
After Krishna had saved Queen Kunti and her sons from constant dangers – poisoning, arson, cannibals, a vicious assembly, sufferings during their exile in the forest, the great battle of Kurukshetra, and a nuclearlike attack – Queen Kunti prayed, "I wish that all those calamities would happen again and again so that we could see You again and again, for seeing You means that we will no longer see repeated births and deaths." (Bhagavatam 1.8.25)
This is a world of calamities, and chief among them are the inevitable dwindling, suffering, and demise of the body that we're in. But Krishna is more powerful than those calamities, and by remembering Him we overcome material calamities and associate with Him.
abhyasa-yoga-yuktena
chetasa nanya-gamina
paramam purusham divyam
yati parthanuchintayan
"He who meditates on Me as the Supreme Personality of Godhead, his mind constantly engaged in remembering Me, undeviated from the path, he, O Partha, is sure to reach Me." (Gita 8.8)
I, for one, can't pray as Queen Kunti does; I don't want calamities in my life. But I can appreciate her mood of complete dependence on Krishna and her implicit faith that by seeing Him we will no longer experience birth, death, old age, and disease. I can appreciate that her mood is the result of becoming detached from this world and taking full shelter in Krishna.
In the Innermost Core of Our Hearts
There's a fascinating verse toward the end of the Chaitanya-charitamrita (Antya 4.176):
'dvaite' bhadrabhadra-jnana, saba—'manodharma'
'ei bhala, ei manda',—ei saba 'bhrama'
"In the material world, conceptions of good and bad are all mental speculations. Therefore, saying 'This is good' and 'This is bad' is all a mistake."
Srila Prabhupada comments on this point in a letter (May 20, 1976): In this material world, to say this is good and this is bad has no value. To us, everything material is bad as it is lacking Krishna consciousness. Just like wet stool and dry stool. Stool is stool, but somebody is saying that wet stool is better than dry stool. What is this good and bad? The top side of some stool is dry and the bottom side is wet, but anyway that you take it, the material world is stool, and it must be given up. Therefore, we are trying to get out of the material world and go back to home, back to Godhead. In this world of duality, this is good and this is bad has no meaning, it is called manodharma, mental concoction. However, the real truth is that Krishna says that duhkhalayam ashashvatam, the world is a place of misery wherein repeated birth and death take place. Now is this good misery or bad misery? Misery is misery; and you have to die, good die or bad die. So to us everything material, without connection to Krishna, is to be rejected as stool, otherwise we will waste valuable time needed to solve the real problems of life, namely, birth, death, disease, and old age.
Joy is our birthright because we are part of God and He is joyful. Since joy is inherent to us, we are driven to search for it, but we spend our lives searching in the wrong place – in the material world – having forgotten that we're spiritual beings. Lasting joy, however, cannot be found anywhere within the material world. It's there within each of us in the innermost core of our hearts; it's in our relationship with Krishna, with His devotees, and with everything related to Him. Joy is amply available to us, but we need guidance to access it. When we receive that guidance, the direction of a qualified spiritual teacher, we find there are unimagined facets of joy.
When Srila Prabhupada founded ISKCON, he created seven purposes for it, the third of which is "To bring the members of the Society together with each other and nearer to Krishna, the prime entity, and thus to develop the idea, within the members and humanity at large, that each soul is part and parcel of the quality of Godhead (Krishna)."
And what do the members of the Society – the devotees – do when they come together? Krishna Himself explains: "The thoughts of My pure devotees dwell in Me, their lives are fully devoted to My service, and they derive great satisfaction and bliss from always enlightening one another and conversing about Me." (Gita 10.9) Simply by keeping the company of and serving Krishna's devotees we can experience the joy of devotion. And that joy is meant for everyone.