On October 23, 1966, just a few months after Srila Prabhupada incorporated the International Society for Krishna Consciousness in New York City, his disciples there began printing the first copies of Back to Godhead magazine in America. They'd bought a used mimeograph machine, and the "press" slowly but steadily cranked out copies in a temple alcove. Srila Prabhupada sometimes observed the operation, no doubt remembering his efforts to publish and distribute the magazine in India, beginning in 1944.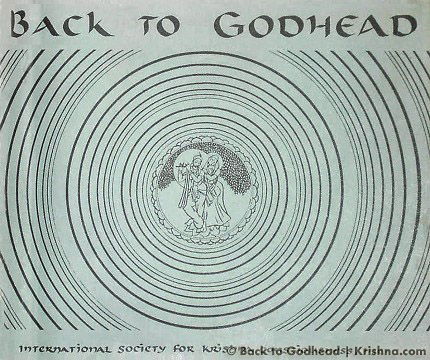 So, besides being the fiftieth anniversary of ISKCON, last year was also the fiftieth anniversary of BTG in the West. In just two years from now, the magazine will celebrate the seventy-fifth anniversary of its original launch in India. Except for one year of reorganization (1990), BTG has come out steadily since those first issues in 1966. While the look of the magazine has changed over the years, it has always stayed faithful to its founding purpose – to present the authorized philosophy and practices of the Krishna consciousness movement.
Broadly speaking, "the Krishna consciousness movement" is the movement begun by Sri Chaitanya Mahaprabhu in Bengal in the early sixteenth century. Srila Prabhupada spread that movement around the world though ISKCON, and in 1969 his magazine started carrying the subtitle "The Magazine of the Hare Krishna Movement."
When Prabhupada launched BTG in America, he wanted it widely distributed. In the early days of ISKCON, he often referred to BTG as the backbone of the movement. It was the main piece of literature the devotees distributed, and with Prabhupada's encouragement, the quantities sold kept increasing along with the growth of the movement. In the 1970s, hundreds of thousands of copies of each monthly issue were being printed and sold to temples for street distribution by an army of book distributors.
In the late 1970s, that started to change. New books by Srila Prabhupada were arriving at a quick pace, and the book distributors now had an array of books in their bags. They also found it easier, when the person they met hesitated to accept a hardbound book, to interest him or her in a paperback. Back to Godhead print runs gradually diminished and never recovered.
Because of the low demand for BTG as a street-distribution magazine, it has evolved to become more relevant to readers familiar with Krishna consciousness. Because "the person on the street" is a relatively rare reader, BTG writers and editors don't have to constantly explain the basics.
Those of us honored with the service of producing Prabhupada's magazine for Prabhupada's movement naturally wonder how we're doing. When Back to Godhead was in its heyday, it pervaded the ISKCON world. Today, it seems that many in our growing movement either hardly know of it, or don't give it much thought, taking it for granted. We'd like to change that. BTG is an important part of Srila Prabhupada's legacy. Will it fade away because of too much competition, too many reading options, too many Prabhupada disciples, followers, and admirers who don't see its relevance for their spiritual lives?
We hope that's not the case, and we'd like to hear from you, our cherished readers, about your feelings toward BTG. What value does it provide for you? Did it change your life in some way? Did it help bring you to Krishna consciousness? We'd like to hear your story.
We're working to increase the digital presence of BTG, with a new website and a phone app coming soon. But our research tells us that despite the appeal of all things digital, people still like printed magazines. We hope that enough members of Prabhupada's ever-expanding movement share that feeling and will keep his magazine rolling off the presses for many years to come.
– Nagaraja Dasa