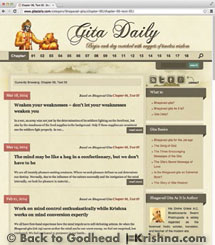 www.gitadaily.com is an online version of the book The Gita for Daily Enrichment, by Back to Godhead associate editor Chaitanya Charana Dasa. The aim of the site is to present insights from the Bhagavad-gita for your daily reflection. Each article is based on a verse and a theme from the Gita. As each article is only around three hundred words long, it can easily be read in a few minutes. As an added bonus many of the daily articles come with a video offering further insights into the Gita verses.
If you know someone interested in delving into the wisdom of the Gita, or if you want a way to start your day with the illumination of Vedic knowledge, then you will find this website a valuable addition to your Internet bookmarks.
When you open the site, the latest Gita verse and article are at the top of the page. You can scroll down and look at the verses and associated articles from previous days. If you click on the verse number, highlighted in red, you can view previous articles about that verse.
By clicking on the numbers across the top of the page, you can browse for insights into your favorite chapters. There is also a search box that allows you to use key words to find information you may be interested in.
At any point, you can always get back to the home page by clicking on the title bar at the top of every page.
In the column on the right of the page are links to a number of articles about the Gita and Srila Prabhupada, was well as information about the author of the site. Under the section Subscribe for Gita Daily, you can enter your email address and receive a verse and insights for your reflection in your inbox every day.
There is also a handy Sanskrit pronunciation guide that shows you where the tongue should be on your palate to correctly make each sound.
Further down the right-hand column there are more browsing tools that let you find articles from a particular month or day or on a particular verse.
In the Recent Comments section you can read the thoughts and insights of other readers.
At the end of the column, you can click to buy a copy of the Bhagavad-gita As it is, or get your own copy of The Gita for Daily Enrichment.
Down at the very bottom of the page is a list of featured articles describing important points made in the Bhagavad-gita. There is also a list of random daily articles that changes every time you load the page.
It's hard to wait to receive one article each day when there is so much of interest to look at. You could easily spend hours using this website to reflect on the vast wisdom presented by Lord Krishna in the Bhagavad-gita.
– Antony Brennan