By Parijata Devi Dasi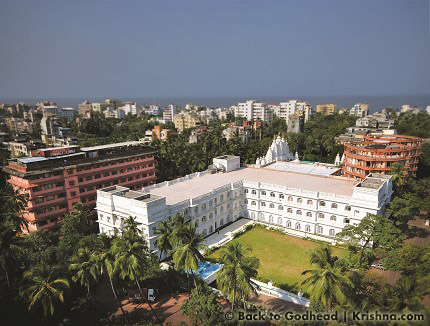 A brief look at temples and other projects by which devotees are spreading Krishna consciousness in this leading metropolis.
The Sri Sri Radha-Rasabihari Temple
In the 1970s, Srila Prabhupada struggled against all odds to build a temple at Juhu Beach, firmly believing it would provide wonderful opportunities for the citizens of Mumbai to develop their Krishna consciousness. Forty years later, Sri Sri Radha-Rasabihari daily attract thousands to Their magnificent marble temple, a spiritual oasis for the city's residents and tourists alike.
The initial project included a temple, restaurant, and guesthouse. Since 2005, it has included the Heaven on Earth building, with multipurpose halls for spiritual education and Vedic ceremonies, a library, a larger restaurant, and an underground parking area.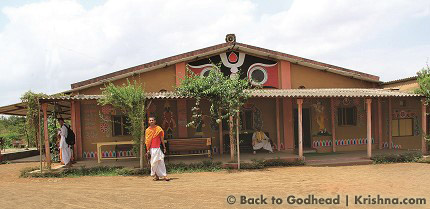 Nowadays, at least a million people a year attend the temple's splendid festivals, take seminars on the Bhagavad-gita, and relish free prasada meals. There are now more than 38,000 life patrons, 115 celibate priests living at the temple, and over 8,000 youth and congregation members who regularly visit and offer services.
Nilachal Dham
ISKCON Juhu manages the Nilachal Dham farm, seventy-five miles north of Mumbai. It is a spiritual retreat and a source of fresh cow's milk, fruits, vegetables, and flowers for Sri Sri Radha-Rasabihari.
Bhaktivedanta Swami Mission School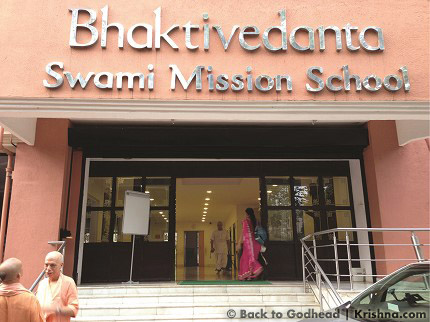 With more than nine hundred children, the Bhaktivedanta Swami Mission School, founded in 1988 at ISKCON Juhu, is now located in a nearby huge housing complex. Its quality education system offers the future generation a unique opportunity for social, intellectual, and spiritual development.
The Sri Sri Radha-Gopinatha Temple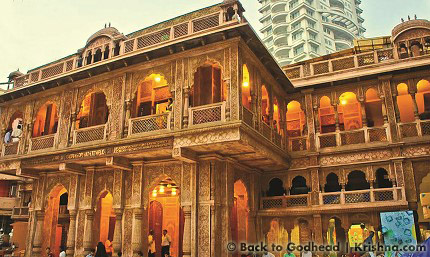 The Hare Krishna movement over the years has flourished in other parts of Mumbai. The development of ISKCON Chowpatty in south Bombay was a fulfillment of a prophecy Srila Prabhupada made. On October 18, 1973, he attended a conference at the Bharatiya Vidya Bhavan and gave the keynote address. His secretary at the time, Syamasundara Dasa, recalls: "After the lecture, Prabhupada stood on the steps of the Bharatiya Vidya Bhavan, pointed down the street, and said, 'We should have a temple here.' By the inconceivable power of his merciful glance and desire, at that spot there is now the splendid sandstone temple of Sri Sri Radha-Gopinatha, with its thousands of guests and members."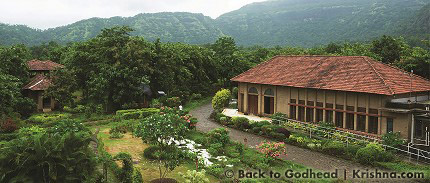 Sri Sri Radha-Gopinatha were installed there on July 18, 1988, and the temple has grown to house 200 resident college-educated monks, who serve a congregation of 3,000 people. ISKCON Chowpatty manages Tulasi Books; Bhaktivedanta Hospital, which opened in 1998 on Mira Road; and Govardhan Ecovillage, an award-winning eighty-acre model farm community and retreat center seventy miles north of Mumbai.
The Sri Sri Radha-Giridhari Temple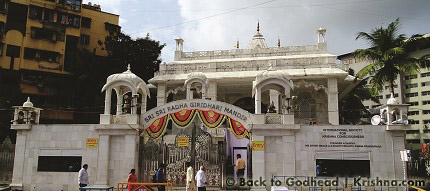 On September 14, 1986, Sri Sri Radha-Giridhari were installed by a group of congregation devotees in an apartment in Bhayander, a northern suburb, and later moved to a temporary temple on nearby Mira Road. Almost exactly twenty-nine years later, thanks to the sincere endeavors of more than 1,500 congregation devotees, a large new marble temple on the property opened for the deities on September 26, 2015. The temple is a short walk from Bhaktivedanta Hospital.
The Sri Sri Radha-Madanmohanji Temple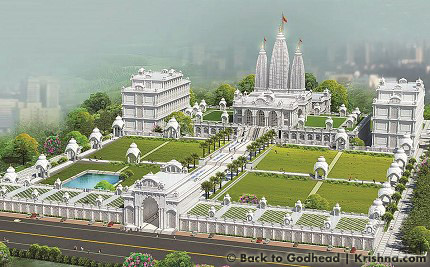 Since 2009, in Navi Mumbai (northeast of Mumbai), ISKCON Khargar has been developing the Sri Sri Radha-Madanmohanji Temple and The Glory of Maharashtra project. Spread over nine acres, this will include a college, a guesthouse, an auditorium, an Ayurveda center, and a home for the elderly.