By Satyaraja Dasa
During Prabhupada's earliest days in America, his host took him for a little-known outing.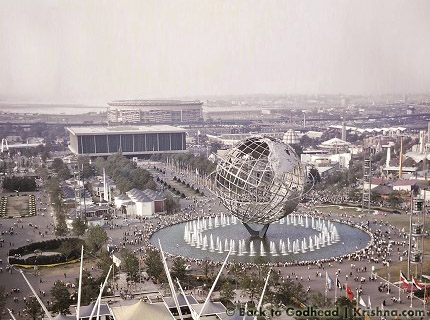 Last year marked the Golden Anniversary of the 1965 World's Fair,* held in New York City. It also marked fifty years since His Divine Grace A. C. Bhaktivedanta Swami Prabhupada stepped foot on Western soil. A lesser-known fact, however, is that there is a connection between these two events: Prabhupada, then known simply as Swamiji, attended the World's Fair shortly after he arrived in New York.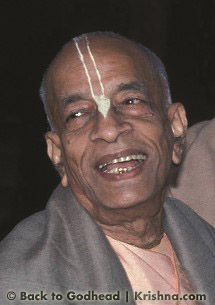 Srila Prabhupada's spiritual master had given him his life's mission in the 1920s: Take Krishna consciousness to the Western world. ╥I reached Boston on 17th September, 1965,╙ Prabhupada wrote in his diary. ╥I was thinking, while on board the ship ╘Jaladuta,' why Krishna has brought me to this country.╙ By September 19 he was in Butler, Pennsylvania, staying with Gopal and Sally Agarwal for three weeks. Gopal's father, Mathura Prasad Agarwal, a businessman from Agra, had offered to sponsor Prabhupada's trip abroad, leading to his stay in Butler.
Soon he was in the Big Apple, an apple he would eventually offer to his beloved Lord Krishna.
The Doctor's Hospitality
Prabhupada knew only one person in New York City: Dr. Ramamurti Mishra (aka Shri Brahmananda Sarasvati), a medical doctor, neurosurgeon, psychiatrist, and professor of medicine. Besides being a resident physician at leading university hospitals in the United States and Canada, he was a swami. He had adapted to Western culture and often wore tailored Nehru jackets and white slacks, rather than the usual sannyasi dress that swamis wear in India. He had created a yoga community in the greater New York area and was attracting a following of seekers fascinated by Eastern mysticism.
Prabhupada had corresponded with him from Butler, explaining how a gentleman in Bombay, Paramananda Mehra, was eager to make introductions, convinced that Prabhupada and Mishra could serve each other's purpose in conveying spiritual life to Westerners.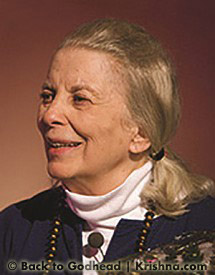 Joan Suval, a young disciple of Dr. Mishra, was deputed to meet Prabhupada at the Port Authority Bus Terminal, where he would be coming in from Philadelphia, and escort him to an Indian festival in the heart of the city. At the festival, Prabhupada was introduced to Dr. Mishra, and also to Ravi Shankar and his brother, the dancer Uday Shankar, who were there as well.
After the Indian festival, Joan drove Prabhupada and Dr. Mishra to Mishra's apartment at 33 Riverside Drive. Overlooking the Hudson River, it had large windows that highlighted the scenic view. Prabhupada was given his own room. The two swamis became quite close and could talk for hours on end, not just about Indian philosophy and culture but on just about every other subject as well.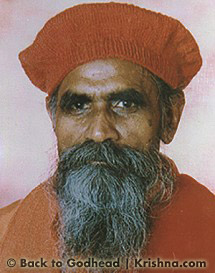 Because Prabhupada insisted that having a place of his own would be essential for pushing forward his mission, Dr. Mishra soon shifted him to a hatha-yoga studio on the fifth floor of 100 West 72nd Street, near Central Park. Although the space was a large room for practicing yogis, it included an adjoining private area where Prabhupada stayed for some time. Unlike the Riverside Drive apartment, this one had no windows and little else.
Whether at Riverside Drive or on 72nd Street, Joan loved listening to them talk, although sometimes it was in Hindi, which she couldn't understand. Still, she would watch their animated conversations nonetheless. Their talks were often full of serious back and forth, if also peppered with hearty laughter. Through it all, they became intimate friends, and Joan was happy to be at their beck and call.
One such call came in soon after Prabhupada's arrival: Dr. Mishra had made regular trips to the World's Fair, which was popular throughout the New York tri-state area, with reverberations extending around the world; he wanted to take Prabhupada to see it, too. The fair ran for two six-month seasons, April 22–October 18, 1964 and April 21–October 17, 1965, with extensions well into 1966.
The World's Fair
Prabhupada would have gone toward the last days of the fair. Indeed, the last day drew more than 446,000 visitors. With lavish pavilions and special effects, compliments of Walt Disney, the fair was supposed to be a portent of things to come – scientific progress, modernistic aspirations, and futuristic accomplishment. It took place in Queens, New York, with much to see covering the over 640 acres of Flushing Meadows–Corona Park. An observant visitor could be educated and inspired by the many visionary displays of the colorful fairgrounds.
Four special guests had driven in from Manhattan: Prabhupada (then Swamiji), Mishra, Joan, and Rita Dombroff, another of Mishra's early students. Says Joan Suval in an email to me:
That day, at the Fair, I remember watching Swamiji as I would a child. I liked him very much and I worried sometimes because he seemed to be carrying the weight of the world on his shoulders. Seriousness appeared to be his constant companion. But that day, at the Fair, it was wonderful to just watch him – full of energy, smiling, even laughing at times. He seemed to be an excited child – wanting to see every pavilion, every exhibit. I watched him listening attentively when Shri Brahmananda [Mishra] pointed out and remarked about a small sculpture from an ancient civilization – a man, legs crossed, meditating.

If my memory serves me, both he and Shri Brahmananda liked the Science Pavilion the best. They spent a lot of time in there – and again Swamiji listened to Shri Brahmananda as he explained the special exhibits that represented the future as we would come to know it.

Swamiji even purchased an item from one of the vendors – and I remember him showing it to me, obviously delighted that he had found something he needed. (I believe it was a small handmade tote bag that he could use for carrying items such as keys, etc.)

In short, the World's Fair of 1965 was a happy experience for Swamiji. I'm convinced he actually had fun that day!
Yaduvara Dasa, who interviewed Joan in 2006 for the Following Srila Prabhupada DVD series, became privy to her close exchanges with Prabhupada in those early days. She told Yaduvara that she had asked Prabhupada if she could hug him, and, despite being a renounced monk, in his kindness he said, ╥Why not?╙ So she embraced him as one would one's grandfather. Knowing the codes of his sannyasa order, she was touched by his willingness to accommodate her unusual request.
In addition to this story, among others, Joan offered Yaduvara a special surprise: she showed him a rare film clip, played on a portable TV through an old VHS player, of Prabhupada and Dr. Misra at the 1965 World's Fair.
╥It was maybe two or three minutes long in full color,╙ says Yaduvara. ╥It showed Prabhupada and Dr. Mishra posing at different spots in front of various exhibits, obviously enjoying the atmosphere among friends.╙
Leaving the Studio
By winter 1966, Prabhupada began to feel cramped at the yoga studio on 72nd Street. It was, after all, just a small office space without furniture or telephone. As Joan tells it, the office was not a proper living space, but since Prabhupada insisted on a private place to stay, they made an exception just for him. Austerely sleeping on the floor on blankets while planning the future of a movement that was yet to be, he would chant and read and entertain guests whenever possible.
Sometimes he would journey upstate to Ananda Ashram, a yoga establishment of sixty peaceful acres in the foothills of the Catskill Mountains. Dr. Mishra had founded the Ashram in 1964, and while there, Prabhupada would engage in his usual activities of kirtana and lecturing; by so doing, he naturally endeared himself to many of the retreat's residents and visitors.
Mishra advised Prabhupada to go downtown to Greenwich Village, where a host of young people would be interested in his message. Mishra had even predicted, says Joan, that ╥one day Swamiji would be followed by many devotees – who would owe their lives to him.╙ When one of the young visitors at Mishra's yoga studio confirmed that there was a hip, ready, willing, and able youth culture just waiting for him on the Lower East Side, he was ready to go.
Prabhupada's typewriter and tape recorder were stolen while he lived on 72nd Street, and he knew for certain that it was time to move on. So he relocated to the Bowery, to be where the ╥young people╙ were, and where he was offered accommodation in a loft. Eventually he moved to his own place, a storefront at 26 Second Avenue.
*Though generally known as "The 1964 World's Fair," it ran for equal periods in 1964 and 1965, and its official title was "The 1964/1965 New York World's Fair."