What started with three intrepid devotee couples continues to grow year after year.
By Devaki Devi Dasi
Srila Prabhupada considered London one of the most important cities in the world for spreading Krishna consciousness.
This December marks fifty years since the opening of ISKCON's first temple in London and the installation of Sri Sri Radha-Londonishvara. London plays an important part in ISKCON's incredible history.
Fulfilling Bhaktisiddhanta Sarasvati's Instructions
Bhaktivinoda Thakura had desired the day that Krishna consciousness would spread in the western world, and his son, Bhaktisiddhanta Sarasvati, Srila Prabhupada's spiritual master, carried the same desire, of which London was seen as an important city. In the 1930s he sent three of his experienced disciples (including two sannyasis) to London, and in 1933 they set up a center, the Gaudiya Mission Society, with a little success. Three decades later, Srila Prabhupada, deeply inspired to fulfill his spiritual master's desires, was confident that his disciples could firmly establish Krishna consciousness in Europe as they had done in North America. He would begin by opening a temple in London.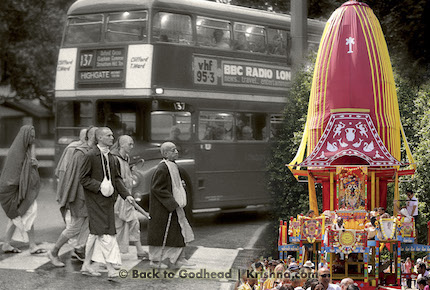 In 1968 three American married couples – Gurudasa and Yamuna Devi Dasi, Syamasundara Dasa and Malati Devi Dasi (along with their baby daughter, Sarasvati), and Mukunda Dasa and Janaki Devi Dasi – at the request of their spiritual master, Srila Prabhupada, left San Francisco for London to start a temple. They had set up a temple in San Francisco and had had close association with Srila Prabhupada. Eager to establish Krishna consciousness in London to please their spiritual master, they met with Srila Prabhupada in Montreal to discuss plans for London, get his blessings, and practice kirtana under his direction – kirtana would be a fundamental aspect of the establishment of Krishna consciousness in London.
A Pioneering Spirit
Once they arrived in London, the three couples struggled with no financial support. But they had complete faith in the blessings of Srila Prabhupada. Although they had to live separately in different suburbs, they tried to maintain enthusiasm in Krishna consciousness. Driven by their pioneering spirit, they got together almost every day and either did harinama-sankirtana (public chanting) or went to media offices or rock concerts to get attention.
They organized London's first Rathayatra festival, on July 27, 1969. The procession started at Marble Arch and then proceeded to Trafalgar Square. Syamasundara Dasa, a carpenter by trade, built the chariot for Jagannatha, Baladeva, and Subhadra. These deities, also carved by Syamasundara, are still worshiped in London today. Srila Prabhupada instructed him to "make the deities so beautiful that everyone will be attracted to them."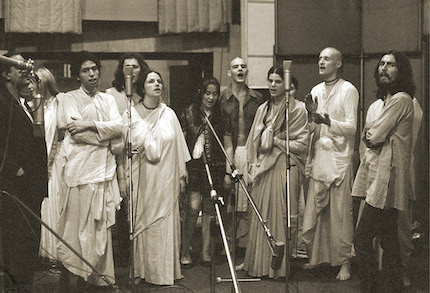 Just as when Krishna appeared, He sent His devotees to come first, so before the Lord appeared as the arca-vigraha [deity], He sent the devotees who would arrange for and reside in His temple. – Malati Devi Dasi
Meeting the Beatles
Syamasundara Dasa wanted to befriend the Beatles as a way to help spread Krishna consciousness in the UK. The Beatles had traveled to Rishikesh in 1967, in search of happiness and peace of mind. They returned to London with a taste for Indian spirituality to varying degrees, George Harrison being the most interested. In 1969 the devotees made various attempts to get the Beatles' attention, such as bringing to Apple Records apple pies with the Hare Krishna maha-mantra on them. At a Christmas party at Apple Records, Syamasundara's desire was finally fulfilled when he met George Harrison, who invited him to his house, and their relationship began. The Hare Krishnas gained national attention by chanting Hare Krishna and befriending the Beatles.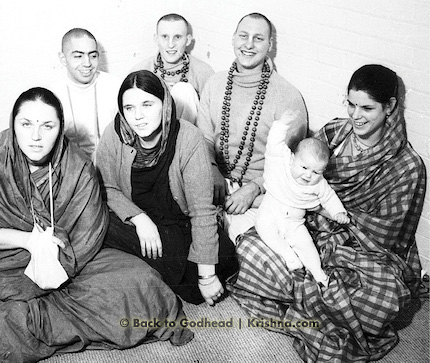 In a meeting with George, the devotees suggested that the Beatles' singing Hare Krishna would help the holy names reach worldwide. But George insisted the devotees themselves record the chanting under the Apple Records label. And so, with George's help, they recorded the single "Hare Krishna Mantra." It was released in August 1969, a few weeks before Srila Prabhupada's arrival in London, and was an unexpected commercial success, reaching number twelve in the UK charts, with some success internationally as well. Devotees sang the record on the popular BBC TV show Top of the Pops. The single was on the chart for nine weeks.
ISKCON's First Temple in the UK
Srila Prabhupada regularly received updates from his disciples in London. He set the time for his arrival in the UK for early September 1969. In the continued attempts to find a property for a London temple, Gurudasa met with an estate agent who had a five-story building in Bury Place, in Central London, near the British Museum. Money from sales of the "Hare Krishna Mantra" record enabled them to rent the building and convert it into a temple. George Harrison said Apple Records would guarantee payments if devotees defaulted.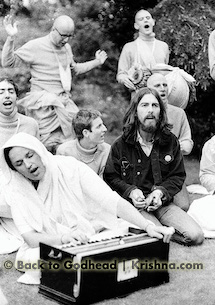 When Srila Prabhupada arrived in the UK for the first time in September 1969, both George Harrison and John Lennon were deeply impressed by him. John invited him to stay at his home in Tittenhurst Park with his disciples until the renovations in Bury Place were done, although with the condition that Prabhupada's disciples help with renovations to his estate. They took him up on his offer, but by late October 1969 some devotees moved to Bury Place, and Srila Prabhupada soon joined them, despite the noise of the renovations.
Srila Prabhupada's disciples worked hard to get the Radha-Krishna temple ready, demonstrating their willingness to do anything to please their spiritual master. Srila Prabhupada also asked them to buy Radha-Krishna deities for the opening of the temple, and he asked Tamal Krishna Dasa, a disciple visiting London, to arrange invitation cards for the installation of the deities on December 14, 1969 – a date Srila Prabhupada set without any deities having yet been acquired. He also advised Tamal Krishna of the menu to be served to all the guests every evening of the first week at the new temple.
After many months of effort, on December 14, 1969, Radha-Krishna deities were installed in Bury Place. Srila Prabhupada named the deities Sri Sri Radha-Londonishvara, which means Radha-Krishna, the controllers of London.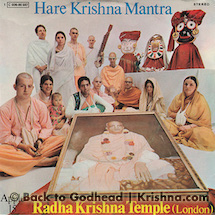 Sri Sri Radha-Londonishvara have a special place in ISKCON history as the movement's first full-size Radha-Krishna deities. They are also unique in that They seemingly appeared by Their own will, manifested by Srila Prabhupada's strong desire for Radha-Krishna deities in London. They were, unusually, not ordered by devotees but donated by a Mr. Goyal, an Indian gentleman who was himself looking for Radha-Krishna deities for a Hindu center in East London. Srila Prabhupada supervised Their installation ceremony, which was filmed by the BBC. By installing Sri Sri Radha-Londonishvara, Srila Prabhupada fulfilled a long-standing wish of the previous acharyas. An authorized temple of Radha-Krishna was established, and Bhaktisiddhanta Sarasvati's dream for London had been fulfilled.
Sri Sri Radha-Londonishvara are a direct manifestation of the ardent desire of Srila Prabhupada. In that sense you might even call Them self-manifesting deities. In reciprocation with Srila Prabhupada, They themselves came to London. They themselves orchestrated the whole pastime and inspired the original owner to offer Them to Srila Prabhupada. – Murli Manohara Dasa, head pujari, ISKCON London
In Srila Prabhupada-lilamrita, by Satsvarupa Dasa Goswami, Yamuna Devi Dasi shares her recollection: "Prabhupada was looking at the deities with complete devotion. He loved those deities. He had commented about Their exquisite beauty and how They complemented each other. How sometimes Radharani looked more beautiful but how Krishna's moonlike face and eyes were shining."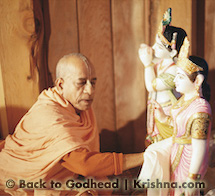 At ISKCON London's twenty-fifth anniversary celebrations, Tamal Krishna Goswami said: "Srila Prabhupada really did say that these deities were the most exceptionally beautiful deities. He had such special appreciation for these deities. They are the first large Radha and Krishna deities worshiped in the western world. They are very, very special deities."
Further Contributions from George Harrison
In 1970 George Harrison produced The Radha Krishna Temple album with the devotees. In his solo recordings, many songs included devotional references, such as "My Sweet Lord" (referring to Krishna), which had the Hare Krishna maha-mantra in the chorus. In that year, George also paid for the printing of Srila Prabhupada's book Krishna, the Supreme Personality of Godhead.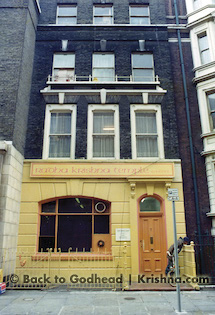 By 1972, ISKCON London, like ISKCON around the world, was growing rapidly, and the Bury Place temple was getting too small. A new building was required. George Harrison asked a British devotee, Dhananjaya Dasa, to find a large property not too far from London, and in 1973 George bought a manor house on seventeen acres in Hertfordshire. Later that year it was named Bhaktivedanta Manor. George gifted it to ISKCON, and it eventually became the headquarters of ISKCON in the UK. Srila Prabhupada went there regularly to spend time with devotees. He said of George, "Because he has given shelter to Krishna by providing this temple, Krishna will surely provide shelter for him." Just before Srila Prabhupada left this world in 1977, he removed a ring from his right hand and told the disciples around him, "This is for George. Give it to him."
The Spreading of ISKCON in the UK
In the 1970s, Krishna consciousness spread throughout the UK. Book distribution, festivals, and talks at universities attracted many new members. Indian immigrants, many already worshipers of Krishna, also became visitors and supporters when they came to know that there were temples in the London area.
Throughout the 1980s, centers started in Belfast, Glasgow, Manchester, Newcastle, and the Midlands. Today, besides the temples, centers, and devotee-run restaurants throughout the UK, regular group meetings take place in more than fifty towns. ISKCON has also had considerable influence in developing the religious education curriculum taught in schools and has become respected in academic circles and institutions such as the Oxford Centre of Hindu Studies. ISKCON is the faith partner of Avanti Schools Trust, which provided the first state-funded Hindu schools in Britain, one of which was visited by the Queen. The schools draw upon the Gaudiya Vaishnava traditions practiced by ISKCON.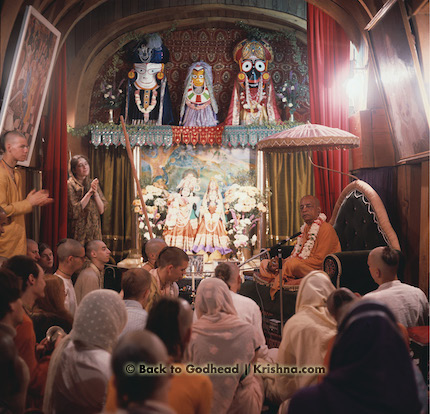 A New Home for Sri Sri Radha-Londonishvara
In 1978 Sri Sri Radha-Londonishvara, Jagannatha, Baladeva, and Subhadra Devi, and Gaura-Nitai moved from Bury Place to a six-story building in Soho Street, just off Oxford Street, where They still reside.
One of the distinctive features of the Radha-Krishna Temple in Soho Street is that, although not the largest of temples, it is right in the center of the city, next to Europe's busiest shopping street. This provides great potential for outreach, with thousands of shoppers and passers-by daily. The temple is also easily accessible to devotees by public transport. A vibrant hub of city preaching and deity worship, it is an opportunity for devotees to practice Prabhupada's recommended "simple living and high thinking" in one of the busiest cities in the world.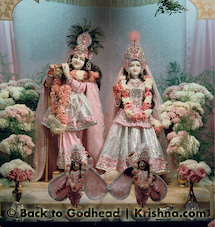 When asked what makes ISKCON London a successful model, Jai Nitai Dasa, who has been the temple president since 2007, says, "Their Lordships have made the London temple a success. The location, the history, the desire of Srila Prabhupada and the previous acharyas to have something dynamic happen in London – all of these combined make this a place for amazing outreach. London is so cosmopolitan – a gateway from East to West and vice versa because so many people pass through. And as Srila Prabhupada said, 'You can reach the world from Oxford Street.'"
ISKCON London's head pujari and senior brahmachari, Murli Manohara Dasa, joined the temple in 1990 at age twenty-four. He has served full time as a pujari since 1996. He too says the location of the temple is one of its success factors: "We are in the heart of London. Every day thousands walk past the temple, and every day many newcomers venture into the temple. Being on such a preaching frontline makes it a dynamic and exciting place to be."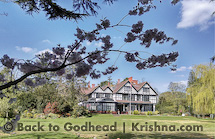 A Spiritual Oasis in the City
On the street level is Govinda's Restaurant (the kitchen is located in the basement of the building), which opened in 1979 and is known as the oldest vegetarian restaurant in London. The restaurant, open seven days a week, has catered for celebrities and prestigious events such as London Fashion Week.
Above the restaurant is the temple. Sri Sri Radha-Londonishvara reside on one altar, Jagannatha, Baladeva, and Subhadra Devi on another. Small Gaura-Nitai deities were installed in 1973, and Giri-Govardhana in 1983. The close physical proximity to the deities provides for a very intimate viewing.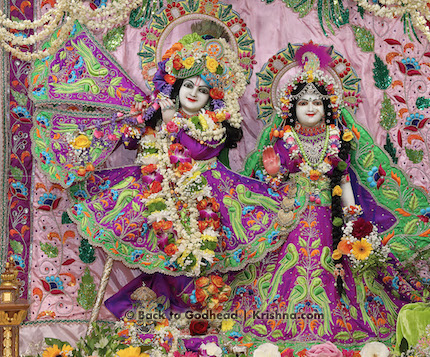 On the next floor is Radha's Boutique, which sells a wide variety of items. The floor above has seminar rooms for hosting a range of courses and other activities. On the upper floors are the women's and men's ashrams and a tulasi greenhouse on the roof.
The temple is open from 4:00 a.m. to 9:30 p.m. every day. In a central location in one of the most cosmopolitan and culturally diverse cities in the world, the temple attracts people of all backgrounds, races, and professions. Temple residents and core community members are from more than a dozen countries, serving together with a community spirit.
Our deities, Sri Sri Radha-Londonishvara, have a magnetic force that inspires devotees to serve Them. Srila Prabhupada said London is hell, and that's a fact. Yet Their enchanting smiles make living in hell seem like a blessing. – Murli Manohara Dasa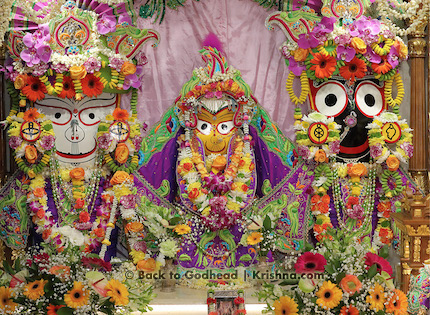 Temple residents and a large community who live and work outside do the day-to-day running of the temple, book distribution, deity worship, harinama-sankirtana, outreach programs, and organization of major temple activities, events, festivals, and projects. The temple has approximately three hundred volunteers. In the pujari department alone there are around sixty volunteers a week, and as a team they offer forty-five hours of service each day.
The temple offers a unique range of service opportunities for everyone to engage in according to their abilities, skills, and interests, even from the moment they enter the temple. Besides services physically at the temple, there are plenty of opportunities to serve from home, such as broadcasting, communications, event management, and graphic design. As such, the temple even has devotees currently serving from France, Scotland, and Sri Lanka.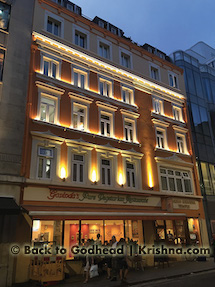 Many things inspire me in my service, but perhaps mostly Sri Sri Radha-Londonishvara Themselves. Srila Prabhupada spoke of Them as being his favorite deities, and They were also the first large deities to be installed in ISKCON. So to have the opportunity to serve Them personally is a very great privilege. – Murli Manohara Dasa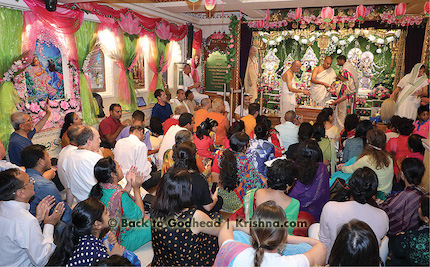 A Focus on Outreach
Daily street chanting, prasadam distribution, and book distribution are a few aspects of Hare Krishna culture the city has welcomed. Devotees perform harinama daily around London, with an impressively large sankirtana party on Saturday nights through London's famed West End. The Hare Krishna maha-mantra, the happy devotees, and the unmistakable sounds of cymbals and drums are well known, and many people spontaneously join in the singing and dancing. A few years ago a survey asked visitors what were the iconic symbols of London. The top three responses were black cabs, red buses, and saffron-clad chanting Hare Krishnas.
I am grateful to the London devotees for maintaining the daily harinama for so many years. By our doing harinama in London, Krishna sent devotees, then we were able to get a temple. – Malati Devi Dasi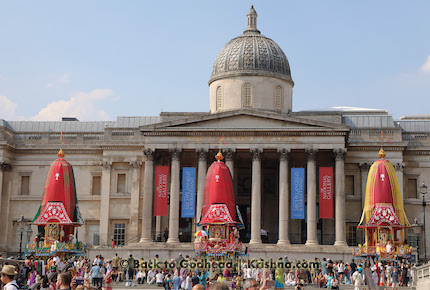 Book distribution, done by ashram residents and devotees living outside alike, is prominent. In recent years, there has been an increase in innovative ways to distribute books, including door-to-door, shop-to-shop, and fancy-dress book distribution, leading to increased participation.
Spiritual education is also an important component of the temple's offerings. In addition to morning classes every day, there are lunchtime and evening classes every Monday through Saturday, several weekday evening programs targeted towards newcomers, and two Sunday Feast programs – one for the devotee community and one for newcomers. There are also regular visits by schools, organized by ISKCON Educational Services, and the London College of Vedic Studies offers a number of philosophical, practical, and lifestyle courses. A Sunday school for children, named Krishna Club, was also launched at the start of 2019.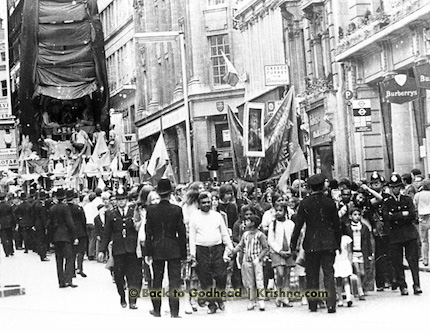 What makes ISKCON London a thriving community is the devotees and the serious levels of sacrifice to serve Their Lordships and Their devotees. The focus is on outreach and keeping things simple by focusing on prasadam distribution, book distribution, and harinama. – Jai Nitai Dasa
Prasadam distribution remains a strong attraction at ISKCON London. Govinda's Restaurant is open every day, serving a variety of succulent prasadam dishes to devotees, vegetarians, vegans, and passers-by. The restaurant kitchen is busy serving several other purposes as well. Imbibing the mood of Srila Prabhupada, who wanted no one to go hungry within ten miles of his temples, devotees serve free breakfast and lunch prasadam generously every day to those coming to the temple. A Food for Life program, which has been running for over twenty years, feeds hot prasadam meals six nights a week to the homeless in a location in Holborn. Its efforts were officially recognized in December 2017 when the chief organizer of the London-based service, Acyuta Charana Dasa, was honored with a British Empire Medal (BEM) for voluntary and charitable services to homeless people.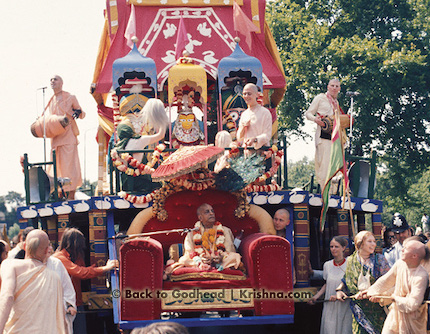 Now celebrating its fiftieth year, ISKCON London is looking to reflect on the past fifty years, celebrate achievements, take inspiration from the pioneering spirit of the early days, and continue to grow as a spiritual hub attracting more and more Londoners and passers-by alike in what is one of the world's most cosmopolitan and culturally diverse cities.
Extra Content
"Krishna Has Now Appeared in London"
by Tamal Krishna Goswami
(From Srila Prabhupada Remembrances, Chapter 11)
In London we had another interesting negotiation. By the time I got to London, in September of 1969, Prabhupada was about to get 7 Bury Place. But what is a temple without Deities? Prabhupada instructed us to install Radha-Krishna Deities when the temple opened in December, but we didn't have any eeities, and he didn't ask for any deities to be made in India. How are you supposed to find Radha and Krishna in London?
We started to ask anyone and everyone. It was like a national alarm. "Anyone knowing the whereabouts of Radha and Krishna please phone such and such number," and that was the number of Mukunda's wife, Janaki. Week after week went by. Prabhupada would call us and say, "Where are the deities?" We said, "We don't know where Radha and Krishna are." Prabhupada said, "You have to have deities."
Finally, miraculously, when we were practically giving up, Janaki got a phone call. Someone said, "We have Radha-Krishna deities." Immediately she informed Mukunda, and Mukunda and I went to this man's house.
The man took us into his study and said, "I have marble Radha-Krishna deities. Would you like to look at Them?"
Would we like to look at Them? Sure we wanted to look at Them! He took off the cloth, and we offered our obeisances. That was Radha-Londonishvara.
We said, "They're beautiful, They're so beautiful."
And They were beautiful.
He said, "I'm considering giving Them to your temple."
We said, "Can we bring our spiritual master to see Them?"
He said, "Yes, you can do so."
We raced out and immediately called Prabhupada's apartment near Regent's Park. He was resting, so we decided to go there.
We went in and told him, "Prabhupada, we found Radha and Krishna."
Prabhupada immediately said, "Take me. I want to see Them."
So Prabhupada, Mukunda, Syamasundara, and I, and maybe Gurudasa, went in the temple van. By that time it was the early evening. Prabhupada started to talk with this Indian gentleman in a very friendly way. The man said that these deities were for some other society, but there was some difficulty and they could not use the deities. Prabhupada ignored that point and kept on asking the man, "Where are you from? How are you? How is your wife?" He had the man bring in his wife and children, and Prabhupada blessed everyone. He was talking and talking.
Finally, the man said, "Swamiji, don't you want to see the deities?"
Prabhupada said, "Yes, we can see the deities."
It was nonchalant, as if he was not even interested.
The man said, "Please, I want to show Them to you."
Prabhupada walked over to Them and said, "Hmm," turned around, walked back to the sofa and sat down again.
The man said, "Swamiji, what do you think? Can you use the deities?"
Prabhupada said, "They look like They may be used."
The man said, "Well, I'm thinking I can give Them to you."
Prabhupada said, "Yes, we could accept Them."
He told us, "Go and see how heavy the deities are."
Syamasundara and I went over, and I tilted Radharani and said, "Not very heavy," although She was heavy.
Syamasundara had Krishna.
Prabhupada said, "All right, we'll take Them now." He said, "Pick Them up."
The man said, "Wait, wait, Swamiji, wait a moment."
Maybe he had an idea of recovering some of the cost.
Prabhupada said, "No, no, it's no problem. These are American boys, they're very strong."
We carried the deities out, and the man was protesting, "Swamiji, Swamiji, one minute."
We walked to the van and put Them in. Prabhupada sat in the seat next to the driver's seat.
He said to the man, "I'll take care of the Deities. We'll be in touch with you," and then he said, "OK, let's drive."
We drove off, and when we got around the corner, Prabhupada said, "Stop the car."
We stopped, and Prabhupada said, "Take the cloth off the deities."
We took the cloth off, and with tears in his eyes Prabhupada started to sing the prayers from Brahma-samhita.
He said, "Krishna has now appeared in London."