By Radharamana Dasa
On the morning of 13 August 1965, at the Khidirpur dock in Kolkata, Srila Prabhupada boarded the cargo ship Jaladuta to embark on a long and difficult voyage across the Indian and Atlantic oceans.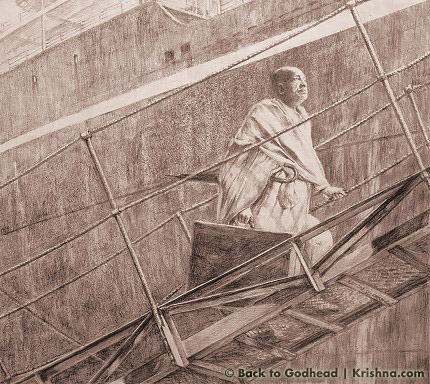 Only four people came to see Srila Prabhupada off on his maiden voyage to America. But fifty years later, on August 13–16 last year, ISKCON Kolkata staged the Golden Jubilee of the Jaladuta Yatra,* and followers of Srila Prabhupada from more than 125 countries attended. The event took place in Netaji Indoor Stadium (seating 15,000), from whose ceiling hung the flag of each nation represented. The huge stage was designed to look like the Jaladuta, with its portholes, railings, and sails, and even the water of the sea was depicted in flashing blue lights.
The festivities were split into morning and evening sessions – the morning for ISKCON devotees, and the evening for the people of Kolkata. Early in the morning, a hundred buses began transporting attendees. The stadium was stuffed with an audience of devotees and friends from India and abroad. Three thousand people more than the stadium's capacity attended, packing the stairwells and walkways.
The first day began with talks by ISKCON leaders in praise of Srila Prabhupada. Srila Prabhupada's son Vrindavana Chandra De, the only surviving person who was present at Prabhupada's departure, recalled seeing his father off with a jar of coconut sweets from his sister (Prabhupada's daughter) Bhakti-lata. Prabhupada asked his son to give his best wishes to his family and to request them to pray for his safe journey. Then, as the bell sounded the ship's departure, Vrindavan Chandra shed tears and prostrated himself in obeisance before his father.
The morning program included bhajanas, kirtanas, and a tribute song for Srila Prabhupada by the young women of the Sri Mayapur International School. India's Got Talent winners Prince Dance Group presented a drama of Srila Prabhupada's life, from his childhood to his Jaladuta journey.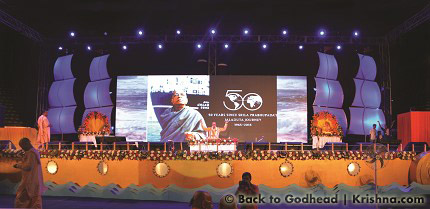 The evening session drew so many local people eager to honor Srila Prabhupada that thousands had to be turned away from the gate.
Shri Keshari Nath Tripathi, Governor of West Bengal, praised Srila Prabhupada. Prominent politician Kiran Bedi spoke with heartfelt enthusiasm. She tweeted from the event to her 5.1 million Twitter followers: "Very sacred day in Kolkata – ISKCON celebrating 50 yrs of Prabhupada's journey." She called the event one of "energy, togetherness and devotion." She sent several tweets, and at the end of the program danced with devotees. She was overwhelmed by the presence of devotees from over 125 countries and gave a very inspiring talk.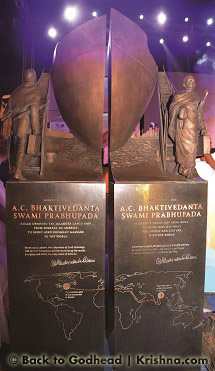 U.S. Congresswomen Tulsi Gabbard, a granddisciple of Srila Prabhupada, sent a video message, in which she said in part,
"If not for the compassion of His Divine Grace A. C. Bhaktivedanta Swami Prabhupada, I never would have achieved this supreme treasure of Krishna's holy names. . . . Those of us who are the spiritual children and grandchildren of His Divine Grace A. C. Bhaktivedanta Swami Prabhupada would all be lost orphans were it not for his compassion and mercy."
World Records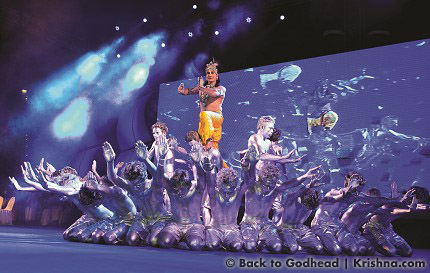 Meanwhile, at an adjacent stadium, devotees from 106 countries broke the Guinness world record for "Most Nationalities in a Yoga Lesson." Devotees performed yoga postures such as padmasana (lotus position) while chanting Srila Prabhupada's pranama- mantra and the Hare Krishna mantra. The previous record holder, with 84 nationalities, was India's Ministry of AAYUSH [Health]. The Honorable Prime Minister of India Shri Narendra Damodardas Modi, who attended that event, sent a message to the organizers of the ISKCON event, offering his best wishes.
Devotees also made another Guinness record: "Most Nationalities in a Choir." For this feat, devotees from 105 countries sang the Bengali song Sri Guru Charana Padma in praise of Srila Prabhupada.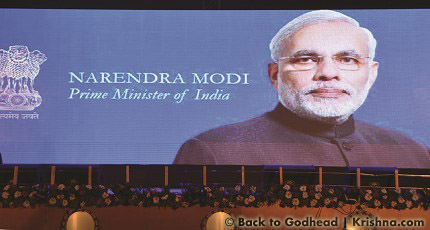 Later in the evening a specially commissioned sculpture, designed by Russian devotee Madana Mohana Dasa and made by Ukrainian artist Volodymyr Zhuravel, was unveiled. The beautifully detailed bronze piece consists of two parts. One, depicting Srila Prabhupada boarding the Jaladuta in Kolkata, is now at the ISKCON Kolkata temple. The other, showing Prabhupada alighting from the ship in Boston, will be installed in a public park near Boston harbor.
"Mr. Volodymyr took two months' leave from his regular work," said Madana Mohana Dasa, "and refused other orders so that he could devote himself to completing Srila Prabhupada's sculpture in time for this event. He worked at least eighteen hours a day on this project."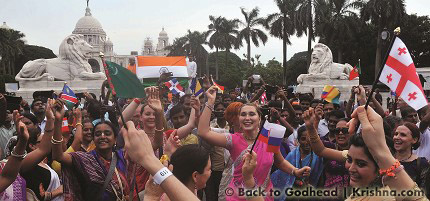 When the sculpture arrived in India from Kiev, there were huge problems at customs just one day before the festival. But the sculpture somehow arrived at the stadium on the morning of August 13 and was unveiled by Honorable Governor of West Bengal Shri Keshari Nath Tripathi and Smt. Kiran Bedi.
Srila Prabhupada's disciple Ambarisha Dasa (Alfred Brush Ford) noted in his talk at the unveiling, "We in America were most blessed to be the first place where Srila Prabhupada disembarked." Ambarisha is helping build the world's largest temple, in Sridham Mayapur, West Bengal.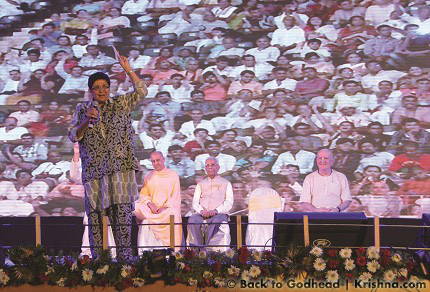 Other highlights of the evening included a joyful performance of Jayapataka Swami's song "Jadi Prabhupada Na Hoito" by Ekalavya Dasa and a large group of young dancers and singers, and a "flash mob" dance performance by 650 students from Kolkata schools to the song "Gopinatha," which ended with the dancers forming the word "Krsna" with their bodies. Prince Dance Group presented two dances and a drama. For the pleasure of Lord Jagannatha, famous Odishi dancer Dona Ganguly, wife of legendary cricketer Shri Sourav Ganguly, performed a dance with her daughter and troupe.
Spiritual Tour of Kolkata
On August 14, hundreds of devotees were taken on a bus tour of key places in Srila Prabhupada's life. The stops on the tour included 1 Ultadanga Junction Road, where Prabhupada met his spiritual master for the first time; the Radha-Govindaji Mandir at Bara Bazaar, where Srila Prabhupada held his own Rathayatra at five years old; the house at 151 Mahatma Gandhi Road, where he grew up; and the place on Tollygunge Road where he was born in 1896. Finally, devotees visited Khidirpur dock, where Srila Prabhupada left for the U.S. fifty years ago.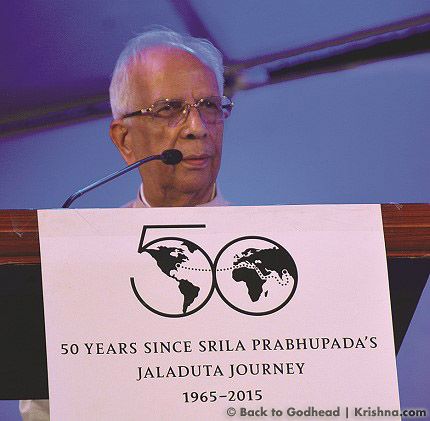 On August 15 – Indian Independence Day – 600 devotees, including representatives from 125 countries each carrying their country's flag, chanted harinama-sankirtana from ISKCON Kolkata to the Victoria Memorial, where they continued chanting for nearly four hours.
On August 16 and the evenings of August 14 and 15, devotees gathered at ISKCON Kolkata for cultural performances and talks on Srila Prabhupada's life by his senior disciples.
Devotees from about fifty countries whose trip to Kolkata was sponsored by ISKCON expressed their heartfelt gratitude. Most of them have been devotees for over twenty years and had never been able to afford the trip to India. We devotees at ISKCON Kolkata realized that Srila Prabhupada personally invited these sincere souls to his birth city on this historic event. And it seemed that Lord Krishna Himself took charge of the Golden Jubilee of the Jaladuta Yatra and made it successful to honor His pure devotee His Divine Grace A. C Bhaktivedanta Swami Prabhupada. Srila Prabhupada ki jaya!
*Here Yatra means "journey."