A look at the history and current renovation of the shrine that forty years ago the New York Times called "the Taj Mahal of the West."
By Madhava Smullen
Multiple generations are working together to restore a labor of love.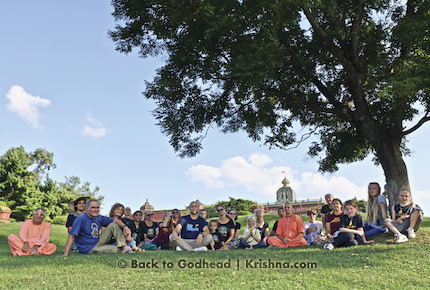 It's a hot August day in New Vrindaban, West Virginia, and the sky above is azure blue. The emerald hills of Appalachia stretch out as far as the eye can see. Atop one, in front of the black-and-gold domes of Prabhupada's Palace, a father-and-son team have been hard at work all summer. Today they've just installed the final wrought-iron railing for the steps leading up to the Palace. Black and shining with a floral polymer finish, the railing has intricate lotus and tilaka designs that are something to behold.
"Phew!"
Nityananda Fried, twenty-nine, wipes a muscular forearm across his forehead. Bearded, with black earring studs, he sports a New Vrindaban t-shirt. Tattoos of Lord Nrisimhadeva and the ISKCON symbol show where his heart lies. He and his father, Gopisha Dasa, start every morning praying to Srila Prabhupada for his blessings and guidance.
Gopisha squeezes his son around the shoulder.
"We did it!"
His eyes crinkle with good humor. The fortieth anniversary of Prabhupada's Palace, in September 2019, is nearly here. And after years of deterioration, there's a sense that the Palace is becoming a lively, happening center of spiritual activity again, inspiring people from all over to visit Srila Prabhupada in his preeminent samadhi (memorial) in the West.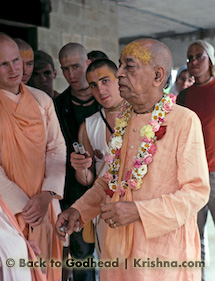 And Gopisha's son – along with an increasing number of other young people – has made his own valuable contribution to this labor of love for ISKCON's founder-acharya, just as his father's generation did when they were young.
"I Am Already Living There"
Back when New Vrindaban devotees began planning in 1972, they initially intended a simple residence for Srila Prabhupada, who was expressing his desire to retire from active management of his fledgling society to focus on translating his books, often citing New Vrindaban as the place to do so. But by the time they broke ground in 1973, their overwhelming love for their guru made their plans so elaborate and ambitious, the building was being referred to as Prabhupada's "palace."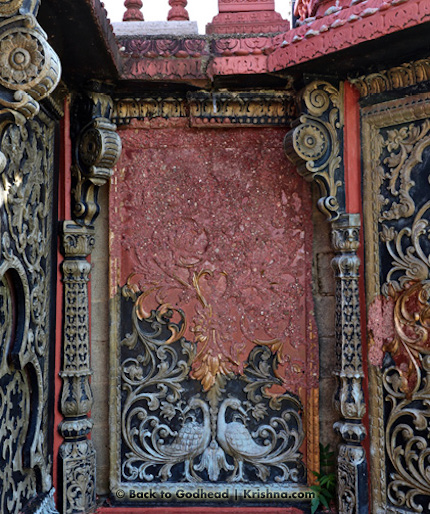 The team of builders were young, inexperienced, and unpaid. Driven by a strong desire to please Srila Prabhupada, however, they trained themselves in construction and artisanal skills, and pushed through the challenges.
Srila Prabhupada's own loving encouragement constantly boosted them. During a visit in July 1974, while touring the building site, he thanked the devotees serving there and referred to them as "my jewels." A few months later, he wrote in a letter, "Regarding New Vrindaban I was very happy when I was there. I am expecting very soon to go there and live in my proposed palace at least for some time."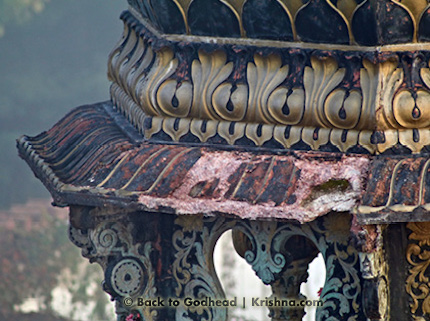 In September that year, when Kuladri Dasa visited him in Vrindavan, India, Prabhupada told him that he would like to live in New Vrindaban as soon as his palace was ready. According to Srila Prabhupada's personal servant Srutakirti Dasa, he continued asking for updates once a month.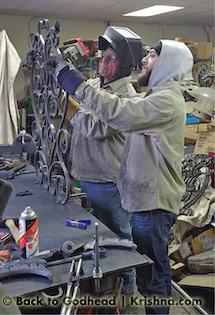 Even when New Vrindaban devotees visited Srila Prabhupada in Vrindavan for the last time in late 1977, he continued to ask about his palace. On October 6, he said, "If I survive, I have a strong desire to go and live there. It will be a great pleasure." Chuckling wryly, he added, "Let us see which palace I am going to."
A month later, on November 14, 1977, Srila Prabhupada departed this world. When his palace opened on September 2, 1979, it was a stunning achievement featuring teak, onyx, 22-karat gold leaf, stained-glass artwork, finely detailed arches and domes, and fifty kinds of the finest marble.
In Prabhupada's physical absence, it may have become a memorial to the pure devotee, but it also remained his residence. As Srila Prabhupada said during one of his visits, "Actually, I am already living here, because you are all desiring it."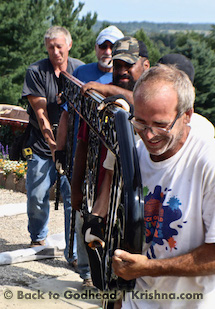 After its opening, not only did Prabhupada's Palace become a place of pilgrimage for devotees, but it also gave New Vrindaban and ISKCON new credibility in the eyes of the media and the public. Dubbed "The Taj Mahal of the West" by the New York Times, it became one of West Virginia's biggest tourist attractions and drew hundreds of thousands of visitors at its peak in the 1980s.
Dark days, however, befell New Vrindaban in the late 1980s and early 1990s. Many devotees left the community, and the number of tourists plummeted. The Palace, built without professional experience, began to decay. Large parts of the concrete domes, outer wall, portico railing, and steps crumbled away, and sections of wrought iron rusted irreparably.
Still, a small number of sincere devotees remained, determined to serve Srila Prabhupada faithfully at his Palace, repairing and repainting what they could despite little help.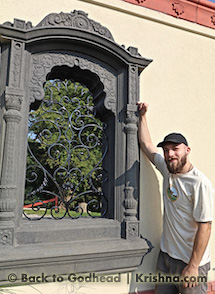 After New Vrindaban reformed, officially rejoining ISKCON in 2000, devotees started down the road to rebuilding the exemplary Krishna conscious community Srila Prabhupada had envisioned. One of the important aspects was Prabhupada's Palace. In 2009 a Palace Restoration Committee was established and had a professional concrete engineer assess the building. Fortunately, he said, its core was safe and sturdy. But the exterior urgently needed work.
Gopisha and Nityananda
This time, experts have taken on the task – both local companies and Prabhupada disciples, who by now have a lifetime of experience. But the tradition of young devotees building their skills by working on the Palace continues. Newer generations who have grown up around the sacred landmark feel Srila Prabhupada's presence there, have developed their own relationship with him, and want to help. Often they are inspired by their parents' devotion, and team up with them.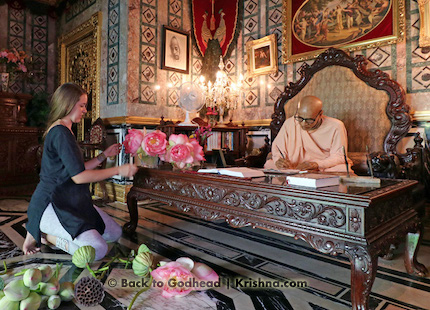 One such pairing is Gopisha Dasa and his son Nityananda. Gopisha, a burly devotee with a jocular disposition, has lived in New Vrindaban since 1981 and helped install wrought-iron gates at the Palace soon after it opened. Today he's the Palace restoration manager.
Nityananda is a hiking guide in Hawaii and is training to be a yoga teacher and personal trainer. He likes working on the Palace, he says, because "I want to give back to the community where I grew up, and be part of the legacy."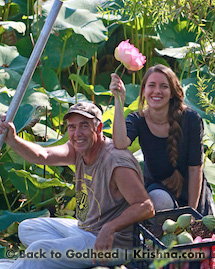 Over the past few years, a lot of renovations have been done at the Palace, and Nityananda has helped his dad with many of them. Along with other devotees, they've installed a more efficient drainage system. They also renovated the steps leading up to the Palace by recycling the original rose-colored granite and adding durable new black granite treads with polished front edges.
Next they stripped the Palace's outer wall, grouted it, and stabilized it with rebar and concrete. They installed attractive new reddish capstones with lotus designs on top of the wall. And they pulled out the crumbling window frames and replaced them with new ornate black frames with Jaipur-style arches, before giving the wall's surface a concrete stucco finish.
"I had to wear a full face mask to protect my lungs while grinding all the old concrete off," Nityananda says. "Wearing that in the summer heat, I only had a limited number of hours for really effective work. So I'd have to show up at 5:30 in the morning and work as much as I could before the sun really came out in full force."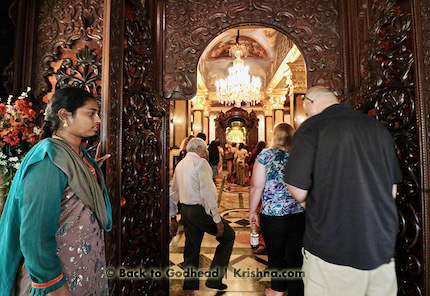 In 2017 Nityananda and Gopisha fabricated new wrought-iron ornamental window grills in their garage and installed them in the outer wall. Designed with hearts, swans, and lotuses all flowing together, the grills are truly poetic pieces that do justice to the Palace's reputation. The service the two have done together will be a treasure to hold on to forever.
"During New Vrindaban's fiftieth-anniversary celebrations," Gopisha says, "some of the older devotees came to visit the Palace, and they were recalling, 'I put up that gold leaf' or 'I was working on a scaffold right there.' Now Nityananda has those memories too – he'll be able to take his grandkids to Prabhupada's Palace and show them the work he did on it with his dad."
Tejomaya and Gopala
Another father-and-son team, Tejomaya Dasa and Gopala Riccardi, will also share memories. Their work may not be as visible, but it's essential to the functionality and longevity of the Palace.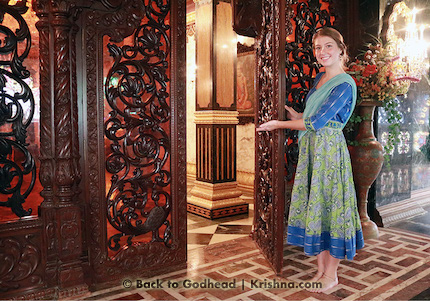 Moving to New Vrindaban in 1973 and initiated by Srila Prabhupada in 1974, Tejo, as he's affectionately called, was one of those who originally helped to build the Palace. Known as the backbone of New Vrindaban's infrastructure, Tejo trained his adult son Gopala, who works by his side on maintenance in the community. Together the two have been dedicated to improving the infrastructure of Prabhupada's Palace, upgrading its plumbing. They did the plumbing in Prabhupada's recently renovated kitchen, ran the gas line for a new heating system, rebuilt the water and gas supply room, and fixed the fountain at the lotus pond. Under their skillful hands, the Palace's plumbing, heating, and wastewater systems will be well maintained long into the future.
Tripada Vibhuti and Hladini
Elsewhere, at the forefront of the day-to-day running of Prabhupada's Palace are Tripada Vibhuti Dasa and his daughter Hladini Lorence. Laid back, with easy smiles, they have a tight-knit relationship that's evident as they chat. Tripada has been serving full time at the Palace since 1985 – managing, guiding tours, maintaining, and renovating over the years. He has steadily been restoring all the decorative castings in the Palace, and many of the repairs and fixed leaks are his handiwork.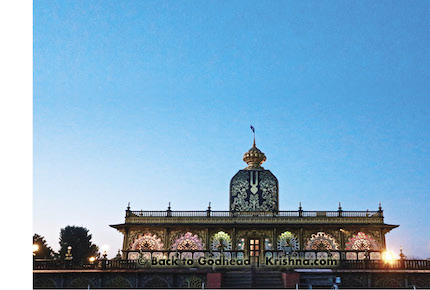 Hladini, twenty-three, has seen her dad's singular dedication all her life. As a young child, the Palace was her playground, and she was always close by while he worked.
"I'd help sweeping or cleaning chandeliers," she says. "But my first love was painting the Palace, when I was about fourteen. I find it very meaningful to get to work there with my dad. Throughout my life it's been so inspiring to me that he's so steady with his service."
Today Hladini works as a yoga instructor in New York City and is training to become a birth doula. But she gives large chunks of her time to Prabhupada's Palace. From 2017 to 2018, she spent a year painting, working in the Palace gardens, and giving tours five days a week.
During the tours, Hladini and Tripada guide tourists, travelers, students, locals, and Hindu pilgrims through the Palace. As they walk they explain who Srila Prabhupada is, what his mission was, what materials were used in the Palace, and how it was built out of love by Prabhupada's disciples.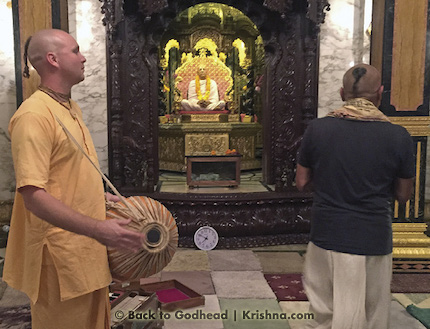 "People are always very impressed that Srila Prabhupada came to the U.S. when he was so elderly," says Hladini, "and that he accomplished so much in such a short time. They're also amazed at what the devotees were able to achieve."
"Every tour," adds Tripada, "we explain a little about basic Krishna conscious philosophy and chant the maha-mantra. Many people are very curious. Some ask a lot of questions, and you get to go in-depth into the philosophy."
Often people buy japa beads or Prabhupada's books after the tour and ask how to use them. Even those who don't understand the spiritual depth behind the project, Hladini and Tripada explain, are benefited by circumambulating Srila Prabhupada in his temple room.
Visakha Gopi Turner and Gopika Sampath Kumar
Other young next-generation devotees are also becoming inspired by Prabhupada's Palace and the effect it has on people. Visakha Gopi Turner, nineteen, is the daughter of Lalita Gopi Dasi and Ānandavidya Dasa, who care for New Vrindaban's cows. A public health major, she plans to go into the Peace Corps after she graduates. She has been spending her last three summer vacations at the Palace, leading tours.
Sometimes guiding groups of up to thirty people and speaking to hundreds in one day, Visakha is elated by the joy the Palace brings. Guests, she says, often love it so much that afterwards they visit Sri Sri Radha-Vrindabanchandra at Their temple, take prasadam, and see Krishna's cows. Many people return with their family and friends to give them the experience too.
Serving at Prabhupada's Palace has also greatly benefited Visakha herself.
"It's very spiritually enlivening to talk about Krishna and Srila Prabhupada all day," she says. "And it's a reminder for me. Growing up, I've not been as thankful as I could to be a Hare Krishna devotee. But spending so much time meditating on Srila Prabhupada and his sacrifices makes it easier to appreciate the work he put into bringing Krishna to us."
Gopika Sampath Kumar, eighteen, who also leads tours, was new to Prabhupada's Palace herself when she and her family moved from Mumbai to New Vrindaban in 2016.
"When I first saw it, I was amazed," she says. "Then I slowly started hearing about the dedication and devotion of the devotees who built the Palace, and I just got goosebumps. It really inspired me to serve there too."
"It's an opportunity for me to preach," she adds enthusiastically. "I want to tell everybody about Prabhupada!"
Working three to four hours on weekdays and five to six hours on weekends, Gopika also finds that serving at the Palace has brought her closer to Srila Prabhupada.
"In the winter when it's slow, I sit in the temple room and chant, and it's such an amazing experience," she says. "It's so quiet, and it feels so personal, like it's just me and Srila Prabhupada. It makes me want to just keep chanting and chanting."
The Road to a Thriving Offering
With young and old generations working together to renovate the Palace and put a new dose of energy into its guided tours, a host of other new signs of life have sprung up too.
Regular Prabhupada Sangams see Prabhupada's disciples share memories of their experiences with ISKCON's founder-acharya, while next-gen devotees and grand-disciples speak about what Srila Prabhupada means to them.
Public Kirtan Experience events held on the first Friday of every month are advertised in local towns and draw thirty to fifty members of the public.
The annual Festival of Colors, held on the Palace grounds and now in its eighth year, attracts thousands of students and local families. Chanting the Hare Krishna maha-mantra along with live devotee bands, they dance, throw colors, and also take tours of Prabhupada's Palace.
Meanwhile, the media and popular culture are once again celebrating the Palace. In November 2017, CNN Travel named it one of the "8 Religious Wonders to See in the US," commenting, "A name such as Palace of Gold comes with high expectations, and this West Virginia shrine doesn't disappoint." In July 2018, Business Insider listed the Palace in one of its "30 Most Beautiful Places in the U.S.," voted for by readers. And TV channels, radio, and print media in West Virginia and neighboring states regularly cover it in positive ways.
Because of all the renewed attention, tourism at the Palace has jumped from 20,000 visitors annually to approximately 30,000 – which still leaves a long road back to the heights of the 1980s, but is nonetheless impressive.
What's more, in the spring of 2019 Prabhupada's Palace was recognized as a Historical Building and listed on the National Register by the West Virginia State Historic Preservation, the Department of the Interior, and the National Park Service. This recognition gives Srila Prabhupada's memorial a new level of prestige and national significance.
In the meantime, the restoration continues. The next phase involves a major job: repairing the Palace roof, which has been leaking and causing internal damage for a number of years. The entire roof will be stripped down and rebuilt; a new heating, ventilation, and air-conditioning system will be installed; and the domes will be refurbished. The work is scheduled to begin this year, and will include rebuilding the crumbled balustrades around the Palace.
An Eternal Bond
With so much energy going back into Prabhupada's Palace, it's a perfect time to celebrate the fortieth anniversary of its opening. A special festival will be held at New Vrindaban from September 28 to 30 this year, during which all the devotees who helped build the Palace will be invited and appreciated.
But don't wait until then to visit, New Vrindaban devotees say. With open arms they welcome Vaishnavas from all over the world to see Srila Prabhupada at his smriti samadhi anytime. A memorial to ISKCON's founder-acharya and what he has given us, as well as to the guru-disciple relationship, the Palace is a legacy of love that now seems set to continue on for another forty years and beyond, as younger generations seriously embrace its meaning and contribute their service.
"What makes the Palace so special is that it was all done by Prabhupada's young disciples, who just wanted to do something beautiful for their guru," says Hladini. "And I think that to keep the idea of the Palace authentic, to keep it a labor of love, we need as many devotees as possible working on it."
She encourages youth all over ISKCON to take the chance to "offer something beautiful to Prabhupada and continue this legacy."
"Prabhupada's Palace is the heart of New Vrindaban," Gopisha adds, "so when next-generation devotees engage and become a part of that, it gives them a heart connection, just as we saw with the elders when they visited the Palace again after so many years. When a group endeavors and struggles and sacrifices together, it creates such a strong bond. And when it's done in Krishna consciousness, it's an eternal bond. Adding the next generation to that eternal bond, that heartbeat of New Vrindaban, is something truly glorious. And that's what we want to do."
Research assistance by Chaitanya Mangala Dasa