By Ananta Vallabha Dasa
When a couple's unborn child is diagnosed with a life-threatening condition, they turn to Lord Krishna's devotees for guidance.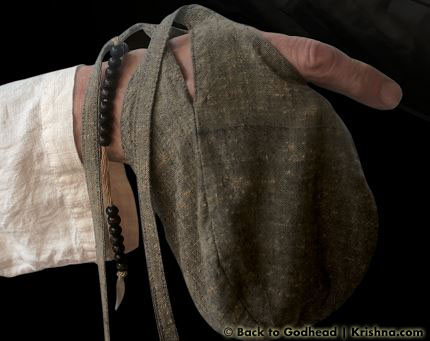 When we learned that my wife, Vaishnavi, was pregnant, it was joyous news. We went through wonderful emotions and sweet feelings in considering how to welcome the new soul into our lives. And like all expectant parents, we looked forward to the day when the delivering doctor would say, "Congratulations!"
We started regularly visiting Vaishnavi's gynecologist, a pious, sweet, gentle lady, and every visit made us curious to know about the little one inside the womb. At two and a half months we were advised to get a scan done, and the reports were normal. We were thrilled to hear the baby's heartbeat.
In the fifth month, the doctor suggested an anomaly scan, a thorough ultrasound scan of the baby's anatomy. Friends and relatives had shared their experience of having seen their babies' features for the first time in this scan, and this excited us to go for it.
The scan generally takes ten to fifteen minutes, but the doctor doing the scan continued for more than half an hour, and then suddenly left the room without a word. I ran behind to ask him what happened. He said that the baby had a serious problem: The heart was pushed to the right. He recommended getting the same scan done by a famous senior radiologist. My extreme happiness quickly turned into distress. I didn't inform my concerned wife, and managed to hold the burning news until the next scan.
Desperate to know the situation of the fetus, with great difficulty we got an appointment with the famous doctor. Our hearts sped as our turn approached, the inevitable array of thoughts rushing through our minds.
After a few minutes of scanning, the radiologist said, "Your baby has a problem. Visit your gynecologist at the earliest with this report, and she should tell you what needs to be done."
After seeing our gynecologist, she called us to say, "Sorry to say this – your baby is suffering from congenital diaphragmatic hernia (CDH), and I recommend termination."
Oh, God! We were shattered. Tears flowed like rain from my wife's eyes, and I was dumbstruck. I didn't know what to say. After a long pause, I asked the doctor about CDH.
"Is there no cure for this?"
The doctor explained in detail. Because of a hole in the diaphragm, the stomach and intestines had gone to the chest, pushing the heart to the right and stopping the growth of the left lung. Generally the lung develops in early gestation, but our baby's lung was not growing. There was no guarantee the baby could breathe once it came out, so termination, the doctor said, was a good option for this kind of anomaly.
Generally problems like CDH are diagnosed in the third trimester or later, but as our baby was diagnosed early, the doctor was sure the baby would have serious complications.
We had never heard of CDH, and the doctor's advice left us blank. Though we knew that termination is sinful, we didn't know how to react to the dreadful situation. Still, we told the doctor we were not ready to allow this sinful act at any cost.
The doctor patiently but firmly replied, "I agree with you, but the baby may not survive. Or it might survive for a few hours, days, or months. It will have to undergo many surgeries and feel much pain. You will have to see all of this. And you will have to spend a lot of money, knowing very well that the baby will not survive. Continuing the baby's life is not a very practical idea. Both of you are young, it's your first conception, and you can have another child soon if you wish."
Despite having a number of questions, we couldn't speak for a while. I told the doctor her words made lot of sense and requested some time to get back to her.
"I understand your anxiety," the doctor replied. "If you decide to terminate, please get back to me in two days because the baby has already completed four months in the womb and later it'll be too late for the termination procedure."
We went home with heavy hearts. I tried consoling my wife but miserably failed. She was suffering the agony of having carried a baby and being unsure of its survival. Her pregnancy had become a trauma. The news ended our happy thoughts of becoming a father and a mother. Vaishnavi could now feel the baby's movements. What should have been moments of joy only added to her emotional turmoil.
I tried to console her: Krishna has a great lesson to teach us, I said, so He has put us in this situation. This is a result of our past karma, and we have to face the consequences. If Krishna wants to protect the baby, nobody can harm it; if Krishna wants to take away the baby, nobody can protect it.
I always used to tell my wife: The difference between life and a teacher is that a teacher teaches the lesson and then gives the test but life gives the test and then teaches the lesson. So we should be always prepared to learn the lesson.
Seeking Guidance
In our community of devotees, we have a counselor system in which devotees who have spent considerable years in Krishna consciousness share their experience and guidance (which they have received from their seniors) to those eagerly desiring to learn and practice Krishna consciousness systematically. We decided to call our counselor. We were prepared to accept his guidance; it might be difficult, but Krishna would be pleased if we followed our authorities. We took some time, discussed a lot, and decided to follow whatever he told us to do.
Our counselor was astonished and asked for time to consider a solution. After half an hour he called back and sweetly, with great conviction and crystal-clear understanding, explained why we should not terminate. I took the role of a materialist and told him the strong reasons for termination, but he was able to persuade us with a lot of scriptural understanding as well as examples of devotees who had faced similar situations. In the end, we were happy to continue the pregnancy in the right spirit.
Our counselor and other senior devotees were instrumental in giving us the philosophical viewpoint. We were told that it is Krishna's plan and we are nobody to interfere. No one knows what exactly is the baby's future. The Lord has a special plan for this soul, and therefore He has chosen this womb according to our karma. It is our duty to take care of this soul sent by Krishna. Whether the baby is going to survive for a few years, months, weeks, days, hours, or even minutes, we should try to give Krishna consciousness to the baby to our best capacity. That is the duty of every parent.
We were fortunate to get excellent timely guidance from many senior devotees, to whom we are very grateful and obliged.
Our spiritual master, His Holiness Radhanatha Swami, who was thousands of miles away, wrote to us, giving us hope, strength, and the right attitude to face the situation. He said he would offer his heartfelt prayers to the Lord to shower His grace upon us. He gave us insight on how sometimes in this world we are put through difficult challenges. By passing these challenges with patience and integrity, and by sincerely taking shelter of the Lord, we'll be blessed in a special way. His words were like a rope for a man drowning in the sea.
Our parents were also against termination, but were moved to see what we had to undergo. They encouraged us to take the situation in a positive spirit.
Now we were convinced beyond any doubt. We went back to the doctor.
"Nothing doing," we said. "We are going to continue the pregnancy, and we need your blessings and support."
The doctor was stuck with wonder to see our bold decision, knowing well the risk for the baby. She tried to convince us by again stressing the expected critical consequences to be faced. We got an opportunity to speak the philosophy of Krishna consciousness. I explained the law of karma and why abortion is sinful.
She was happy to know our view and said, "You have so much faith in God. I will also pray to God to give the best result."
The Moment Arrives
The baby successfully completed nine months. My wife was admitted to the hospital on December 11, 2012, the day for the baby to come into this world. Our gynecologist had informed the neonatologists of the situation, and other doctors were ready with the ventilator, oxygen, and all other requirements.
We had successfully pleaded with the doctor to allow a recording of Hare Krishna chanting in the delivery room, and that gave Vaishnavi strength. My in-laws, my mother, and a devotee couple were with me to give moral support. I prayed, chanted, and hoped for the best.
After an hour, the neonatologists came out with the baby in an incubator. I saw the baby struggling to breathe. Tears – which I had controlled for many months – rolled down from my eyes as I looked at the small baby inside the incubator, unable to breathe and struggling for its life.
Vaishnavi had been eagerly awaiting the moment when she could hold the baby in her arms as soon as it was born, but that didn't happen. She could only see the baby nearby, and it had to be immediately given oxygen and other essentials. From the minute the baby was born it was under observation. The doctors had told us that the first cry was important, as the baby had to breathe on its own. As soon as my wife heard the baby cry, her tears were irrepressible, and she had hope.
The baby – a boy, I was told – was taken into the neonatal intensive care unit (NICU). I ran to see my wife's status. She was still inside the delivery room. After a long time she came out, obviously exhausted.
She held my hand and asked, "How is the baby?"
Controlling my tears I said, "He is fine, and he looks like me," as she had wanted the baby to look like me.
She was happy, but sad to hear that the baby was inside the NICU, struggling to breathe.
The Wait
The NICU doctors told us the baby was breathing only ten percent by himself and using ninety percent ventilator support. Once he stabilized by using only fifty percent ventilator support, they would take him for surgery. Until then, he would be in the NICU under critical care.
Only my wife and I were allowed inside the NICU. It was unbearable for us to see the baby in that stage, but we wanted to be with him.
Vaishnavi was taken to the recovery ward while the baby was under the care of the NICU. Many wonderful devotees came to the hospital every evening. Our discussions of Krishna gave me lot of inspiration in overcoming my anxiety. I took shelter of them.
After a week, the pediatric surgeons decided to operate. The baby had stabilized somewhat, and they couldn't wait any longer. The doctors asked us to pray to God. They would try their best, they said, and they took him away.
Left with a couple of devotee friends and in-laws, with great fretfulness I sincerely chanted the holy names. I had no other choice.
After two hours the surgeon came and said, "No need to worry. The baby is fine. Because he was diagnosed with CDH during early pregnancy, we thought the lung might have not developed well, but the baby's lung is better than what we expected with our experience. We wonder how it is so."
I was shocked and speechless – and eager to see the little one.
After the surgery, the baby was again taken to the NICU for post-operative care. He was there for a fortnight and in the hospital for almost a month. Every day we had to face a lot of turmoil. When the baby started getting better day by day, he was finally discharged.
The ordeal was a thorny phase of our life. Though we had the satisfaction of having taken the right step, we had no choice but to undergo what was in store for us. Our only option was to pray, pray, and pray. At times we were perplexed about what to pray for, and left things in Krishna's and guru's hands. And what we suffered can't compare with the heartfelt prayers of our guru, many devotees, and near and dear ones.
Today we are the happy and satisfied parents of an adorable sweet little boy who by God's grace is like any other healthy baby. We can say that our child is made of prayers. Prayers never go unheard; we get more than what we deserve. We can't imagine our life outside the association of devotees and our guru, without whose help we couldn't have made the right decision.
We went to see our gynecologist, who was very happy to see the baby.
With tears in her eyes she said, "God does exist, and God will protect His devotees."
Our spiritual master blessed the baby by giving him the name Abhay Charan, a special gift because it is the birth name of His Divine Grace A. C. Bhaktivedanta Swami Prabhupada.
My wife and I wish to express our sincere gratitude to our spiritual master, senior devotees, all family members – all who guided and supported us. Our child is a special gift, and we have no words to thank all the devotees, relatives, and friends who continuously prayed for him. Only because of their prayers was Abhay Charan able to fight such a big battle.
We would also like to express our sincere thanks to Srila Prabhupada, who created a revolution in our lives by giving us a great opportunity and educating us in how to live a sinless and pure life in Krishna conscious.