The story of how ISKCON Phuket came to be.
By B.V.V. Narasimha Swami
Tsunami relief brought devotees to Phuket, and now Krishna has come.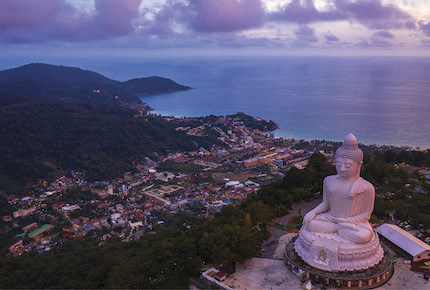 In December of 2004 I was in Singapore for a few days on my way back to Bangkok when I learned of the tsunami devastating the coastlines of Thailand, Indonesia, and Malaysia. I was staying in the home of a devoted couple, Sridama Dasa and his wife, Tulasi Devi Dasi. Together we watched the news reports on the TV. There had been immense devastation and thousands of deaths. I didn't know at that time how this tsunami was to open up a new preaching field for ISKCON.
I had been visiting Thailand for a couple of years, but we still didn't have a center there, and I was just beginning to get to know some interested persons. Therefore it came as a surprise to me that after I reached Bangkok a devotee from London, whom I knew but who didn't know me, rang my landline and began yelling at me. He said there was a major disaster in south Thailand and many people were homeless and needed shelter and food. He forcefully told me to go there immediately and do some prasadam distribution.
I was virtually alone in Thailand, and I didn't know how I could possibly do what he was demanding. Then I got an idea to call the regional director of our ISKCON activities in Malaysia, Simheshvara Dasa Brahmacari. He was aware of the situation as Malaysia had also been affected, but he knew the situation in south Thailand with its beach towns such as Phuket was more serious.
He agreed to come to Phuket with a vehicle and some devotees. He also secured support from the International Food for Life office of ISKCON. I took an overnight bus ride, and we met in Phuket the next day.
We found our way to a local Sanatana Dharma temple that had only recently been established, and there we discovered a number of people who had been made homeless by the devastation. The temple authorities were happy to see us, and they invited us to do kirtana and give class. This became a regular program for us as long as we were in Phuket.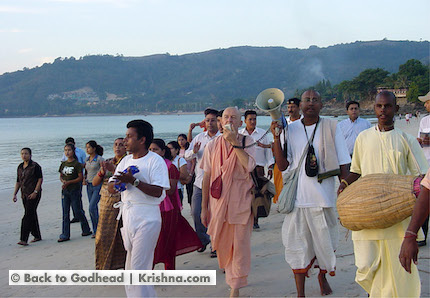 Simhesvara had contacted the director of ISKCON Food for Life, Priyavrata Dasa, and he arranged for a generous contribution from his office. We were able to find a location at one of the main camps established for those made homeless by the tsunami, and every day for a week we delivered tasty prasada for distribution. I brought some of our Thai books, and they were soon in demand with the locals. We knew that the best thing we could give them at this time was the holy name, so we performed harinama sankirtana along the beachfront and around the refugee camps.
A Request from the Locals
When life was back to normal and the homeless had resettled, we were ready to return to our bases, but some of the locals, including Ram Gautam, had become seriously interested in Krishna consciousness and wanted us to establish a center in Phuket. He got his friends to share his enthusiasm, and in a short time he found a small property to serve as place for a center.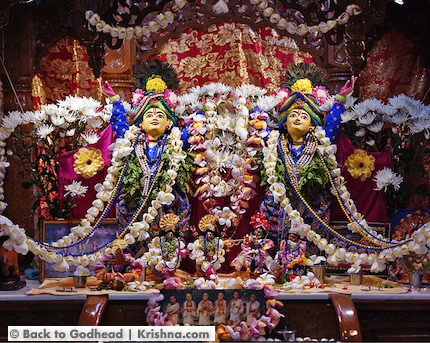 Property in Phuket is the most expensive in all of Thailand; hence a bank loan had to be arranged. It was to be nearly ten years before we could pay it off.
With the completion of the loan, Ram Gautam, now Ravikula Rama Dasa, decided to build a wall around the center's property, only to find the neighbor up in arms, complaining that we were occupying his land. We had to call in officials from the land office, and when they arrived they declared that not only had our wall been built on his land, but half of our center was built on his land. The property had been purchased without a careful study of the land deed. We would either have to knock down half of the building or pay our neighbor a substantial rent for the land we were occupying.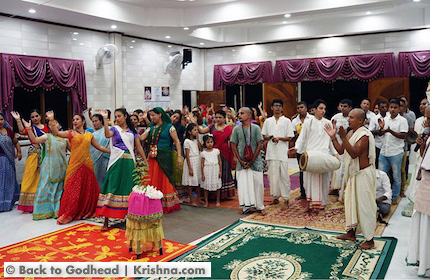 Our congregation members were mostly shopkeepers, and their businesses had not been doing well, so they didn't think it necessary for us to purchase the land. We had enough land for our needs. We decided to knock down the part of our building occupying the neighbor's land.
When we had taken down that half of the building, the remaining part started to fall to the ground. We understood that this was not going to work. We would have to construct an entirely new building.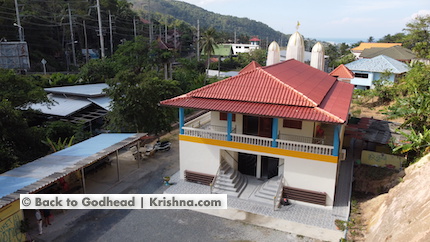 It was a daunting thought. We had no money, and our congregation was not wealthy or successful in their attempts at business. We had to surrender and depend on Lord Krishna.
Help Arrives
None of our devotees had any experience in building a temple. We didn't know where to begin. Then we heard about Ajamila Dasa, a disciple of Srila Prabhupada who was an authority on the vastu shastra, which describes the rituals necessary before beginning construction, as well as the proper positioning of the deity and other such matters. He was kind enough to come from his base in neighboring Malaysia and visit the land, during which time he gave us valuable advice on how to design the center. One of the things Ajamila Prabhu had us do was to establish a deity of Lord Ananta Sesha, who would act as the support for the temple foundation. On an auspicious day we performed this ceremony, and the construction work was then able to begin.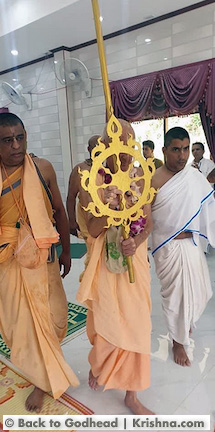 Seeing the enthusiasm of the local devotees and the construction now underway, the congregation was encouraged to donate. Shyam Greer, now overseeing the affairs of the center, took the initiative to visit devotees located around Thailand and get them to donate. Gradually the construction took place, and we were ready to have the opening ceremony.
On Gaura Purnima last year, His Holiness Kavichandra Swami, the GBC representative for Thailand, came and officiated the opening. Srivasa Pandita Dasa Brahmacari, regional secretary of neighboring Myanmar, also attended.
The temple serves as a shelter from the hedonistic environment of the beach town. The devotees arrange programs for the spiritual education of the local people, with special attention on the children and youth, who are especially vulnerable to the permissive atmosphere that pervades Phuket.
After the temple opening, we realized that we needed another entrance to the temple. This would not only make it easier to enter the temple, but it would allow temple visitors to approach the deities from the front rather than from behind. We need to acquire land from a neighbor and get approval from the local government for the new entrance road, so we request all the devotees to please pray that we can successfully complete this task and have a wonderful center for ISKCON in the land of Buddha.