By Kalamsvara Dasa and Lavangalata Devi Dasi
Thanks to the exemplary dedication of two women inspired by their guru, ISKCON has opened its fifth temple in Fiji.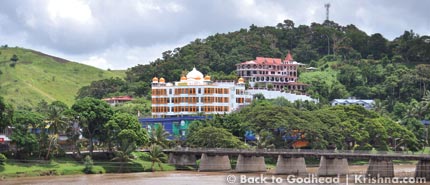 Fiji is a small country (population 900,000) made up of many volcanic islands in the Pacific Ocean. Sigatoka, where ISKCON opened a new temple last November, is situated on the coral coast of the main island, Veti Levu, between Lautoka and Suva, two of Fiji's largest towns, each with a large ISKCON temple. Srila Prabhupada laid the cornerstone for the Krishna-Kaliya Temple in Lautoka in 1977, and the Radha-Golokabihari Temple in Suva opened in 2004 [see BTG, May/June 2005].
Fiji is known as the first country to see the light of the sun, with the International Dateline bending around one of its islands and crossing another. It is a beautiful tropical paradise, lush with flowers, fruit trees, and other plants generous in their gifts to the local communities.
Sigatoka and its surrounding 2,500 square kilometers has an Indian population of 12,500, mostly farmers living on cash crops who come to Sigatoka township regularly to sell their commodities. Sigatoka is a coral-coast town surrounded by big resorts that bring many tourists into town for shopping. Lush green hills, a big river, seascapes, and picturesque sand dunes surround Sigatoka.
Above the town stands ISKCON's new Sri Sri Radha-Damodara Temple, cut thirty-five feet into the hillside. An expansive retaining wall creates a flat area of 6,500 square feet on which the temple stands—four stories high, with a dome on the roof styled after the old temple at Kusum Sarovar, near Govardhan Hill in India. The 20,000-square-foot temple complex contains a clinic and inpatient facility on the ground floor; reception and residential areas on the first floor; kitchens, a restaurant, a boutique, and a small theater on the second floor; and the main temple room on the third floor, which has direct access from a street that continues up the hill. Deities of Gaura Nitai, Nrisimhadeva, and Giri Govardhana accompany Radha-Damodara on the altar.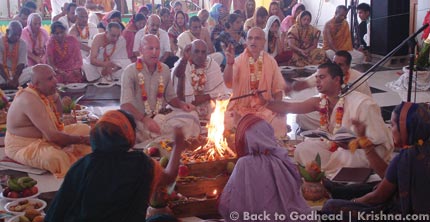 Two Exemplary Women
The history of the development of the temple stands as a reminder of the power of faith in the instructions of guru and Krishna. As devoted brahmacharinis (single celibate women), Gurusmarana Dasi and Gitakirti Dasi have taken leading roles in their Krishna conscious community. For many years they ran the Sigatoka temple from their homes and from rented buildings. They also created a magazine called Krishna Sun, which serves Fiji devotees and their families, locally and abroad. Gurusmarana Dasi, a doctor, gives holistic treatment to both locals and tourists and helps the needy with free treatment. Gitakirti Dasi runs a boutique named Radharani's, manages the temple, and is planning a restaurant.
Their spiritual master is His Holiness Tamal Krishna Goswami, an early disciple of Srila Prabhupada and a leader in ISKCON who passed away in 2002. After his passing, Gurusmarana and Gitakirti became even more determined in their devotional service.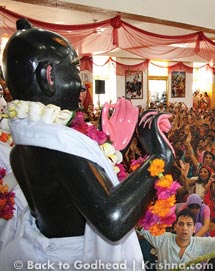 His Holiness Vedavyasapriya Swami, project coordinator for the construction of the temple, met Gurusmarana and Gitakirti in 2003. He was traveling with his own Radha-Krishna deities, and the three of them discussed the worship of Radha-Krishna. Soon after, their godbrother Nandavraja Dasa moved from Fiji to New Zealand and entrusted them with the worship of his Radha-Krishna deities, named Radha-Damodara, who quickly captured their hearts. They soon began to plan a temple for these deities.
Unswerving in their commitment to Radha-Damodara, they set an example for the devotee community by putting up their own money and assets to build the temple. Their contribution of around five million Fijian dollars was possible because of their frugal living for the past twelve years, as well as help from family members. Vedavyasapriya Swami and his disciples raised most of the remaining money required for the project. At one critical point, the construction faced a $100,000 shortfall. Vedavyasapriya Swami invited Gitakirti to Australia for a month to travel with him for fundraising. They successfully got through the crisis.
When one donor withdrew his pledge of a large amount of money to pay for tiling the floors, Gurusmarana and Gitakirti were undeterred, taking the setback as a challenge from Krishna. Krishna responded, and a new donor came forward to not only cover the original pledge, but to do much more.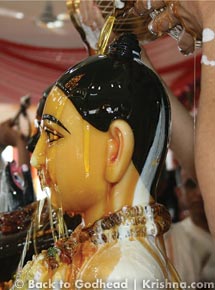 A Building Fijians Can Be Proud Of
While keeping the Vedic style of the original plans, Vedavyasapriya Swami modified the original design to attract both locals and tourists. The temple serves the community with daily worship and outreach, including a Sunday program in the temple and house programs in the surrounding areas. The second phase—finishing the temple with external and internal decorations and construction—is underway and is expected to be completed by Janmashtami this year. Long-term plans include developing a farming community with a focus on simple living and high thinking, and further developing medical support for the community, including an inpatient clinic with a specialist diagnostic facility and surgical services.
Noting the exemplary devotional service of Gurusmarana Dasi and Gitakirti Dasi, Vedavyasapriya Swami said, "I am enormously grateful to all the devotees and well-wishers who recognized this quality of implicit faith in guru and Krishna, came forward to help them with their hard-earned money, and made this project possible for the glory of guru, Gauranga [Chaitanya Mahaprabhu], and Fiji.
It is the greatest fortune for the Fiji Islands that the spiritual service of Gurusmarana Dasi, Gitakirti Dasi, and all who assisted them will serve as a matter of national pride for the people of Fiji. With this temple, Fiji can enjoy its status as a beacon of spiritual beauty for the whole world."