In the mid-1990s, one of Time magazine's twenty most influential and iconic figures of the twentieth century was a regular diner at Detroit's Hare Krishna restaurant.
By Hladini Shakti Dasa
A renowned guest dines on krishna-prasadam in a celestial setting in East Detroit.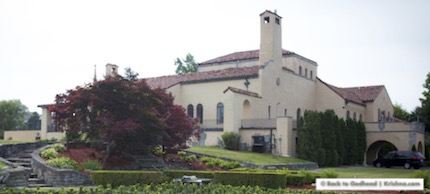 A New York Times article published in 1977 sums up the incredible splendor of Devasadan Mandir, ISKCON's Hare Krishna temple in Detroit, Michigan, where I lived in 1994 and '95:
Like Kubla Khan in Xanadu, Lawrence P. Fisher had a pleasure palace built in 1929. However, the automobile magnate's place with its gardens and fountains, its huge pseudo–Moorish rooms with painted ceilings and pillars inlaid with gold (not to mention a swimming pool, bowling alley, miniature golf course and boat dock for his 100-foot yacht) was set in East Detroit . . . ."
I arrived in East Detroit in 1994 from New York City, where I'd been living at the Radha-Govinda Mandir. Upon arriving I was interviewed by ISKCON's then co-Governing Body Commissioner (GBC) for Michigan, Ravindra Svarupa Dasa, who wanted to know, "What made you come to Motown?"*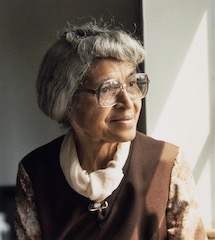 Appreciating his choice of words, I responded in kind, "I came to see the Supremes."**
He appreciated my play on words, and our interview started on a note of shared laughter as he welcomed me into the circle of Devasadan's staff. Little did I know that within weeks, through my work at Devasadan, I would meet one of the Motor City's most famous residents.
A Noteworthy Govinda's Patron
Rosa Parks moved to Detroit in the late 1950s. She was already internationally renowned for the catalytic role she had played in inaugurating the Montgomery, Alabama, bus boycott – a pivotal event in the civil rights movement – and thus she was loved by millions as an exemplar of human dignity and courage. In time she was inducted into the National Women's Hall of Fame and awarded the Congressional Gold Medal, the Presidential Medal of Freedom, and dozens of other prestigious honors. Time magazine named her one of the twenty most influential and iconic figures of the twentieth century. But all this is well known. What is not well known is that Rosa Parks was a dedicated practitioner of yoga and meditation, a strict vegetarian, and a regular visitor to Devasadan Mandir. In other words, Rosa Parks, "mother of the modern-day civil rights movement," was also a de facto transcendentalist, and while not a formal or initiated practitioner of bhakti-yoga, she did engage in devotional service. Here is how I came to know.
One of my many services at Devasadan ("celestial abode") was managing Govinda's Restaurant. There was one particular patron, a regular, who'd caught my eye. I wondered: hadn't I seen this handsome, serene, and remarkably dignified woman somewhere before? It seemed so. Only I couldn't place her. She was uncommonly stately in her bearing and demure manner, without a trace of egoism or self-conceit. I usually tried to mirror the mood of those I served, and I made no exception in this case. Therefore, noting how quiet and reserved she was, I tried to honor her introspective disposition by reflecting her mood in all my interactions with her.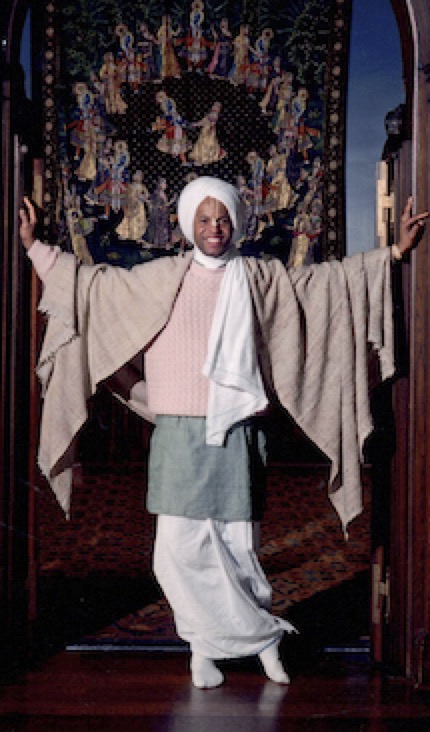 But then one day it suddenly dawned on me. It was Rosa Parks. The Rosa Parks! Still, to avoid blundering, I thought it wise to first confirm my notion. So I asked another devotee on the staff, and, "Yes," my friend confirmed, she is the Rosa Parks.
So that day while waiting on her, I asked, "You're Rosa Parks, aren't you?"
She replied with a warm but reserved smile, "Yes, I am."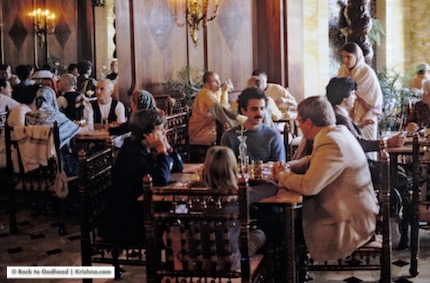 From our brief exchange I learned that she was vegetarian by choice and practiced yoga and meditation as ways of "self care." Although I was thrilled by our meeting, after another word or two I withdrew, wishing to avoid transgressing an unspoken boundary.
But I was elated. Devotees of Krishna value and treasure bhakti as life's greatest gift, and to taste Krishna's prasadam, as she was doing regularly, is to engage in bhakti.
Vegetarianism and Yoga
During her storied life of ninety-two years, Rosa Parks wrote an autobiography and a memoir. About her vegetarian diet she wrote, "For over forty years, I've been vegetarian. Growing up, my family had little money – I had health problems early in life because of poor nutrition. Eating healthy is a priority for me." And in Rosa Parks: My Story, she recounts that as a child she learned daily stretching from her mother.
Her life experience, she explained, taught her that spiritual practice powerfully counteracts the debilitating effects of stress and tension arising from material existence. For example, she was targeted for her social activism. Confronted by unmitigated hatred from unapologetic segregationists, facing numerous death threats, social censure, and economic reprisals, Rosa found that her yoga and meditation practices gave her power to sustain her heartfelt commitment to serving life's higher purposes as she felt called by God to do.
Knowing that Rosa Parks had been swept up in the net of love of God that Srila Prabhupada had cast worldwide made me happy. By his efforts and her good fortune, Rosa was led from the nightmarish emotional landscape of Alabama's Jim Crow*** culture to the sumptuous potpourri of sheer transcendental opulence offered by Govinda's Restaurant in her new home in Michigan.
To visit Govinda's, Rosa would have to traverse some of the temple grounds. Beautified by shade trees, green lawns, and flower beds, and bordered on one side by a manmade canal linked to Lake St. Clair, the grounds are magnificent. A sunken garden filled with dazzling, multi-colored specimens of fragrant roses invites the eye; several large, majestically carved sculptures housed in elegant gazebos stand here and there, depicting divine characters from India's ancient Vedas; and wide-open spaces with manicured lawns please the senses.
In those days, the temple's peacocks strolling about or perched in the trees added a special magic to the landscape, and not just visually by their incredible beauty, but audibly too, as when their musical cries suddenly crowded the air with sweet melodies imported from paradise. Captivated by the sound, visitors would often pause on the threshold to drink in the enchanting birdsong before proceeding further.
Stepping beyond these treats into Govinda's main dining hall is simply breathtaking. The restaurant walls are of light and dark exotic woods; solomonicas, stately black pillars styled after those found in King Solomon's fabled palace in ancient Jerusalem, rise to the frescoed ceiling; floors and walls are exquisitely inlaid with yellow Italian onyx. There's a stunning water fountain, and huge windows overlook the sprawling lawn outside.
"Am I dreaming," one wonders upon entering.
Patrons of Govinda's Restaurant get to sit in the very lap of luxury and dine leisurely with friends and loved ones, enjoying krishna-prasadam. In this way they directly engage in serving Krishna, His holy abode, and His spiritual entourage. Who could ask for anything more? And that was what Rosa Parks discovered at Devasadan Mandir.
NOTES
*For non-Americans who may be unfamiliar with the term: "Motown," short for "Motortown," is a nickname for Detroit, known for its automobile industry.
**"Motown" also refers to a type of music with roots in Detroit. Diana Ross and the Supremes were a successful Motown group. The word play here alludes to the temple deities: Gaura-Nitai; Radha-Kunjabihari; Jagannatha, Baladeva, and Subhadra; and Sri Nathji – the supreme Supremes.
***Enacted after the U.S. Civil War, Jim Crow laws segregated blacks from whites in the southern United States.